News
Velo Wings Awards
Women Cyclists are Honored for Their Community Leadership
"Women are the indicator species for bike friendly cities." That's how Ed France started his introduction of the three women receiving the First Annual Velo Wings award. France, the executive director of the Santa Barbara Bicycle Coalition (SBBC) http://bicicentro.org/ was quoting from several recent alternative transportation studies. If you want to know whether or not an urban environment supports cycling, just measure the proportion of cyclists who are female. Cities with safe bike routes that are organized around practical urban destinations such as the supermarket, shops, work, and schools, have more women cyclists. (Think Portland!) Addressing women's concerns about safety and utility go a long way toward increasing the number of people on two wheels. Women lead and make it happen.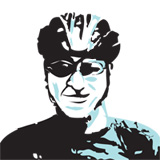 The Velo Wings awards are for women in our community who each day lead by helping cyclists to soar. I want to talk today about the three area women who were honored by the SBBC and are leaders of the indicator species.
Anne Chen is passionate about road cycling. The first word that comes to my mind when thinking about Chen is "paceline." Rotating pacelines are an important road cycling discipline and for Chen a leadership metaphor. Riding in a paceline teaches a cyclist how to ride predictably in a group. More importantly, it teaches them to be self-disciplined, confident, and to trust other riders. Leadership is shared; riders take turns setting the pace, warning of road hazards and providing a draft for the group. Santa Barbara cyclists such as Jill Gass, Angie Bell, John Seigel Boettner, and Jesse Kasehagen, have been at the front of Chen's paceline and inspired her. She's now taking her turn at the front.
I run out of breath trying to list all the different ways that Chen is involved in the S.B. cycling community. She serves on the Echelon Santa Barbara cycling club board of directors, races for the B4T9 women's cycling team; helps lead no-drop rides for women, and participates in cycling events in our area. If you want to meet other women to ride with, Chen can find you a group of riders that will feel safe and challenge your abilities. If you roll with Chen, she'll mentor you on group riding skills, how to change a flat, and where you can get the best post ride coffee and pastry. She loves to race and since 2008 has won six individual or team time trial state championships in California. When it comes to road cycling, Chen's a wealth of information, inspiration, enthusiasm, and passion.
Carmen Lozano is passionate about helping the "invisible cyclists" in Santa Barbara. She is a tireless advocate for the many low-income folks who use their bikes to get to work, school, and to shop. Until 2009, Lozano didn't know how to ride a bike. She learned at the DMV parking lot on Buenaventura, on a 1971 Fair Lady Sting Ray. Biking was freedom and soon she was riding to Montecito to meet a friend, hike, and eat cupcakes. Today, Lozano is the heart and soul of the Bicycle Coalition's Spanish Language Outreach Committee. She was one of the founders of the Mobile Bike Shop that travels to low-income Santa Barbara neighborhoods to repair bicycles for free to anyone who rolls up with a two-wheeler. To make the invisible cyclist visible at night, she helped organize the Light Up the Night campaign that distributed free bike lights on the West and Eastside. Lozano works hard to educate bicycle riders about their rights and responsibilities, providing accessible materials in both Spanish and English.
Lozano can be found riding around town on her classy silver bike with a huge smile on her face and flower helmet on her head. She also enjoys riding with the No-Drop Women's Ride on Wednesdays at 5:30 p.m. proudly wearing her Neon Girls Cycling jersey. Her next goal is to become a certified League Cycling Instructor in order to teach bike education classes in Spanish.
Kim Stanley-Zimmerman is passionate about educating young cyclists. Stanley-Zimmerman remembers as a child her first experience as an environmental educator—putting stickers around her parent's house saying, "Turn Off Lights" and "Save Water." Mountain biking at Sespe Hot Springs, Gibraltar Reservoir, Red Rock, and Little Pine was one of her earliest cycling passions. Six years ago, when the Coalition for Sustainable Transportation (COAST) was looking for a Safe Routes to School coordinator, Stanley-Zimmerman found the perfect opportunity to combine her passions for the environment, education and biking.
The Safe Routes to School program has flourished due to Stanley-Zimmerman's leadership, commitment, and hard work. At South Coast schools, events such as safety assemblies, bike rodeos, helmet distributions, Bike to School Day, and Walk to School Day teach young children about how much fun it can be to bike and walk. Stanley-Zimmerman also organizes walking school buses and bike trains that encourage children in a neighborhood to join together and walk or ride to school in a group. Kim demonstrates the importance of wearing a helmet with her dramatic watermelon drop demonstration. Kids learn that bike = helmet! From just a handful of schools, the program has grown to encompass more than 38 schools. Stanley-Zimmerman is having an incredible impact on the future of this community–our children.
Women lead, men follow. Chen, Lozano, and Stanley-Zimmerman are leaders. They are passionate about cycling, education, and meeting the needs of all riders. Our community paceline is filled with many other inspirational cyclists. I want to give a shout-out to all the Santa Barbara women who each day inspire others to ride, race, commute, advocate, get involved, educate, and celebrate life on two wheels. You are leaders and you inspire us!