Visual Arts
UCSB Grad on Permanent Display at LAX
Ryan Lamb's "Five Dimensional Parade" Is Part of New Airport Exhibit of Video Art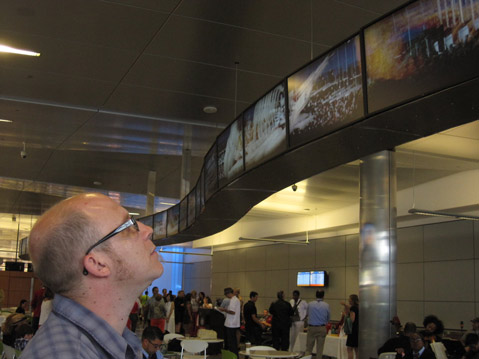 "Welcome to LAX. You are now entering the fifth dimension."
That might as well be the announcement for international travelers landing at LAX's recently renovated Tom Bradley Terminal these days, for after clearing customs, they're confronted with two mind-bending video art displays that feature more than 80 televisions showing off four combined hours of work by 17 Southern California artists.
One of those artists is UCSB graduate Ryan Lamb, class of 2001, whose piece "Five-Dimensional Parade" — which has actually been up and running in the terminal off-and-on for nearly five years now — will be celebrated this Saturday evening at the airport during an official opening for the unique exhibit, which is titled See Change and co-sponsored by the airport and the city of L.A.'s Department of Cultural Affairs. Lamb's work is on both the 90-foot-long, 58-screen linear display that's suspended from the ceiling in the arrival area and the 25-screen cube in the dining court, and both areas are open to the public from 6 a.m. to 2 a.m.

Based on amateur 8-milimeter footage from the 1960 Rose Parade in Pasadena, Lamb — who got his Master's in art from Claremont Graduate University, now teaches at Santa Paula High School, and has shown his multimedia work throughout the Southwest, from Tijuana to Arizona — multiplied, offset, and recombined the video to appear as a series of repeating images that flow across the multiple screens. "The screens are first black, and then the video starts to grow like a snake, like a train coming out of a tunnel," he explained. "It just keeps moving from left to right and growing. That leading edge continues to be the first image that's repeating."
In so doing, Lamb is trying to "break the time code" and disrupt the "chronological nature of video" by exploring a spatial rather linear progression, and that gives us a glimpse of what he calls the "the fifth dimension." "That way we can manipulate three dimensional objects in time, from the fifth dimension comes the idea of manipulating time in the same way," explained Lamb, who admits that his science fiction-inspired idea is very theoretical and hard-to-grasp. "It's thinking one step further than your brain is made to think."
You might call it a parade of a parade, in that the performing images rehash their actions down a long street of TV screens — indeed, with enough screens, it would never end — which is one reason Lamb looked so hard for the right parade. He even scoured eBay, purchasing videos he hoped would work, but then realized that already owned the perfect footage on one of the reels he'd been habitually buying from thrift stores over the years.
"A parade already has some of these five dimensional themes to it — it's a farce, it's a play," said Lamb. "The band going down the street, they play the song, but as soon as it's over, they start the same song again. It's all about your vantage point. It's seems very chronological, but from the band's point of view, it's not." And the same goes for the lady on the float constantly waving. "From her standpoint," he said, "everything she does keeps recurring."
Due to the repetitive yet moving effects, both real life parades and "Fifth Dimensional Parade" amount to being more than just a sum of their parts. Explained Lamb, "The way my video exists as a whole and travels across the screens is the same way the parade exists as a whole and moves around town."
Lamb's choice of the Rose Parade was certainly a factor in being selected, as the works are supposed to be representative of the region. "These videos represent Los Angeles, and they represent Southern California film culture," he explained. "It's about welcoming people from countries all around the world."
Due to an odd combo of budget and bureaucratic holdups, Lamb's sporadically displayed work has already been doing that in the terminal for a few years now, but he's excited to have the project officially completed and celebrated during this weekend's opening. "It's one of the first of its kind for someone to use [public art money] on something that's video art," said Lamb. "Usually you erect a big sculpture and you're one and done. This is very difficult. You're dealing with technology and you need someone to run that technology and program it."
Altogether, Lamb explained, "It's kind of groundbreaking."
4•1•1
Ryan Lamb's "Five Dimensional Parade" is part of See Change at LAX's Tom Bradley International Terminal, which is open to the public for viewing 6 a.m. to 2 a.m. daily. The opening reception is this Saturday, June 16, 5-8 p.m., and parking will be validated. All are invited. See the event on Facebook here and learn about all of the 17 artists involved on the LAX website here.