Columns
Taking the Good with the Bad
Isla Vista's Annual Move Out
I.V. is a unique and beautiful place to live, but residents have to deal with some unpleasant traditions as part of the package during the annual move out.
Each year, when students move out for the summer, the area becomes a wasteland of discarded furniture, mattresses, rusted bikes, and many other items. It also becomes an excuse to party like it is 1999, set off fireworks, play music as loud as possible, and burn things.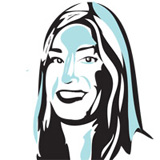 Most of the pointless and stupid I.V. traditions, such as couch burning, started long, long ago for reasons no one is sure of. I asked a longtime resident, who said it started at UCSB when students burned residence hall couches that had been infected with transmittable diseases. When I looked for information online, I found a person who linked couch burning to the Bank of America fire of 1970. In still another rationalization for the tradition, a person linked it to the reenactment of a Native American ceremony. Whatever the impetus for the tradition, it is still pointless and destructive.
Of course, I'm not the only one who finds this behavior abhorrent. There are heavy fines, up to $1,000, and possible jail time, up to six months, for those who participate in couch burning. But are these types of conflagrations still happening? Yes, they are, but with different objects. Two nights ago, my neighbors had a huge party and then dragged a mattress into the center of the street and set it on fire. I didn't realize what they had done until the morning. There is a circle of ash and a permanent black mark where the fire scorched the pavement.
Even despite the efforts of authorities, including picking up discarded furniture when it is set at the curb, the tradition persists and leaves destruction in its wake.
The next I.V. tradition that occurs around move out is beginning of fireworks season. Big ones, small ones, and all the ones in between are lit day and night for weeks in honor of July Fourth. Even though fireworks are illegal, the tradition persists. It is particularly terrifying when the grass is dry and parched and seems ripe for a major fire. Again, this type of behavior is accepted as part of the I.V. experience. Fines are a possibility, but are not enforced. The cycle continues year after year.
On the positive side, there are some community projects that make life a little better for everyone. With the economy in its current state, the I.V. Drop Box is a particular draw. Students and residents drop off coffee pots, clothes, printers, and any other item you can name. In some cases, the items might be in great condition, like unused designer clothing.
Recently, when I dropped off some items, I encountered a group hard at work, looking through the stuff. Two women approached me and asked whether they could have the dress and other clothing they saw at the top of my bag. It made me feel good to know that my donation would go to those who needed it.
Next weekend there is another opportunity for the community to benefit. The GIVE Sale will be held at Embarcadero Hall at 935 Embarcadero del Norte, June 23-24, 8 a.m.-4 p.m. The proceeds go to a variety of community organizations including Isla Vista Elementary, Isla Vista Teen Center, and Viva el Arte de Santa Barbara/Isla Vista.
Move out time provides an opportunity to experience both the good and the bad in I.V. living. While there have been steps made to make furniture burning a thing of the past, there is more that still needs to be done. Firework use also needs to be addressed. When these types of traditions are stamped out, the area will become a better place for everyone. But, as with everything else, it is one small step at a time.