Visual Arts
Barbara Parmet at Wall Space Gallery
The Measure of All Things Makes an Imaginative Leap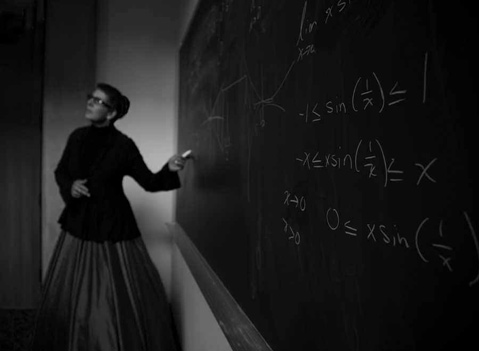 PHOTO-SYNTHESIS: In a city where you can hardly walk a block without bumping into another world-class photographer, Barbara Parmet still manages to stand out. Her career began more than 30 years ago with an extended stint as a successful photojournalist, and while she has never abandoned that genre's dedication to storytelling, her current work demonstrates just how far she has traveled since then into the mystic realms of the romantic imagination. The show's title, The Measure of All Things, is taken from the writings of the pre-Socratic philosopher Protagoras, who is best known for his declaration that "Man is the measure of all things: of things which are, that they are, and of things which are not, that they are not." In Parmet's use of the quote, the emphasis is on what the insertion of a single dramatic individual into an image can do to transform the meaning the landscape. As she puts it, in each of her images, "the figure is offering the viewer a glimpse into an extraordinary circumstance, each time measuring how far, how high, how long, and how amazing it is to be The Measure of All Things."
The show's 14 images were all created using a painstaking multistage process. In the first step, costumed models were directed in activities that ranged from riding horses and motorcycles to sleeping in the grass, writing on a blackboard, or even playing a tuba. Then the images were collated using digital technology to create composite negatives. These negatives were exposed using a solar plate-etching process, affixed to thin steel backing plates for printing, and hand-pulled. The results are black-and-white images with an extraordinary tonal range and lushness of texture. "Grass Sleep," for example, locates its subject in an irresistibly tactile bed of highly detailed vegetation.
Two images stand out as emblematic of the exhibition's mission and message. First, there's "Leap," which shows a female figure in what appears to be 19th-century clothing in mid-air, with no visible landing place. It's not quite clear whether or not the headgear she's wearing actually covers her eyes, as well, but there's certainly an argument to be made that this is an image of the well-known metaphor of the "blind leap." Energetic and kinetic, "Leap" has a meditative side, as well, as do all of these images. On the other is "Mathematician," which depicts Parmet herself, again in the full skirt of a bygone era, standing in front of a blackboard full of equations. The composition — in particular the intense oblique angle of the blackboard — and the enigmatic quality of the image both contribute to a sense of mystery that lingers in an extraordinarily satisfying way. These photos all have the irreducible quality that has been identified as what makes a great poem or short story, which is that there's no way to paraphrase or summarize what's in them without losing something. Every aspect counts; it all adds up.
FUNK RISING: I would be remiss to conclude this piece without some mention of the excitement around the new building in which the exhibit takes place: 116 East Yanonali Street. It's where Crista Dix has relocated the Wall Space Gallery (in Ste. C-1 to be exact), and it's soon to become the epicenter of the next wave of Funk Zone development. It's also sure to change the way everyone thinks about our underground creative district.