Theater
Ensemble Theatre Company's New Project
Victoria Hall Gets a Remodel and a Proscenium Stage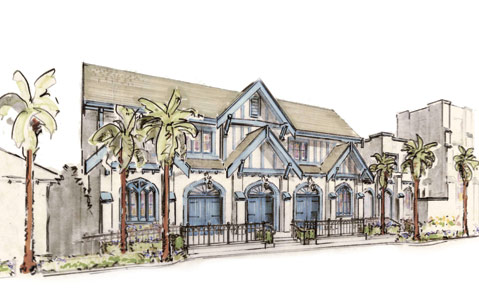 To most passersby, the tall, typically blank-faced stage towers that dot downtown Santa Barbara's landscapes don't suggest much. Unless there's an image projected on the façade for a special occasion, these big-shouldered, windowless rectangles hardly merit a second glance. But the theater community knows different because they understand what goes on inside those tall walls.
Stage towers are built to service proscenium theaters, and they've got to be at least twice as high as whatever the audience in the theater can see on stage. That's because they are filled with a "fly system," which is theater tech talk for the lines, blocks, and counterweights that enable entire sets to appear and then vanish in the time it takes to open and close a curtain. With a safe and secure fly system, anything is possible, theatrically speaking, and without one, well … you've got a big black box.
On Thursday, June 28, when Ensemble Theatre Company broke ground on its "New Vic" project at the Victoria Hall, the city took one big step toward introducing another of these magical structures to the downtown arts district. After several years of negotiation to establish a long-term lease on the property, and the raising of more than $8 million in private funding by Ensemble, the transformation of Victoria Hall is finally underway. From its current chrysalis stage as a community center, screening room, and relatively rudimentary performing arts space, the so-called "New Vic" will emerge in late 2013, ready to spread its wings as a genuine proscenium theater, complete with a new fly system and a 55-foot structure on Chapala Street to house it.
The battle over Victoria Hall and the question of its highest and best use will be a familiar subject to many loyal readers of these pages. Suffice it to say at this point that, while Unity Shoppe remains a tenant in the lower part of the building and a partner in the ownership agreement for the property, you won't be seeing any pictures of Unity's board president Barbara Tellefson smiling at Thursday's groundbreaking. For some in the community, Ensemble's move remains an unpopular one, even as the Unity Shoppe continues to function in its original location. One person who will undoubtedly be there, and who deserves to sport the biggest smile of all, is Santa Barbara attorney and New Vic campaign chair Derek Westen, whose tireless efforts on behalf of this particular project were mission critical to its success. Ensemble's executive artistic director, Jonathan Fox, acknowledged Westen's negotiating prowess and business acumen with an expression of awe, saying that "there were several moments in this process when I thought it was all over and that we would never get it through, but every time, Derek came back with another idea for another way to go. He really didn't take 'no' for an answer, and as a result, this is what happened — we got what we were aiming for."
And just what is it they are aiming for with the New Vic, beyond the stage tower and fly system? The short answer is a professionally viable 300-seat theater in downtown Santa Barbara, one of the last items on a civic venue wish list that was compiled back in the late 1990s and led to, among other things, the renovation of the Granada Theatre. The long answer is a chance to see what the Ensemble Theatre Company, an organization that's been in existence since 1979 — and that holds the distinction of being Santa Barbara's only currently active Equity theater company — can do with an appropriate performance space. Housed for many years in the tiny, nearly antique confines of the Alhecama Theatre on Santa Barbara Street, Ensemble stands to make a run for more enhanced national recognition when larger productions (and real musicals) become an option.
For the city, the New Vic will likely be both a blessing and a bone of contention, as the Granada has proved to be. Many will love getting to see world-class theater in a beautiful, comfortable space, while others are likely to resent the big box rising on Chapala, regardless of what's flying around inside it.