News
How Do You Solve a Problem Like the Panga?
Sheriff Meets with Federal Officials on How to Deal with Increased Maritime Smuggling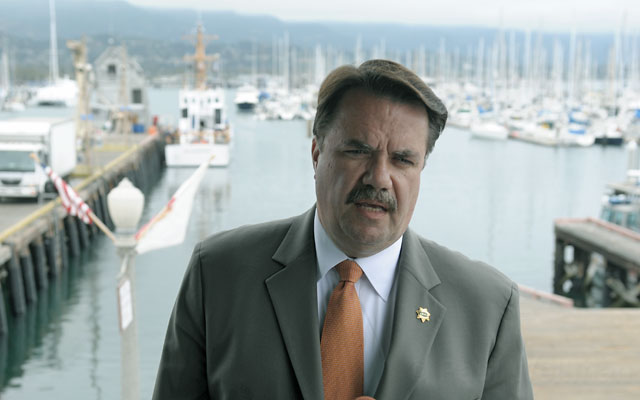 "History, to some extent, is repeating itself," said Sheriff Bill Brown. The modern day problem of small boats launching from Mexico and smuggling drugs and people up California's coastline, he explained, is not dissimilar from the Prohibition-era issue faced by Santa Barbara Sheriff's deputies who played cat and mouse with Mexican bootleggers sneaking tequila by boat into the county. "What's going on now is very reminiscent of similar problems in the 1930s," he said. "But now it's narcotics rather than alcohol."
Brown and a big group of representatives from local, state, and federal law enforcement agencies — Coast Guard, Homeland Security, and Border Patrol — met Thursday behind closed doors at the Santa Barbara Harbor and brainstormed ways to deal with the rapidly rising challenge of maritime smuggling along the West Coast. Congressmember Lois Capps and 3rd District Supervisor Doreen Farr also attended, but media wasn't allowed in and few details were released.
Santa Barbara's increased attention to misbehaving panga boats — small, open fishing craft usually equipped with multiple motors and able to carry a ton of cargo — is brought by their recent proliferation in area waters: In the last two years, there have been 21 recorded panga-related incidents compared to less than 10 in 2008 and 2009 combined. In June, six men, including two Mexican nationals, were arrested near El Capitán State Beach for trying to sneak 1,400 pounds of marijuana — worth an estimated $4.2 million — to shore. On February 22, an empty "super panga" was found near Refugio Beach, bigger and with more horsepower than any other vessels seized.
This push out to sea, all seem to agree, is a direct result of increased security on the United States' southwest border. According to a June 19 Border Patrol report to a House Committee on Homeland Security, apprehensions and seizures along the border have decreased 53 percent since 2008 and are less than one-fifth of what they were at their peak in 2000. More recently, the president's Fiscal Year 2013 Budget Request will put 43,600 Border Patrol agents in the field, the largest deployment in the agency's history. Boots on the ground are supported by more than 270 aircraft, including nine unmanned aircraft systems (UAS) and more than 300 patrol boats.
Capps and Brown said they would like to better tap into these federal resources, which are already enjoyed by jurisdictions farther south like San Diego, Orange, and Los Angeles counties. Brown stressed local-federal cooperation is already strong, but he hopes to boost coordination even more. He noted that while the Sheriff's Department has a boat on duty, it's really meant as a platform for dive teams and isn't built for speed. The Coast Guard's Blackfin cutter has been an effective deterrent, he went on, but could use help patrolling the channel. In a letter he sent to Capps's office in April, Brown also pointed out that investigations into Southern California smuggling activity revealed that drugs from countries other than Mexico — notably China — have made their way to land via panga.
Both Capps and Brown said Thursday's briefing was productive and that concrete crackdown strategies were examined. "My goal is to disrupt this activity," said Capps after the meeting, explaining she was pleased about the free flow of information between agencies. "Protecting my constituents is the number-one priority," she said. Brown said his office is looking at the possibility of getting another boat through the Federal Surplus Program and that more sit-downs are planned for the near future.
But time, it seems, is of the essence as smugglers are already adapting to current crackdown measures: The House Committee report notes that smugglers in the Gulf of Mexico and along the Eastern seaboard are using self-propelled semi-submersible vessels (SPSS) — which sit low in the water and are virtually undetectable by sight — to sneak drugs across the border. Another recent trend, it stated, is the use of larger pangas in the Pacific that can transit hundreds of miles north.