Arts & Entertainment
Catching up with Saint Anne's Place
Lompoc's Rising Blues Rockers Prep New EP, Return to Santa Barbara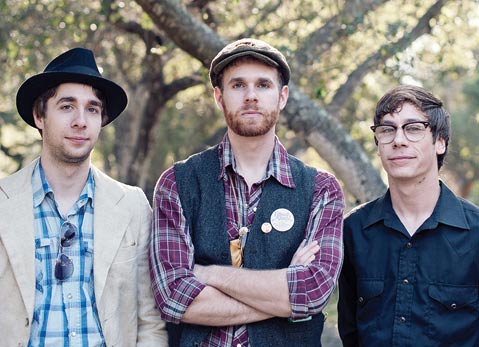 If you still believe that nice guys finish last, I encourage you to get acquainted with Saint Anne's Place. The Lompoc three-piece delivers soulful blues rock that draws from a bank of influences far beyond the trio's mean 22 years (though their peers will liken them to a mix of The Black Keys and My Morning Jacket). Onstage, the guys embody professionalism, easily slipping from a searing guitar solo to a contemplative and twangy ballad without so much as a hiccup. In fact, it's Saint Anne's command of its stage and sound that helped catapult these three out-of-towners to the top of our 2011 Downtown Sound battle-of-the-bands competition. Did I already mention that they're all super nice, genuinely good dudes?
Made up of brothers Jacob and Sam Cole and their cousin Joel Martin, Saint Anne's Place was officially born in 2010, though the trio has been playing music together since childhood. They grew up jamming and gigging around town in their family's blues band, where they cut their chops and got a first-hand lesson in the history of American rock 'n' roll. (When asked to cite his influences, drummer Sam, 22, name-checked everyone from Keith Moon, Mitch Mitchell, and Buddy Rich to Gene Krupa and Clive Bunker.)
Nowadays, they still incorporate a good deal of classic blues covers into their sets, though the focus is very much on writing and playing originals. And play they do. On any given weekend, you can expect to find some faction of Saint Anne's plugging in somewhere around town. Frontman Jacob is a frequenter of Solvang's Sort This Out Cellars, where he plays acoustic sets. This week alone, the band will hit Lompoc's Wicked Shamrock, the parking lot of Santa Ynez health-food store Lassen's, and Santa Barbara's own Muddy Waters Café (on Sat., July 14). They're also in the process of writing their second EP, which Jacob estimates is still a few months from completion.
"The number of shows we've had, to be honest, hasn't killed our [writing] routine," Jacobs told me via email. "We still have the same process. Though we write faster than we used to." As the main songwriter for Saint Anne's, Jacob tends to take the lead on most of the band's material, he explained. "I write late at night when no one can hear me. I'm very private when it comes to that kind of thing. … Then when I feel it's close enough to being done, I'll bring it to practice, and once everyone gets an idea of what the song should be, it becomes very collaborative — sometimes it works and sometimes it doesn't, but that's the beauty and challenge of it."
Nearly a year out from their Downtown Sound win, Saint Anne's Place seems to be charging ahead with vigor, a mind-set that the band members equate, at least in part, to their battle-of-the-bands triumph. "We had been very unsure of how many people were into our music, but [seeing] all of those people rally around us opened our eyes to how much support we actually had," said bassist Joel. "I still run into random people I've never met who recognize me from the battle and want to compliment our band on what we're doing. It's been incredibly encouraging and one of our biggest motivators."
In addition, the guys are finding plenty of inspiration in their own backyard. Currently, Sam is splitting his time between Saint Anne's and The Circus Starts, and the whole band is collaborating with Lompoc songstress Emily Wrynn on a project they've dubbed The Lights Electric. And, according to Jacob, they wouldn't have it any other way. "We're excited for all the opportunities we've had over the past year and all the things in the works. We're buckling up and holding on for the ride."
4•1•1
Saint Anne's Place plays an all-ages show at Muddy Waters Café (508 E. Haley St.) on Saturday, July 14, at 8 p.m. with Burning Giraffe and The Foot. Call (805) 966-9328 or visit newnoisesb.com for tickets.