Arts & Entertainment
Up Close with Bruce Goldish
S.B. Guitarist Brings Acoustic Tunes from the Parking Garage to SOhO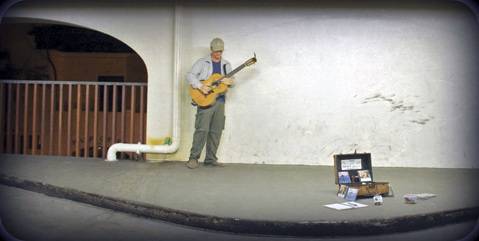 When Bruce Goldish isn't caring for patients as an RN in the Cottage Hospital ICU, he can be found picking his guitar on some of the most unexpected stages in Santa Barbara — including, on a weekly basis, a downtown parking structure.
The Minnesota native spends most of his time playing folk/country ballads, and he's bringing his self-proclaimed "sweet harmonic to caffeinated percussive fingerstyle guitar" tunes to SOhO Restaurant & Music Club to release his new disc, Dreams Come True, on Wednesday, July 18, with opener Kate Wallace.
I caught Goldish after a performance amid the cucumber and grape booths of last Tuesday's State Street Farmers Market and spoke with him about his third album and his life as a musician in Santa Barbara.
"I like that it's not an intellectual exercise for me," said Goldish of his music. "If I'm using my brain when I'm playing, that's mostly getting in the way."
One of Goldish's favorite spots to play is the Santa Barbara Courthouse. Goldish said that he once received a call from a man who had walked by him playing at the courthouse during one of his first dates with his girlfriend. He wanted Goldish to meet him back at the courthouse when he proposed.
Most Sunday evenings, Goldish spends several hours playing in the parking structure off of Anacapa between Canon Perdido and Carrillo streets. The acoustics of the concrete tower drew him there initially, and he's frequented it ever since.
"The first time I did it, I just thought: 'I bet I can do it for 10 minutes until they stop me,' and that went for hours," said Goldish. "I've been doing that for eight years. I can play there just for myself, and I'll get energy from that, just because the sound is so ethereal and big. And when a stray person comes along and says they appreciate it, I appreciate that, and I crank it up."
After his SOhO show, Goldish can be seen at the Ojai Concert Series on July 28, the California Avocado Festival this October in Carpinteria, and, of course, most Sunday evenings from roughly 6 p.m. to midnight in Parking Lot #9. For tickets to the CD-release show for Dreams Come True, call 962-7776 or visit sohosb.com. For more on Goldish, visit brucegoldish.com.