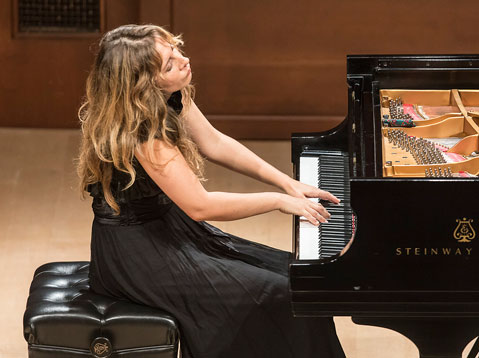 Argentine-born Ingrid Fliter is esteemed for her recordings and concert renderings of Chopin and Beethoven, and on Wednesday, July 18, she showed why this is so to a packed Santa Barbara audience. Her program began and ended with two demanding Beethoven sonatas, while selections from Chopin provided an interlude. Fliter is a pianist with muscle, capable of eliciting great volume from the instrument but never veering outside control. Beethoven's Sonata No. 17 and Sonata No. 23 — nicknamed "Tempest" and "Appassionata," respectively — are monumental works the stormy passages and dramatic contrasts of which Fliter exploited to great effect. Dressed in a black gown, her loose, shoulder-length hair hiding her face like a curtain, Fliter frequently shook with the emphatic contours of the narrative. The thunderous bite of weight she exerts in the bass suits these pieces wonderfully. At the same time, Fliter can pull a room into absolute stillness with careful pauses and delicate notes in the right hand. Passages in the opening Largo–Allegro of Sonata No. 17 floated with the loft of high spaces in a sanctuary. The penultimate note of the second movement was close to inaudible.
Fliter's connection with Chopin is nearly genetic: Her parents met when her mother took notice of her father playing Chopin at a party. Wednesday's program featured the second Nocturne of Op. 27, and the third Mazurka of Op. 50, with its Spanish-sounding theme and breathtaking climb through key modulations. Finally, the Ballade No. 4, Op. 52, with its complex ornamentation and frenzied coda, made an apt companion to the Beethoven.
Despite a demanding recital played with no intermission, the gracious Fliter expressed her affection for this audience with two encores of well-known Chopin waltzes: the lyrical posthumous Waltz No. 19 in A Minor and the effervescent Minute Waltz. As she flung off the last phrase with a sideways sweep of her forearms, it was not hard to trace the trajectory of an inspired career on the rise.