Arts & Entertainment
Miró Quartet at the Lobero Theatre
Works by Beethoven, Mozart, and Dutilleux on Sunday, July 22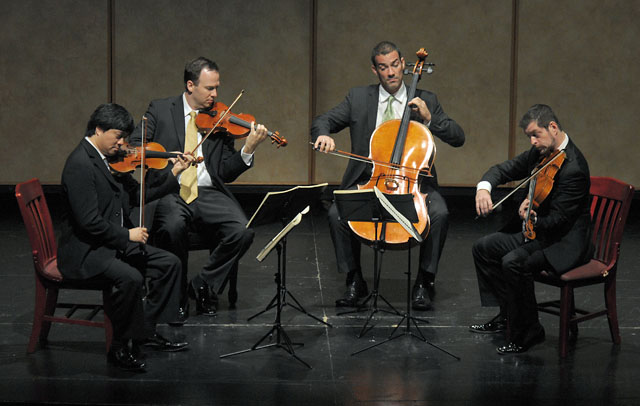 This summer the Music Academy of the West established a new program expressly designed to support the creation and advancement of young string quartets. As mentors and instructors for this initiative, the Academy brought in the Miró Quartet, an outstanding chamber group that is in residence for most of the year at the University of Texas, Austin. First violinist Daniel Ching, second violin William Fedkenheuer, violist John Largess, and cellist Joshua Gindele make music on a very high level, as indicated by the fact that they were chosen to appear alongside the New York Philharmonic and Yo-Yo Ma last month for a special evening celebrating the work of French composer Henri Dutilleux.
There were three pieces on this program at the Lobero, one of which was the Dutilleux that they played in New York called "Ainsi la nuit." It's a great contemporary string quartet (composed in 1976), atmospheric in the manner of Ravel or Debussy, but made more modern and dramatic through the judicious deployment of dissonance and harmonics. The French work was preceded by a powerful and well-coordinated effort on Mozart's String Quartet in E-flat Major, K. 428. As beautiful as they are, Mozart's string quartets can suffer from Mozart fatigue, but not in this instance.
Despite the exhilaration of hearing something as unusual and interesting as the Dutilleux, the highlight of the program came after the intermission, when the Miró returned to play the String Quartet No. 9 in C Major, Op. 59, No. 3, "Razumovsky." The music, particularly in the Russian-folk-influenced second movement, transcends even Beethoven's high standards and reaches extreme levels of melodic beauty, all of which and more was supplied by this outstanding group's performance.