Events
He's in a Taco State of Mind
Tingling Taste Buds
FIESTA EATS: Fiesta snuck up and hit me with a raging appetite for Mexican food. My taste buds are tingling as if I'd swallowed a dose of hot green salsa.
After all these years (since 1960), I still look forward to Fiesta eating. Heck, this one week a year is no time to fret about calories, spicy food, and the horrors of red meat. I'm in a taco state of mind.
Most expensive eats in the most romantic (but costly) ambiance can be found at today's (Thu., Aug. 2) oddly titled Celebración de los Dignatarios. You nibble appetizers from area restaurants, sip vino from local wineries, and chat up any dignatarios you can find, or even a político. It takes place up on the hill at the Santa Barbara Zoo (500 Niños Dr.), 5-10 p.m. ($85 in advance or $100 at the gate).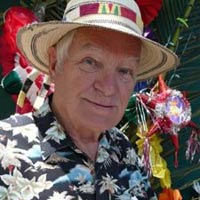 For the rest of us, there's affordable munching alfresco at Fiesta's two food-booth mercados, at De la Guerra Plaza downtown and on the Northside at MacKenzie Park. Proceeds go to nonprofits and churches.
And yes, goat tacos will again be on the menu at De la Guerra, at the El Zarape booth. It's a tangy treat for those who've never gone in for adventurous dining (tastes a lot like beef, actually). Pork tacos, too. Wash it down with sandía (that's watermelon juice).
Another of my De la Guerra favorites: the carnitas tacos at the Old Spanish Days booth. There's always a line. Is Fiesta going gourmet, or is it because of my bad memory that for the first time I'm seeing hot dogs wrapped in bacon all over the place, like at Tinker's?
In the past, I've had a hard time finding a good tamale during Fiesta. These days I can. I'm definitely going to try La Bella Rosa Bakery's tamales, along with the sweet flan dessert and the traditional horchata drink I wait all year for.
A must are the Vietnam Veterans' pulled pork sandwiches, along with sweet potato fries. For your normal, everyday, traditional juicy beef taco, you can always rely on the loud, fun guys at the Special Olympics booth.
And yep, there are lots of good ol' cheese enchiladas for me to taste at Semana Nautica, with traditional drinks horchata, tamarind, and jamaica. United Latin American Pentecostal Church has whomped up a great menu: cheese and chicken enchiladas, shredded beef tacos, and rice.
There's much, much more at De la Guerra, including the local commercial fishers' fish tacos, seaweed (yes) salad, ceviche, and shark jerky.
Over at the Northside mercado, the Apostolic Assembly Church seems to have the biggest menu: chicken and pork tamales, chicken and cheese enchiladas, rice and beans, horchata and pink lemonade.
And those great fire-eaters from the City of Santa Barbara Fire Department have come up with cheese enchiladas, guacamole, and chips. Muscle Beach Café is also forking over bacon-wrapped hot dogs, as well as "gourmet sausage." What's more American than summertime corn on the cob from Boy Scout Troop 1 (along with de rigueur chicken and cheese burritos)?
Santa Barbara High Dons will benefit from sales at the El Sitio booth at MacKenzie, where sopa (chicken soup) and tacos are on the menu.
Fiesta wouldn't be Fiesta without tri-tip sandwiches and watermelon juice from the ySTRIVE for Youth folks. CALM (Child Abuse Listening & Mediation) is serving up strawberry brownies (what?), strawberry shortcake, smoothies, and chocolate-dipped (yes) strawberries.
For many, the most authentic Fiesta food is found at Our Lady of Guadalupe Church (227 N. Nopal St.) Friday-Sunday, 11 a.m. - 9 p.m. On Saturday, August 4, everyone will head for the Kiwanis Pancake Breakfast at Alameda Park, now in its 61st year. Políticos and those dignatarios will be flipping flapjacks, 7 a.m. - noon.
POSTMORTEM: Out at the Circle Bar B Ranch Dinner Theatre, the stage fare tends toward the amusing, even the silly. But the current play, Postmortem, is an adventure in fright night: murder, a scary séance, gunshots, and, at the end, whodunit. Fine acting all around, including UCSB's Emily Parsons.
LEGALLY BLONDE: Loved the movie? You'll really love the musical. I was a bit dubious going into PCPA Theaterfest's production at Solvang's Festival Theater, fearing an overdose of pink. But I was won over by an exuberant performance by Jessica Crouch, who made me forget Reese whatzername.
FIESTA, 1964: James Savage mailed me a photo of the time News-Press photog Ray Borges and I covered the parade on roller skates. The California Publisher article quoted me as saying: "My four kids tore out into the street to greet me when I came rolling along."