News
Tools: Here Are the Ones You Need
I wrote a Pedal On column about a year ago about the basic repairs that any cyclist should be able to do at home or on the road.
Even the simplest repairs require some basic tools. I've watched my neighbor fix his sweet old cruiser with only a hammer, screwdriver, and adjustable wrench. Occasionally, I've pitched in and helped him with my toolbox. Sometimes when your bike breaks you have to go into battle with the tools you've got. Years ago, on the road and lacking a large wrench to tighten a very loose headset, I improvised with a "C" clamp.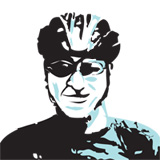 You don't have to have all the tools on the Home Improvement Tool Time Truck to fix a bike, but a small number are key; for under $100 you can buy all the basic tools that you'll need to give your faithful two-wheeler the love it needs to carry you around town day after day.
Here's my list of the tools that all cyclists should own.
Floor Pump: If you don't have a pump, close your Web browser and go buy one now! You will occasionally need the tools to replace a brake cable or adjust the height of your handlebars, but your tires will frequently need to be topped off with a floor pump. Every day, before I get on my bike, I check the tire pressure and usually add a bit. You will soon appreciate the value of a good quality floor pump. Most bikes use Presta valves, which require a different type of pump than Schraeder valves (like the ones on car tires.) Quality pumps will have adaptors for both valves. Your local bike shop will have a great selection, and most will be between $20 and $70. The more expensive ones will include a built-in pressure gauge and are easier and faster to use. You'll use it a lot — buy a good pump.
Tire Levers: When you get a flat or need to mount a new tire, you'll thank your higher power that you have a set of inexpensive tire levers. Plastic or aluminum, they cost less than $10 for a set. Please, don't use screwdrivers as tire-lever substitutes. You'll damage the rim, tire, and/or tube. You'll turn a 10-minute repair job into an hour-long project frequently punctuated by curse words.
Patch Kit: I have a friend who's proud to say that he's never replaced a bicycle tube until it has at least 10 patches on it. I may not go that far, but an inexpensive patch kit is an essential tool for both your home and backpack. All tube repair kits consist of patches, sandpaper, and glue. With one of these kits, you can repair tubes and reuse them, saving yourself quite a bit of money. You can buy them for under $5.
Allen Wrenches (Hex Keys): You can adjust almost every part on a bicycle with a set of Allen wrenches. The stem and handlebar, seat height, crank bolts, brakes, etc. Buy a quality set of these wrenches (in metric sizes,) making sure you get the 4, 5, and 6 millimeter sizes, which are most common on bicycles. I also recommend a small multi-tool including a set of Allen wrenches and screwdrivers for your backpack. There's been more than one time on the road that I've dug to the bottom of my backpack to find my little blue multi-tool so I wouldn't have to walk my bike home.
Screwdrivers (Flat Blade and Phillips Head): You probably have screwdrivers already, but if not, get a set. At the very least, have one medium-size flat blade and Phillips head screwdriver in your toolbox. These have a few uses on bicycles, mainly front and rear derailleur adjustment. Most brands from your local hardware store will be fine.
Open-End Wrenches (metric): Open-end wrenches, in metric sizes, come in handy for a few bicycle repairs and adjustments especially on older bikes without quick-release wheels. Grab a set at the hardware store.
Adjustable Wrenches (8″ and 12″): Sometimes you just need a big wrench that fits whatever bolt you're working on, and for that, adjustable wrenches do the job. They're not the right tools for delicate adjustments, but they come in handy.
Spoke Wrench: There's no need to go to a bike shop every time you hit a pothole and your wheels begin to wobble. For minor wheel truing, all you need is a simple spoke wrench. This is another time when you do not want to use an adjustable wrench! These wrenches are inexpensive, so grab a few for various spoke sizes. Learn to use them, and you'll be able to quickly true a wheel like a pro.
Not strictly tools, but the following items are really handy when working on your bike:
Degreaser: It's Santa Barbara, so your bike is going to get dusty and, when it rains, muddy. To keep it running smoothly, you need to at least keep the chain and gears clean. Try this experiment. Run your finger over your bike's chain and it will be covered with a mix of dirt, grease, grime, and dust. Hosing it off with water won't work. Simple Green, dishwashing soap, or other bicycle-specific degreasers will get the job done.
Chain Lube: Once your chain and gears are clean, you have to give them some love with a good quality bike lube. Do not use WD40! Depending on riding conditions, you'll need to lube your chain frequently. Your local bike shop will have a nice selection. Ask the friendly sales person or mechanic for their favorite.
Rags: You can't clean your bike or apply degreaser and lube with your bare hands! Make sure you have a big box of good cotton rags. I usually cut up some old Abba or Kiss T-shirts to keep my rag box full.
Ride safely. Ride happily.