Visual Arts
Ranch Life in Art
Santa Barbara's Cowboy Culture in Pictures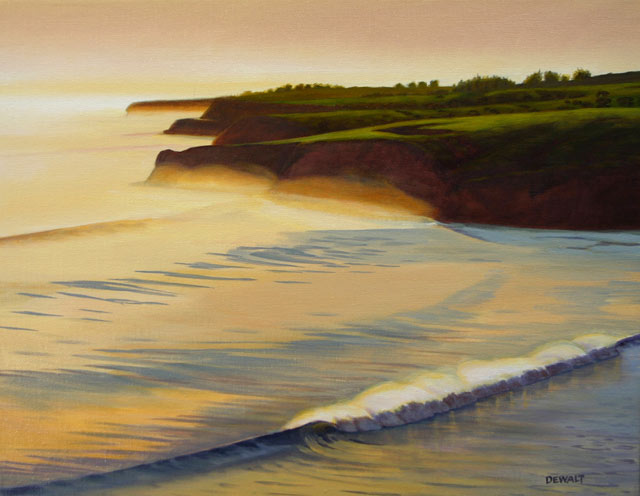 OUR BIG BACKYARD: One of the secrets that all Santa Barbara residents know about their home is that it's not one place — it's several. We are a beach town, a college town, a swanky town, an eco-town (that's eco as in ecology, not economy), and many more things besides. Yet one of the best kept of our secret identities, and one that's often hidden even from longtime residents, is our status as a part of the great system of American ranch culture. You may have to travel north of Goleta, or east of the foothills, but if you go far enough in either direction, sooner or later you'll land in one of the area's historic land-grant ranchos. Great swaths of our countryside, some of which even extend as far as the Pacific coast, remain dedicated to the work of tending cattle, with all of the hard living and riding that the occupation implies. While it may take the better part of an afternoon to travel from downtown Santa Barbara to the heart of the action on one of these great ranches, a new art exhibition at the Santa Barbara Tennis Club offers a shortcut of sorts, presenting three artists who focus on creating contemporary art about the ranches of our region not only as glorious places but also as interesting and highly picturesque ways of life.
Romancing the Coast features recent work by painter Tom de Walt, photographer Mehosh Dziadzio, and painter Sandy Garred. Each of these artists has found a different way into the insular world of the vaqueros, and the cumulative effect of seeing their work together in this way is powerful and informative. Garred paints in oils on relatively small pieces of board, but her treatment and her subject matter lean toward the grand and the heroic. She clearly loves the trappings of the ranch lifestyle, and she knows how to capture a mood and imply a world through still life. Her paintings of well-worn cowboy boots, "Boots #1" (with two pair) and "Boots #2" (with just one), radiate authenticity and good humor. Along with the single piece by curator Susan Tibbles that's also included in the show — "The Cowboy," which is a wonderful collage constructed out of what looks to be a western-style shirt pattern — Garred's work succeeds in capturing the tremendous charisma still inherent in this lifestyle and in the rancher's close identification with an unmistakable American archetype.
Tom de Walt comes out of the plein air landscape tradition, but with a subspecialty in crafting images of a particularly legendary property, namely Hollister Ranch. His "Gust of Wind" shows illuminated spray flying off the backside of a particularly delectable late-afternoon Hollister Ranch wave from a perspective that leaves the viewer feeling waterborne. In addition to providing vicarious thrills to the surfing set, de Walt will enthrall the painters as well with his modernist take on tonalism and his unpredictable way with framing a scene.
Perhaps the most striking images in the show belong to Dziadzio, who has parlayed multiple personal connections among the area's ranching families and his own willingness to wake up before dawn and shoot photos from a horse's back into some truly unforgettable glimpses of an impossibly beautiful world. In the majestic large photo called "St. Augustines/ Hollister Ranch," Dziadzio shows a team of cowboys herding cattle across the waterline of a perfectly empty, achingly beautiful beach. If you were under the impression that in order to go home on the range, you would have to give up going to the beach, well, this incredible image shows just how wrong you are. Anyone with the slightest interest in how Santa Barbara ranch life looks and feels would do well to visit the Santa Barbara Tennis Club before the close of Romancing the Coast, which will be on view through Saturday, September 8.