Film & TV
Lawless
Shia LaBeouf, Jessica Chastain, and Tom Hardy star in a film written by Nick Cave, based on Matt Bondurant's book The Wettest County in the World, and directed by John Hillcoat.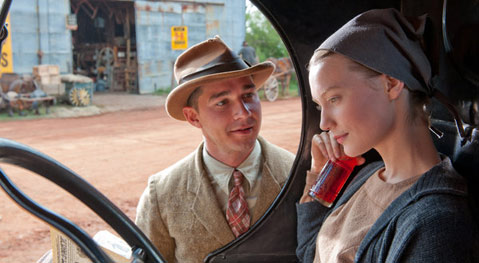 Australian director John Hillcoat, who helmed the necessarily violent, effectively ambient, and would-be mythic bootlegging saga Lawless, is no stranger to grim scenarios with family ties, having brought Cormac McCarthy's The Road to the screen a few years back. In that earlier film, postapocalyptic life has resulted in a bleak landscape where a father and son struggle for basic survival and dodge legions of evildoers.
In the reality-based Lawless, a wildly uneven but sensorial trip of a film, a seemingly invincible brotherly band of Prohibition-era moonshine entrepreneurs in Franklin County, Virginia, prosper and prevail in their backwoodsy domain, while struggling with crooked lawmen and legitimate thugs. In both films, the stories are not pretty, the familial bonds are palpable, and the dark charms have to do with luring us into landscapes of essential dread and stubborn high hopes.
This is one of those films in which, if the facts weren't in check, we'd roll our eyes at the malarkey of it all. Singer Nick Cave, along with cohort Warren Ellis — also the pairing behind the score for The Road — provides the refreshingly rootsy gothic musical textures, with Emmylou Harris's voice flown in for moody color.
Shia LaBeouf plays the younger, more sensitive narrator of the tale, mentored by his grunting hulk of a brother, played by Tom Hardy, who philosophizes, "It's not the violence that sets men apart — it's the distance he's prepared to go." Jessica Chastain, as a Chicagoan fleeing her sordid past for a "simpler" life in the country, adds another plum role to her IMDb listing, but Guy Pearce is not so lucky. He plays an oily slick and scented dandy of a corrupt special agent, the black-hat man who is badder than bad, and just shy of believable and cartoonishly silly.
In fact, the problem with the Pearce role is indicative of a list of cinematic sins that keep this film from achieving the integrity and epic gravitas it aims for. What Lawless lacks in narrative strength it makes up for in atmospheric character and grit, with a warm spot tucked inside its heart.