Arts & Entertainment
FYF Fest at Los Angeles State Historic Park
The Annual Indie Festival Makes Some Major Improvements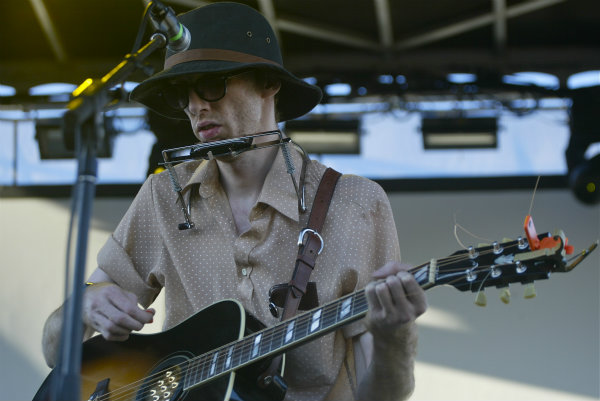 FYF Fest has seen some radical changes since Sean Carlson started the humble DIY affair in 2004. The gathering seems to vacillate each year between one, two, and three days (this year's fest was two), and over time it has come to incorporate a strong electronic presence among the punk, hardcore, and rock bands, as many festivals are wont to do these days. But perhaps the most drastic change came in 2009, when FYF relocated from The Echo to Los Angeles State Historic Park, where their capacity skyrocketed and organization all but disintegrated. I never attended the fest before it relocated to the park, but in 2010 it was nothing short of a nightmare. I recall huge dust clouds choking the crowds in front of feedback-ridden stages, vendors who ran out of water and could only offer Red Bull to the hacking masses, and lines — oh man, the lines. (Will call alone was a three-hour wait.) Throw in a rash of sound problems, an angry August sun, a bunch of pissed off Angelenos, and you've got a recipe for a major festival meltdown.
FYF could have faded away, but it didn't. Carlson and his crew heard the anguished, dehydrated cries of their ticket holders and continued to improve each year, culminating last weekend in what may have been their best work yet. In terms of organization, this year's fest was nearly flawless. Queue times were easy and performances started on time — and in some cases a few minutes early! At the production end, there were hardly any sound issues and mixing was mostly spot-on at all four stages. But perhaps most importantly, FYF once again hit home a winning combination of the underground and the popular, all for a reasonable price (weekend passes starting at $90). Of course, there was still plenty of dust in the air, but sometimes a little grime helps build character, right?
Saturday
My weekend started abruptly when Cloud Nothings took over the Spring St. Stage with a punishing set of noise rock, punctuated by long, mounting interludes of noise and strained verses shouted over dueling guitar riffs. Like a young Sonic Youth, the Ohio-based four-piece did not relinquish their grip on the audience, and it mostly worked in their favor, even if the better part of my hearing was sacrificed in the process. On the other side of the park at the smaller Hill St. Stage, Future Islands gathered a sizable crowd of their own, due in no small part to the theatrics of vocalist Samuel Herring. With a keyboardist and bassist in tow, the three-piece managed to cook up an early-evening dance party with some tunes from last year's On the Water and some new bits sprinkled in between. I imagine Future Islands' croon-y '80s-style sound is best heard in a small club (like Velvet Jones, where they played the night before), but when you've got a singer like Herring, who seemed to make eye contact with every last person in front of him as he faced the setting sun, such details are trivial.
When the sun finally set, so began the worst scheduling conflict I've seen at a festival in quite some time. It started with James Blake, who played brilliantly with dub-inspired drumbeats, sub-bass frequencies, and overlaid samples of his ineffably soulful voice. Perhaps the most impressive thing about Blake's production is the amount of space he leaves in between notes — which was unfortunately filled by noise from adjacent stages and some confused folks who didn't quite "get" it. Most of the conflicting sound seemed to be coming from the Main St. Stage, where Sleigh Bells were doing their slightly less-subtle rap-rave-rock thing in front of a wall of Marshall amps. Their set mostly neglected older material for the newer, more songwriter-friendly stuff from Reign of Terror, and some of their tunes were not to be missed, like the album's first single "Comeback Kid." Between two guitarists, frontchick/party-starter Alexis Krauss, and a whole lot of prerecorded backtracks, Sleigh Bells' live show tends to look like a third-rate imitation of Die Antwoord, leaving something to be desired.
Fortunately, Purity Ring was right next door to fill in the gaps. This time last year, Megan James and Corin Roddick were racking up hundreds of thousands of hits on their DIY productions online, being fought over by labels (4AD eventually won), and playing to a dreadfully sweaty crowd in the early afternoon at FYF. It seems that time has had quite an effect on this magnificently weird Canadian duo, who came prepared with cuts from their full-length debut Shrines, a next-level upgrade to their light show, and a well-deserved 8:30 time slot. In addition to being genuinely awesome people (they got me into the festival at the zero-hour last year), Purity Ring has a truly unique stage setup: Roddick uses a custom-built drum trigger called The Binary to control the beats, instrumentals, and lighting overhead, while also manipulating James's vocals on the fly. The result is a slow, churning sort of synthpop that will lead you down a dark path with only James's sweet voice to light your way (don't worry, she actually does carry a lantern for some of the show). When Purity Ring tapped out, we rushed back over to the tented stage to catch Tycho, who gathered a small but spacious group of folks eager to soak up their hypnotic down-tempo grooves. Maybe it was their timing, maybe it was the breathing room, or maybe just their relaxing visuals, but Tycho's set was the crowning moment of Saturday night, even though I had seen them once before. The result of visual artist and producer Scott Hansen working with a drummer and bassist, Tycho is a simple yet breathtaking marriage of instrumental beats and nature footage, free of the complications imposed by words and traditional songwriting.
In any case, the calming eye of the storm soon passed, and then it was on to see Simian Mobile Disco, who concluded the night with a whirlwind of minimal beats, analogue instruments, and lots of pretty lasers. SMD's set was among the best at FYF in 2011, but this year they truly outdid themselves with the North American debut of their new live show, featuring cuts off their latest EP, Unpatterns, mixed in with classy tracks like "It's the Beat" and "I Believe." With their latest incarnation, the British duo has firmly established themselves as successors to the tradition started by indie electronic pioneers like Crystal Method and Chemical Brothers, while still maintaining a distinct voice of their own. Needless to say, the closing honors for Saturday night were left to very capable hands.
Sunday
The following day was presided over by another curious camp of noisemakers, starting with Virginia-based indie-pop quintet Wild Nothing. Created by vocalist Jack Tatum in 2009, Wild Nothing's washy, guitar-driven arrangements are clearly resonant with California audiences, but they still have a long way to go when it comes to stage presence and execution. Some uneasy looks were exchanged during sketchier parts of the songs, and Tatum generally seemed more apologetic than necessary, but their crowd was nothing but supportive. Back over at the Broadway St. Tent, we arrived in time to see David Cross close out the comedy block with tales of hipster dating services, couples' colonoscopies, and other reasons why he despises the millennial generation. Cross, who is perhaps best known for his role as the nervous never-nude Tobias Fünke on Arrested Development, got the shortest end of the stick in terms of production, as a burnt[out bulb prevented him from showing a presentation he had prepared, and his audio was all but drowned out by Ceremony next door. However, he did a commendable job of rolling with the punches, and got a well-deserved ovation because of it. Later, in the same tent area, The Field showed up with a different interpretation of the "electronic band" as imagined by Swedish producer/DJ Axel Willner, who brought along a drummer and bassist to play along to his driving, repetitive micro samples. As far as I could tell, there was no set program to be found anywhere in the performance, but the trio did a remarkable job of feeling out the crowd and intuiting each other's cues without sounding too repetitive.
By contrast on the next stage over, HEALTH played to a mild crowd with their own style of indie electronics that left something to be desired. Despite being L.A. natives and longtime residents of The Smell, the quintet's sound seemed to lack the human element necessary for a successful festival set, instead relying on droney, effects-ridden beats and textures to communicate a sense of alienation. Perhaps they are a band better heard in a club setting, but I imagine they would have been best suited to the tent area, where Nicholas Jaar was doing his own thing with a minimal electronic deejay set. Meanwhile, Yeasayer took to the main stage with their electronic acid-pop, filled with new tunes off their recently released third-length, Fragrant World. Though their new picks sounded lush and crystal clear, a few of the older ones like "O.N.E." sounded oddly redone with different instrumentation, leaving them almost unrecognizable. In the end, the Brooklyn-based five-piece hit home the critical points, like the "Madder Red," which may have been the best sounding song of the whole weekend, and the final run of "Ambling Alp."
Of course, every music festival has that one artist who makes it all worth it — the heat, the standing in line, the rushing around, the soul-sucking exhaustion — and, for me, that artist was Gold Panda. Since I last caught him up at Sasquatch! two years ago, I simply have not been able to get this man out of my head. From his deep world-beat productions to his inimitable style on the decks, Gold Panda is a true phenomenon. Starting with the opening synth stabs of "Vanilla Minus," Panda's set ended the weekend with a head-nodding, eye-closing tour of his finest beats, replete with tracks off his 2010 debut album, Lucky Shiner, like "Snow & Taxis" and his signature crowd-pleaser "You." Crowdsurfers floated by everywhere, including one fellow on crutches, and all was right in the world, at least until it came time for him to leave. Panda made his exit on a chipper note, starting with "You (Reprise)" and ending with his drum-and-bass homage "Win-San Western," until it really was time to go. All in all, it was a proper ending to a happy, healthy year for FYF Fest.