Film & TV
Branded
Nonsensical narratives are strewn throughout this wannabe sci-fi flick about skewering corporate culture.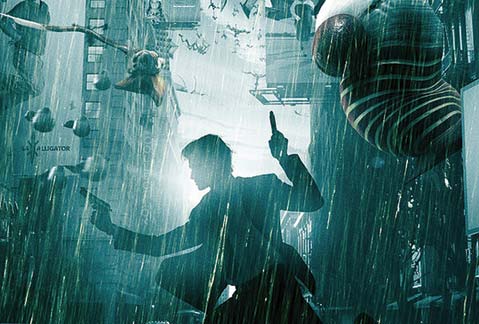 Sorry to report that this is not a remake of the great 1960s Chuck Connors TV series so important to the plot of The Big Lebowski. In fact, this is barely a movie. It's not even half as good as the film implied by the barrage of previews that appeared in recent months, which made it look like a cross between Children of Men and John Carpenter's inexhaustibly wonderful action art film They Live, in which our hero stumbles upon a pair of special glasses that reveal an Earth controlled by butt-ugly monsters trying to sell you lots of stuff you don't need.
Most of Branded is not about radical advertising techniques, though a few choice scenes that feature creepy CGI monsters literally connecting people to products are cool. It seems that this film wants to be about skewering corporate culture, which would be great. Unfortunately, nine-tenths of it hits a lot closer to the spirit of Matthew Barney's deadly boring Cremaster films. Like Barney, Branded makes tiny interesting points and then hammers them home for five minutes, telling the almost incoherent story of a young Russian (Ed Stoppard) born before the collapse of the Soviet Union, struck with lightning, who then for some unexplained reason is widely considered a marketing genius. The rest of the film, narrated awkwardly by an off-screen voice, keeps pushing Stoppard and his girlfriend (Leelee Sobieski) into big fights that suddenly end.
Watching Branded isn't much fun, or rewarding, really. Incoherent plots aside, the movie's best idea was stolen from an old Simpsons episode and then melded into avant-garde crap with no regard for narrative sense. But the previews were clearly targeted at sci-fi fans who would come to see monsters and leave scratching their heads, $10 poorer. Let's talk about evil marketing ploys, shall we?