Theater
Tom Schanley Interview
Hollywood Actor Stars in Cat on a Hot Tin Roof at Center Stage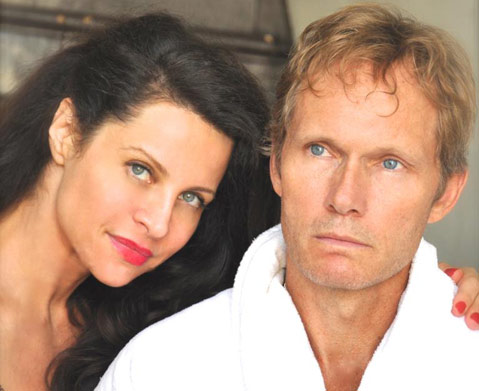 Tennessee Williams loved his Cat. Cat on a Hot Tin Roof, second only to A Streetcar Named Desire in popularity with the theatergoing public, remained its author's favorite among all his works to the end. In some ways, and despite the unquestioned preeminence of Streetcar in the Williams oeuvre, it's easy to see why. The role of Brick, for instance, which will be played by Tom Schanley in the production currently on at Center Stage Theater, and playing through next weekend, contains so much of what the playwright cared about and lived with—from the social liabilities entailed by his sexual orientation to his need for escape and the alcoholism that ravaged his life. Maggie, one of the great survivors in all of American theater, has some incredible speeches and, even more than the romantically challenged Blanche DuBois, embodies Williams's fondest hopes for women's future and provides a more uplifting vision of American vitality than the energetic yet brutal Stanley Kowalski.
No Cat would be complete, however, without a good Brick. The tragic husband with his bottle and his demons has attracted some great actors over the years, and this show is no exception. Schanley has proved himself to be a valuable television star in such shows as Castle, Dexter, Criminal Minds, and the CSI franchises, and a solid film actor in movies like Fever Pitch, Courage Under Fire, and Conspiracy Theory. His upcoming role in Get the Gringo opposite Mel Gibson may be the biggest thing he's done yet, but Schanley still loves to work in the theater and is willing to take the time to perfect a huge role for a short run here in Santa Barbara. I spoke with Schanley this week about his part, the play, and life on the stage and onscreen.
How is it to be taking on such an important masterpiece?
Well, I'm aware that a lot of famous and wonderful people have done it, but I try to put them away while I'm working on a role. I think you should even put the writer out of your mind when you are doing something like Cat and focus on the character and the story. I first encountered this play in school, where, like a lot of kids, I'm pretty sure I didn't finish reading it. But now that I'm in it and learning it from the inside, I can see how well written it really is. There are layers upon layers of meaning, and they keep popping up as you go deeper with it in rehearsal.
How do you feel about your character's two obsessions—death and liquor?
I know that the one sometimes leads to the other. I guess I shouldn't say that, but the more time I spend with the role, the more I feel that Brick has a lot of self-loathing. When I am working on something for the stage, one of the questions I always try to ask is "why this day and not some other day?" I want to know what makes the specific moment in time so important, and I think with Brick the answer is that he wants out, but he doesn't want to die, so he's caught in between. It's like what he tells Big Daddy when Daddy asks him, "Why don't you kill yourself?" and Brick answers, "Because I like to drink." And so that's where he's at, suspended between these two things, liquor and death.
What is your Maggie like?
Tina Arning put the show together as producer, so when I came on, I wondered if she was also going to be good in the role of Maggie, and the answer is … she's great. She really has the chops for this part, and every minute onstage with her is exciting. She definitely has what it takes for this role.
Are all the actors in this show from Los Angeles?
No, actually we have a few from Santa Barbara, including David Brainard, and that's been good, too. We rehearsed for two months down in Los Angeles, and to have people from up here jump in now and be good has also been a real boost.
Why did you pick Center Stage in Santa Barbara?
It's cool here. We could have done it in a comparable size theater in L.A., but we thought this space had a better feeling to it, and we expect that we are going to get some really great audiences here.
4•1•1
Cat on a Hot Tin Roof plays through September 23 at Center Stage Theater. For tickets call (805) 963-0408 or visit centerstagetheater.org.