Arts & Entertainment
Def Leppard and Poison at the Santa Barbara Bowl
Big Hair, Big Ticket Prices Marked Saturday's Hit-and-Miss S.B. Tour Stop
Never underestimate the power of nostalgia. If there was any doubt whether Santa Barbarans would balk at paying $120 to see Def Leppard and Poison, two glam-metal bands that had their heyday in the '80s, Saturday night's capacity crowd quashed them with stiletto heels.
Poison kicked off the night with "Look What the Cat Dragged In," as Bret Michaels did his best hip-shimmying two-step on the upper tier of the stage. He wasted no time in letting the audience know that the Bowl was the band's last stop on a four-month tour and that he was ready to party. Hopefully after a nap, which he presumably could have taken when he left the stage so that C.C. Deville could provide a lengthy, meandering guitar solo.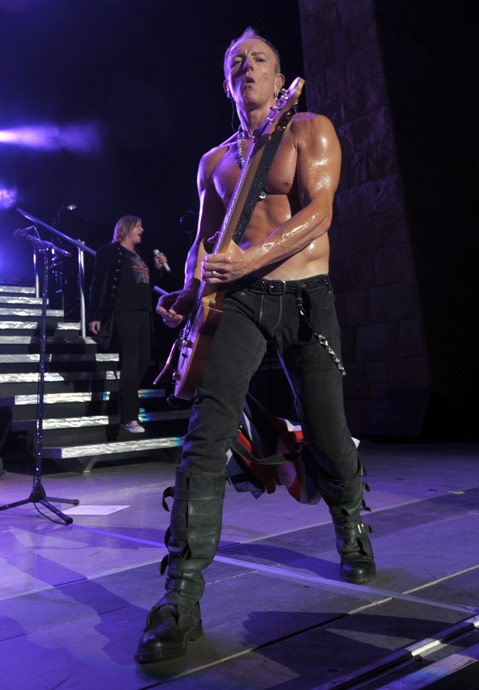 All four members converged again to bust out "Every Rose Has Its Thorn," the power ballad that made them famous. As their set wound down and the Bowl began teeming with concertgoers, some of whom had gone all out for the occasion, one couldn't help wishing Poison had done the same — sure, their pants were tight, but there was nary a speck of eyeliner in sight, and forget about teased hair. Even Deville's legendary mane was at half-mast.
Thankfully, Def Leppard single-handedly revived the ghost of glam with their 100-minute set. Combining copious amounts of big hair, greased-up shirtlessness, pristine sound, high energy, and a parade of hits, they had the crowd singing, staggering, and making out from the get-go. No f-f-fooling.