News
Lodging Visionaries Lose Lease
Couple Who Brought Modernism and Media to the Presidio Motel Must Move On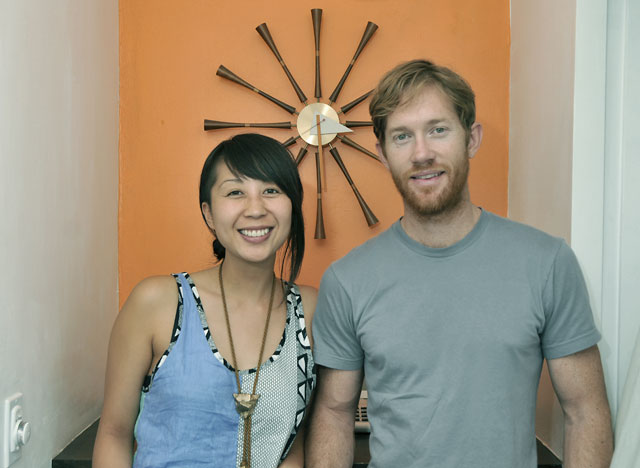 After nearly a decade of bringing modernism, music/art parties, and media attention to the Presidio Motel on State Street, Chris Sewell and Kenny Osehan learned this week that their lease would not be renewed. The Yeh family, who owns the property, will be taking the motel back as of December 31, so the Santa Barbara couple is now distancing themselves from their flagship business and has already started reverting the motel from stylish digs to standard fare.
"It's been our baby for the past eight years, and we are extremely saddened to lose the opportunity," said Sewell, who took over what he called a "sketchy roadside motel" with his wife in 2005 and turned it into the stylish darling of Santa Barbara's lodging scene, getting mentions in Sunset Magazine and the New York Times. "Since day one, we have looked at the Presidio as a community gathering place, not just a place to sell rooms," said Sewell, who lived on-site for the first three years, opened a gift shop, and hosted popular annual events, such as Deck the Halls and Jill of All Trades. "It's just a sad situation for us."
Yun Pei Yeh praised the couple's work and wished them the best, explaining that the lease had simply expired. "I am 80 years old," said Yeh, "and as I am getting older, the objectives for the motel are changing."
Sewell and Osehan — who also run the Agave Inn near State and Las Positas, the Hamlet Inn in Solvang, and are remodeling the Ojai Rancho Inn under their Shelter Social Club brand — understand that the owners have the right to take it back but believe that they were taken advantage of toward the end. "The only problem is Kenny and I had a lot of verbal agreements with them that they didn't exactly hold up to," said Sewell, most notably the $40,000 in shower upgrades they were encouraged to pay for this year. Those types of improvements aren't movable, but — because the Yehs declined to buy the branding — the couple is already taking down everything that is, from window stickers and the website to the colorful sign.
The Yehs, however, said that they "were partners in the investment" and are "disheartened" to hear that Sewell is upset.
"We're not trying to be spiteful," said Sewell, who is now actively looking for another opportunity in downtown Santa Barbara. "We're just trying to make it clear to the general public that we are no longer associated with this business and that we appreciate everything people have done for us over the years."