Arts & Entertainment
Crosby, Stills & Nash at the Santa Barbara Bowl
Folk Supergoup Delivered the Hits on Friday, September 28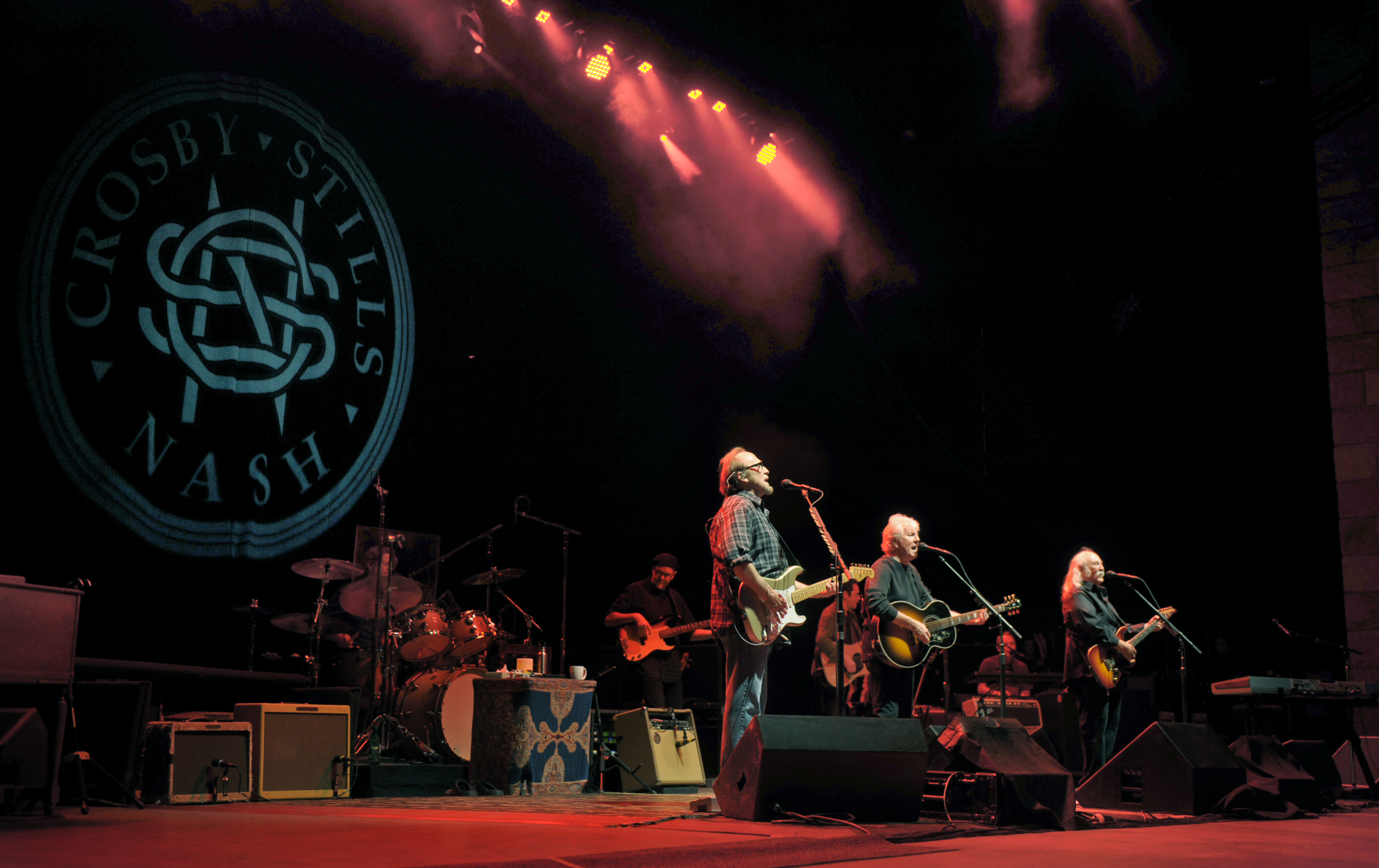 David Crosby, Stephen Stills, and Graham Nash have been in the game for a while, and so have their fans. Friday night's show at the Santa Barbara Bowl was crowded with baby-boomers toting extra seat cushions and cardigans, with an average age probably triple that of attendees of the following night's Mac Miller performance. However, after the veteran rockers' strolled onto the stage, guitars in hand, half of the seat cushions saw little use, and the audience looked anything but their age.
Leading off with an energetic rendition of their hit "Carry On," Crosby, Stills & Nash cleared the lines at the concession stands and filled nearly every seat in the Bowl. Sure, Stills may have to rasp through some of CSN's famous harmonies, but he proved time and time again that he's still every bit the guitarist that shredded Woodstock in 1969. Nash scampered around stage barefoot, harmonizing periodically as Crosby carried on, eyes closed, hands nonchalantly in his pockets, belting out lively versions of "Almost Cut My Hair" and "Long Time Gone." Stills, meanwhile, developed a habit of disappearing offstage sporadically, only to blaze back into the spotlight for another guitar solo.
Twelve songs in, the trio took a short break before shedding their backup band for an acoustic set that included slower jams like "Helplessly Hoping" and "In Your Name." But organist Todd Caldwell, guitarist Shane Fontayne, drummer Steve Distanislao, bassist Kevin McCormick didn't stay gone for long, bringing the crowd's energy back up with "Cathedral," "49 Bye Byes" and "Our House." Crosby's son, songwriter James Raymond, filled out the band on keyboard, and the father-and-son duo took center stage for a song they co-wrote, titled "Lay Me Down."
The band closed their 24-song set with "Suite: Judy Blue Eyes," which begins with the line "It's getting to the point where I'm no fun anymore," but at the end of the show it was clear that CSN is nowhere near that point yet.
Setlist:
1. "Carry On"
2. "Pre-Road Downs"
3. "Long Time Gone"
4. "Just a Song Before I Go"
5. "Southern Cross"
6. "Lay Me Down"
7. "Radio"
8. "Chicago"
9. "Almost Gone"
10. "Bluebird" (Buffalo Springfield cover)
11. "Déjà Vu"
12. "Love the One You're With"
13. "Helplessly Hoping"
14. "In Your Name"
15. "Remember Me" (Bob Dylan cover)
16. "What Are Their Names"
17. "Guinnevere"
18. "Daylight Again"
19. "Cathedral"
20. "49 Bye Byes"
21. "Our House"
22. "Almost Cut My Hair"
23. "Wooden Ships"
24. "Suite: Judy Blue Eyes"