News
Isla Vista Bookstore Closes
After 47 Years, Pardall Road Mainstay Calls It Quits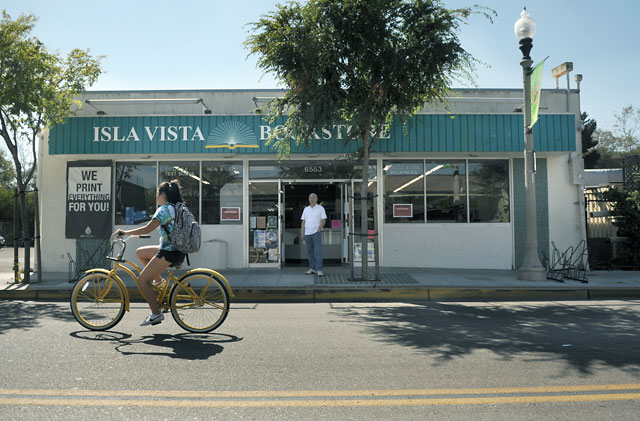 Through the windows of Isla Vista Bookstore, Dennis Tokumaru watched the seaside college town morph from a hotbed of antiestablishment rioters and draft dodgers into a nest of more serious young adults studying at adjacent UC Santa Barbara. There's still a lot of partying these days, he said, but not as much as in 1965 when the store opened and he started working there part-time, selling used textbooks and course literature to students who couldn't or wouldn't pay for new editions.
A week ago, after more than 47 years at 6553 Pardall Road — the last 27 as owner and operator — Tokumaru closed his doors for the final time. Put out of business like so many other brick-and-mortar bookstores by Amazon.com and other online marketplaces, Isla Vista Bookstore slowly petered out over the last few years as the economy tanked and students increasingly bought and sold their books to each other on the Internet.
Tokumaru said he couldn't find a buyer for the business, so he had no choice but to simply close up shop. The building was constructed in 1965 to the specifications of the bookstore's original founder John Sakurai, and at least 12 other I.V. book-selling businesses have come and gone in that time. By carrying a full lineup of course textbooks, novels, and school supplies every quarter, Tokumaru explained, his shop had the advantage over the others that would cherry pick only a few specific texts.
As Isla Vista's residents have changed character over the decades, so has the town's commercial landscape. "There are a lot more restaurants now than there were," Tokumaru said, remembering a slot car track and family pool hall that used to exist down the road. "There are just so many places to eat."
Speaking of which, a manager with I.V. Deli Mart said his 11-year-old business is eyeing Tokumaru's old digs but needs to work out lease details with James L. Ventura Enterprises, which owns the building along with a number of other Isla Vista properties. The space's monthly rent, said the manager, is $10,000. If all goes according to the tentative plans, SBPrinter.com, which occupies a small slice of Isla Vista Bookstore, would shift into the I.V. Deli Mart location if and when the deli moves to Tokumaru's old place.
Tokumaru said his customers are disappointed to see him go, but thankful for all his years of service. "They've been so kind," he said. "We've had so many well-wishes — it's been very uplifting. I'm just sad we won't be able to serve them anymore." Tokumaru said he had to let go four full-time employees — one who'd worked at the store for more than 30 years — and a number of part-time student workers. "I started out as a part-time worker, so I know how helpful it is to have a job like that," he said of the store's long-running practice of hiring college-agers.
On how he'll spend his new free time in the days and years ahead, Tokumaru admitted, "I have no idea what I'm going to do. After working at a business you own for so long, it becomes your job and your hobby. Right now, I don't have any other hobbies." He said he'll figure it out, but in the meantime he will keep rooting for the economy to recover so small businesses like the one he used to own can stay alive and thrive as they once did.