News
Retrospectives That Keep On Rolling
Memories and Updates
A good friend recently sent me a card to celebrate the first year of Pedal On columns. Hallmark doesn't make a specific card for that anniversary, so she crossed out Wedding and wrote in Pedal On. It reminded me of the birthday cards I used to get from my grandfather. In his last years, his stock of cards dwindled, and each year he would send me a card with the word Sympathy on the front crossed out and the word Birthday written in his shaky handwriting. I guess when you're 99 you have more need for cards commemorating loss than cards celebrating another year of living.
Some 24 columns after Erika and I penned our first Pedal On, it's time to celebrate thousands of words, lots of cycling events, interviews with fascinating people, laughs, beers, and a few tears. Instead of having our readers over for champagne, noisemakers, silly hats, and confetti, we're tripping down memory lane and updating some of our favorite columns from the past year.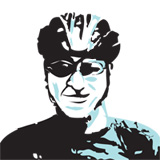 Both of us have written about the ongoing challenges faced by cyclists on mixed-use roads designed for motorists. I have some good friends who sincerely believe that traffic rules were designed for motorists and are not fair to the needs of cyclists. My heart may agree (as well as my legs when I have to come to a complete stop at a steep intersection), but my head says that we should work to change laws that we feel are wrong — not ignore them.
Sharing-the-road columns generate controversy and lots of heated comments from readers. On July 8, 2011, Erika wrote the first column on the topic, Where to Ride My Bike. A month later, I followed up with Three Little Words. That column noted that we're not going to stop traveling the same roads: "The number of cyclists in Santa Barbara is growing. Data from the most recent census shows that, since 2000, local bike commuting has grown from 3 percent to 5 percent. Los Angeles, over the past three years, has seen a 48 percent increase in the number of cyclists. Nationally, bike trips over the past 20 years have grown from 1.7 billion a year to four billion a year. They have tripled since 1977. Sadly, as riders have increased, so have conflicts between cyclists, motorists, and pedestrians."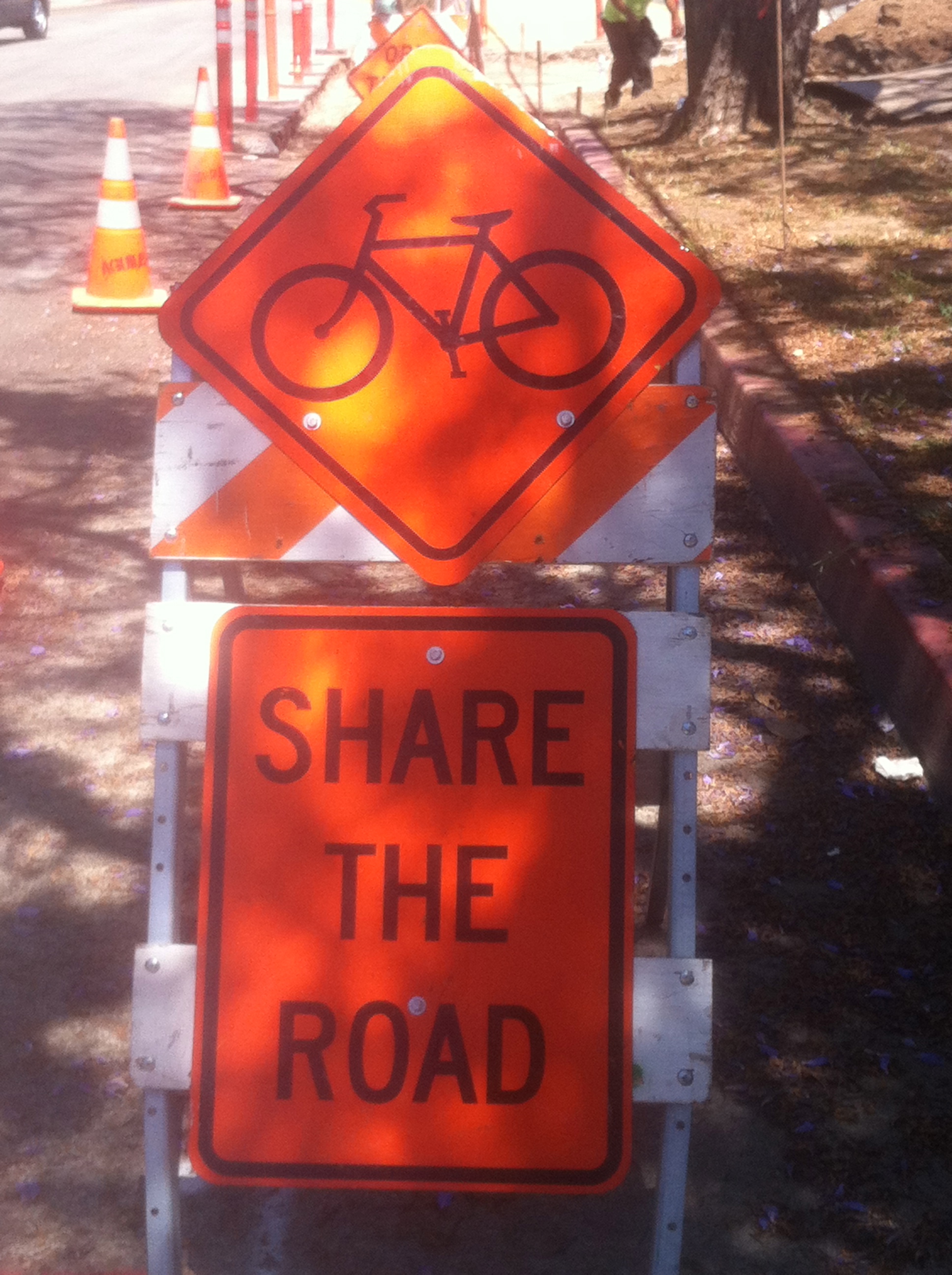 A year later, in the column Bert and Ernie's Way, I suggested two bold ideas. "First: All road users have both rights and responsibilities. Second: Too often we're focusing on the vehicles (cars or bikes) when we really should be talking about the behaviors of the folks driving or pedaling."
The Santa Barbara police believe as I do that bicyclists have rights as well as responsibilities. Citing a report from the California Office of Traffic Safety that ranks Santa Barbara third out of 103 similarly sized cities for bicycle-motorist accidents (!), police recently cracked down on riders who were not obeying traffic laws. By the end of the one-day targeted enforcement, police had issued 59 citations carrying fines ranging from $150 to $400. Among other things, riders were cited in downtown Santa Barbara for wearing headphones (you can wear one earbud but not two), riding on the sidewalk, failing to stop at red lights, and riding the wrong way down one-way streets. Fines for the latter two violations are the same for bicyclists as they are for motorists.
Santa Barbara police are taking action. Police in other cities (Portland; Washington, D.C.; Boston; and New York) have been cracking down for years. In 2011, New York City police issued almost 50,000 tickets to bicycle riders. To put that amazing statistic in context, about 250,000 people ride a bike each day in N.Y.C. Another 500,000 ride several times a month. How many tickets did police issue to motorists? Overall, police issued about one million traffic tickets. Almost 14,000 of the tickets to cyclists were for less serious infractions such as riding on the sidewalk. The remaining 35,000 or so were for serious traffic violations such as running a red light.
Continuing on the theme of sharing, my column Hearts Filled with Gold, in December 2011, was a reminder that everyone's heart is filled with generosity. "But not everyone understands that life is brief, and giving back now is what we do because our days are also uncertain." Do you remember Viola's words from that column? "Viola was the staff member at Shady Lane School who each year, during the Annual Giving campaign, would stuff a wrinkled dollar bill and some spare change into an envelope and hand it to me, saying, 'Howard, it's all I've got.' Each year I'd hug her and tell her it was the most generous and caring contribution. And it was."
In early August of this year, Jim Cadenhead, the owner of Cranky's bike shop on State Street, took 11 younger riders on an overnight BMX trip to the A-Town skate park in Atascadero. Sadly, in the middle of a wall-ride transfer, Jim's hand slipped off the handlebar grip and he was seriously injured. He's making an excellent recovery after emergency surgery to repair torn abdominal muscles. Jim is one tough bike rider. The response from the local Santa Barbara cycling community has been awesome. Before Jim was out of the hospital, The Santa Barbara Bicycle Coalition quickly put together an Injured Cyclist Fund to help pay for expenses. Pete Albrecht created Support Jim C T-shirts. Many, many other caring folks contributed money, time, or energy to helping Jim, his family, and the store. Our hearts are filled with gold!
I wrote about Cruisers in March of this year: "Southern California is the home of the beach cruiser. If you have ever stood on the UCSB campus as classes are changing, you have experienced the wild rush and exhilaration of thousands of riders on cruisers. Many of them are carrying books in hand, surfboards under arm, or talking on cell phones. Welcome to Southern California beach-cruiser culture!"
The annual Cruiser Ride has become an unofficial end to Fiesta celebrations. Over 2,800 riders participated in this year's ride to Goleta Beach from the dolphins statue at Stearns Wharf. Each year the event gets larger, and while riders have a blast, complaints from motorists and citizens along the route multiply. I love the spontaneous unplanned nature of the event, but I'm also grounded in reality. As events grow larger, their nature changes, and some organization may be required to keep them going. There has been talk of trying to structure the ride into a Ciclovia-type event. The Cruiser Ride is a great tradition for cyclists. Let's get the community working together to make sure it survives and grows. Got any ideas? Let us know.
I join Erika in thanking all of you who have read Pedal On over the last year and taken the time to make comments or to talk with us as we gathered information for each column. It's been a community effort. Erika says it perfectly: "Bicycles are at the heart of building more livable communities and bringing us closer together." Keep rolling!