News
Maldonado Leads in New Poll
Challenger to Rep. Lois Capps's Congressional Seat Gains Support as Vote Gets Close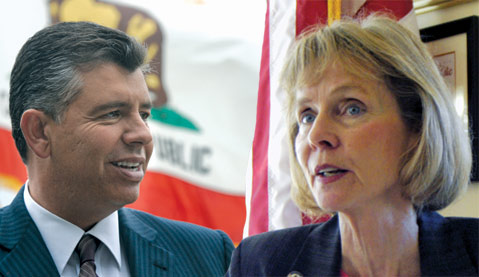 Former lieutenant governor Abel Maldonado's campaign released a polling memo this morning that showed its candidate in a lead over incumbent Representative Lois Capps, the first time that's happened this election season. According to the poll — which was of 400 likely voters and conducted by Public Opinion Strategies — Maldonado leads Capps 45 to 44, with a margin of error of plus or minus 4.9 percent.
The survey shows the race is a dead heat in Santa Barbara County, while Maldonado has a slight edge in San Luis Obispo County. It also shows that 92 percent of likely voters have heard of both candidates, with Maldonado holding a 40 percent positive image and 37 percent negative image, and Capps showing a 44 percent positive but 40 percent negative image.
A survey done by the same group in August showed Maldonado trailing by 5 percent, 49 to 44.
Most voters, according to the report, have tired of the tax issues of both candidates, with the survey showing only 27 percent of likely voters think the issue is important, while 68 percent think it is a distraction. Though the Capps campaign hasn't publicly released any polling data, it's likely that their survey show that her campaign's focus on Maldonado's IRS issues is effective. While she ran ads during the Olympics about standing up for women's rights and middle-class families and against corporations, Capps's advertising campaign since then has exclusively focused on Maldonado's tax record.
"It's clear that Central Coast voters have a strong distaste for Mr. Maldonado's many tax troubles," said Capps spokesperson Jeff Millman. "And now we've learned about Mr. Maldonado's worst tax abuse yet, when he claimed a tax deduction for the cost of hosting a political fundraiser where he raised $35,000 for his State Senate campaign. By asking the taxpayers to subsidize his political fundraiser, he's violating both the tax code and campaign finance laws."
"With less than a month to go, people throughout the Central Coast are responding to Abel Maldonado's message of creating jobs, ending bailouts, and leveling the playing field with China," said Maldonado spokesperson Kurt Bardella. "You have to tell people what you're for, and it's perplexing that to this day, the sitting congresswoman of 14 years has yet to define what she is for and what she will do to address the number one issue people here care about: creating jobs. Spending 100 percent of your time attacking your opponent may work in Washington, but it won't work here."
Much of the negative campaign tone hasn't come from the actual campaigns of the candidates themselves but from outside groups. Indeed, advertising continues to run nearly nonstop during commercial breaks. As of Sunday evening, outside groups have spent $954,712 on the race, a number that has really picked up this past week, with Democratic political action committees (PACs) jumping into the fray.
House Majority PAC, a Democratic PAC, announced earlier this week it is running an ad attacking Maldonado for what it calls his "anti-women" record. "Women — and men — on California's Central Coast have no friend in Abel Maldonado," said Alixandria Lapp, executive director of House Majority PAC. "After all, Maldonado wants to put the insurance industry ahead of women in California and across the country by letting insurance companies discriminate and deny access to birth control and mammograms." The advertisement was to run for a week. In filings earlier this week, the PAC reported spending $87,997.
That ad buy joins one made by the Democratic Congressional Campaign Committee last week, though it isn't clear how big the ad buy was. The American Hospital Association PAC also reported spending $200,315 in support of Capps. That PAC's website says it exists to promote the improvement of the healthcare system in the U.S. and gives to candidates in both parties, but it has given more to Democrats than Republicans.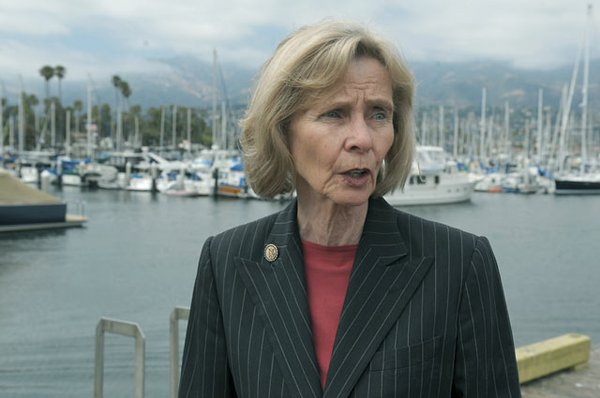 The Democratic purchases in the district — the first by Dem PACs this fall — show the left is just as interested in holding onto this seat as the Republicans are in taking it away. The Congressional Leadership Fund and U.S. Chamber of Commerce have already spent cash to run ads here this fall, as the airwaves are beginning to be inundated with Capps and Maldonado's mugs. "We were getting buried by Mr. Maldonado and his right-wing allies' negative and misleading attacks," Millman said, "and we're still getting outspent by a wide margin on television."
Just on Saturday, in fact, the National Republican Congressional Committee (NRCC) reported spending another $134,898.
Said Bardella, "I guess we know the answer to the question of what voting with Nancy Pelosi 97 percent of the time gets you: resources for more negative attacks when you're behind in the polls. At the end of the day, there is a very clear contrast in message that both candidates are communicating. Lois Capps wants to spend her time avoiding her record and attacking Abel Maldonado's family and business, while Abel talks about creating jobs, protecting Medicare, and leveling the playing field with China."
Maldonado, who recently received the endorsement of the Peace Officers Research Association of California, introduced an ad this week in which he says Washington needs to "end the bailouts, stop the waste, and keep more jobs here at home."
The NRCC also came out with a new ad this week, attacking Capps's support of the bank bailout. "Lois Capps voted to bail out Wall Street and allow executives to take huge bonuses," said NRCC spokesperson Daniel Scarpinato. "Capps's priorities are not Californians' priorities."
Both Maldonado and Capps — who was named a "Champion of Children" for the third year in a row by the First Focus Campaign for Children — will be releasing their fundraising statements in the next few weeks. Vote-by-mail ballots go out Tuesday.
The race between Capps and Maldonado was ranked this week as the 52nd most competitive race in the country and sixth-most in the state by the National Journal.
The Independent, along with the Carsey-Wolf Center at UCSB, is hosting a live debate at the Pollock Theater Tuesday at 7 p.m. Tickets are sold out, but the debate will be streamed live on independent.com, broadcast live on KCSB, and replays will be shown on TVSB Channel 19. Those without tickets can also go to an overflow room at 1920 Buchanan Hall.