Film & TV
Just 45 Minutes from Broadway
Diane Salinger, Jack Heller, and David Proval star in a film written and directed by Henry Jaglom.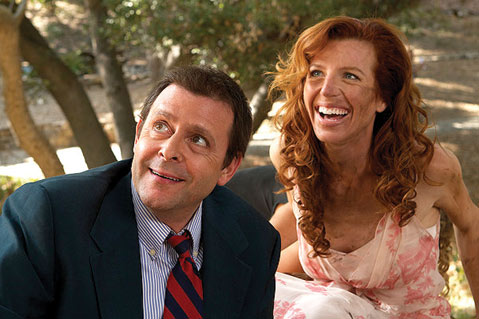 For the latest in writer/director Henry Jaglom's sometimes interesting, sometimes irritating and barely watchable indie filmography, we have Just 45 Minutes from Broadway, which comes off as at least 45 minutes past tolerable. Admittedly, it's an acquired-taste thing with Jaglom, who's a charmer to some, talky and pretentious to others. With this play turned into a film (with an awkward, half-hearted attempt at a cross-medium marriage between the two), Jaglom takes aim at a dysfunctional "theater" family. Two older acting couples parry with their quarrelsome daughters — plus an objective outsider and presumed fiancée to one, played by Judd Nelson — and gather in a woodsy family home for an occasionally warm but often shrill weekend of venting, reminiscing, and skeleton de-closeting.
A cast including Diane Salinger, Jack Heller, David Proval, Harriet Schock, Tanna Frederick, and Julie Davis work up a reasonable ensemble heat, but the center doesn't hold. Key lines are dropped not so casually into the script as a way of supplying some thematic mooring amid the blather. At one point, someone utters the line "families are like tyrannies run by its sickest member," leading us to speculate on the relative sickness factors of each character in the family. Later, as if to deflect the melodramatic excesses of the bickering family, a more marginal character taps the old line, "Life is a tragedy to those who think and a tragedy to those who feel … or is it the other way around?"
In one of the more satisfying passages of the film, the characters gather around a table for a Seder dinner presided over by the patriarchal figure played by Michael Emil (Jaglom's brother). The banter ebbs and flows, and a naturalistic warmth warms the air of an otherwise rather stifling filmic atmosphere. Here, Jaglom gets his Robert Altman on, to good effect.
Jaglom's wannabe Woody Allen-meets-Altman aesthetic has yielded periodic amusements and insights, in Eating, Last Summer at the Hamptons, and Someone to Love, notable mainly as Orson Welles's last, and spontaneous, film role. This time around, though, Jaglom and company are treading on some over-trodden boards, leaving us mostly dry and pondering exits.