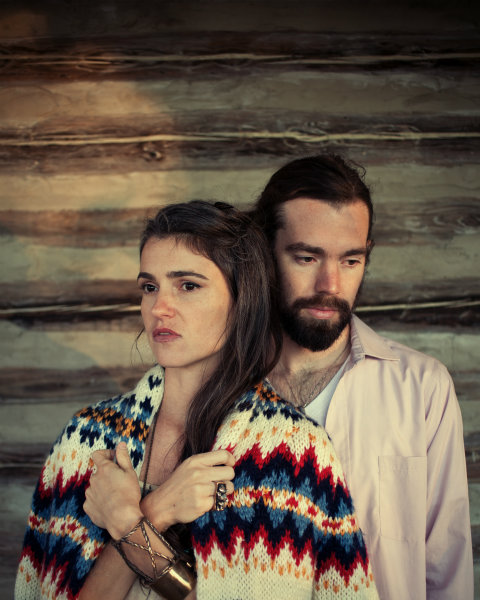 North Carolina's Bowerbirds have always been good storytellers. Bandmates and life mates Philip Moore and Beth Tacular draw inspiration from the day-to-day, which for them involves a lot of rural living and art-making. Their nature-bound lyrics and beautifully sparse compositions acted as the backbone for 2009's stunning Upper Air, as well as their latest, this year's The Clearing. Penned following a long bout of touring and the dissolution of Moore and Tacular's now mended relationship, The Clearing digs deep into the pair's troubled past and hopeful future. In between thoughtful ruminations on life, death, and picking up the pieces, Moore and Tacular give us some of their most ambitious songwriting to date. Here, big drums and swelling strings mix and marry with intricate guitar parts and pretty piano compositions. All together it makes for a record that hits hard and cuts right to the core. It also swings the door wide open for where the Bowerbirds may go next.
This Tuesday, October 16, Bowerbirds return to Santa Barbara to headline SOhO Restaurant & Music Club. Below, we catch up with Moore to talk about The Clearing and the band's future plans.
How have the shows been of late? Touring has been great. We've been trying to maintain our positive attitude. It's been a long road; we've been on the road since March with little two-week breaks in between. We're winding down now — I think this is probably our last tour with this album, and it's nice that it's on the West Coast. It's hard to tell just how the songs are being perceived, but when you've got fans coming up to you and telling you they love the new album that's kind of all that matters. And it's been pretty fun to play the new stuff live, so things are working out pretty well.
The Clearing features a lot more instrumentation than past Bowerbirds records. Did you go into the writing for this record with that in mind? Not exactly — we kind of decided on that after the songs were written. All of these songs were started in a quieter sort of way. We felt with the instrumentation that each song should have its own slightly separate mood. I feel like we tried to match the instruments and the effects to the songs themselves.
You guys also brought in a fair number of guest artists, correct. Yes, our friend Rachel Robbins, who's dating our go-to violin guy, she did pretty much all the strings on there. Then we had Sean Carey from Bon Iver play on one song because he was around one day; my friend Johnny played drums on one song. We definitely had a little help from our friends.
What do you hope people take away from the album? It's hard to really say. I want people to listen to the lyrical content. I love the music and I love the playing and I love that my friends contributed so much, but at the end of the day I'd rather have people take away the meaning of the songs. I like that things that are quite personal to us can be heard and mean really something to the people who are listening.
After three albums, how has your relationship to music and the industry changed? We've chilled out quite a lot. We were kind of workaholics — well, we've been workaholics for a long time. It ebbs and flows. We were really trying to make everything perfect for the record and make sure we didn't drop any balls. Now I think we've calmed down a little bit and we're just trying to make these last tours really fun. The summer tours have been good and relaxed and the shows and the people have been great, so we're just trying to extend that feeling.
Working with your significant other is no easy task. What's your secret? It's hard for me to say. You just can't be stubborn at all. You have to be really patient. But other than that I'm not even really sure. I'm not even sure we follow that advice. I think it just works out. You've got to think about the love aspect of your relationship, work through the tough times, and not take yourself too seriously.
What comes next? After the West Coast we're going to drive to Colorado and pick up our dog, which's staying with Beth's brother. Then we're going to visit my parents and play a show in Ohio. After that we're just going to drive home, and Thanksgiving is coming up. Things like that. Just trying to be as normal as possible.
Any new music plans in the works? I have a bunch of song ideas that are kind of different from the Bowerbirds, so I'm working on that by myself right now. That's kind of exciting for me. I want to be in a local band for a while and be part of my local scene. I really miss the benefits of having close friends around to start little projects and open up for my friends' bands.
4•1•1:
Bowerbirds play SOhO Restaurant & Music Club (1221 State St.) on Tuesday, October 16 at 8 p.m. Call 962-7776 or visit clubmercy.com for tickets and info.