Arts & Entertainment
Black Joe Lewis Brings Soul, Rock, and Funk to UCSB
Austin's Rising Music Makers Headline Campbell Hall on October 18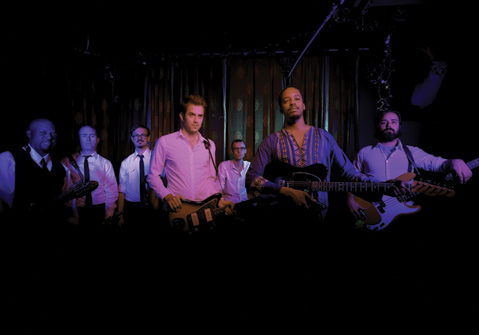 Growing up in the live music capital of the world, you get to know your stuff. For Austinite Black Joe Lewis, the fingerprint of the city's vibrant night life and historic scene is all over his tunes. Often mentioned alongside modern day revivalists like Sharon Jones & The Dap-Kings and Charles Bradley, Lewis and his backing band, The Honeybears, are nothing if not history entrenched. Their music pulls from the pantheon of blues and soul greats, ranging from the godfather of soul himself to folks like Otis Redding, Little Richard, and Booker T. & The MGs. But there's also a healthy sprinkling of blues and garage rock worked into the mix. Rather than croon his way through lyrics, Lewis spits them. Meanwhile, guitarist Zach Ernst is equally at ease riding a blues riff as he is shredding a lick… loudly.
With one foot in each school, the band has been able to win over fans across the country in recent years. Their energetic and dance-party-inspiring live sets quickly made them a must-see act in their hometown. Not long after, fellow Austinites Britt Daniel and Jim Eno (of Spoon fame) fell under their spell. Together with Eno, Lewis and the Honeybears have cut two records — 2008's break-through Tell 'Em What Your Name Is! and 2011's Scandalous — which helped launch the band from Austin buzz act to nationally touring success story.
As for Scandalous, it's is a slick and punched-up second effort that moves the band forward and manages to retain the grit that makes Lewis's music work. Take "I'm Gonna Leave You," a slinky and blues-inspired dirge that finds Lewis scatting almost unintelligibly alongside a sizzling drum fill and some well-placed horns. Later, "Booty City" is all soul funk, driven along by a sweet bass lick and a whole lot of chanting. It's music that's made to move to. And that's something that will never go out of style.
UCSB's Arts & Lectures presents Black Joe Lewis & The Honeybears at Campbell Hall on Thursday, October 18, at 8 p.m. Call 893-3535 or visit artsandlectures.sa.ucsb.edu for tickets and info.