Journalist Tina Kelley has lived with some heavy responsibilities over the course of her career. While at the New York Times in 2001, Kelley was a core member of the team that created "Portraits of Grief," the series of 1800 profiles of those killed in the 9/11/2001 attacks on the World Trade Center that went on to win the 2002 Pulitzer Prize for Public Service. Since then, Kelley, who still lives in New York City, has become involved in another project with an equally compelling subject and an even wider scope. As co-author with Kevin Ryan, the President and CEO of Covenant House, Kelley has just published a remarkable book called Almost Home: Helping Kids Move from Homelessness to Hope (John Wiley and Co.). It's a kind of "Portraits of Grief" for the decimation of childhood, as it chronicles the lives of teens who have suffered the pain and confusion of losing their homes and falling out of touch with their families. However, in this case the stories are not so unrelieved in their grimness, as each of the young people she writes about managed to find their way to Covenant House, the nation's largest organization dedicated to helping homeless young people get their lives back. Kelley will be in Santa Barbara on Thursday, October 25, for two events. At 4 in the afternoon, she will speak to students at UCSB's College of Creative Studies in the Little Old Theater on UCSB campus, and at 7:30 that evening, she will speak and sign copies of the book at the Book Den on Anapamu Street. I spoke with Kelley by phone from her home in Manhattan last week about the book and about the challenging nature of the Covenant House mission to aid homeless children and teenagers.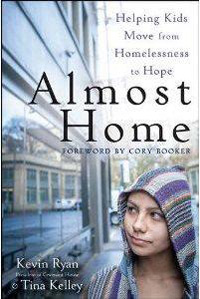 Some of the stories in the book are pretty shocking, like when Paulie's dad hands him a gun. What was the process of choosing what to include in the book like?
It was tricky. For example, believe it or not, I had to leave out some of the most intense things that Paulie went through, such as finding a dead body in the trailer park where he lived. This was when he was a very young teen, and the corpse that he and his friends stumbled on was naked and decomposing. That kind of thing is going to have an impact on someone, but because Paulie went through so much else, I didn't even end up using it.
Why did you and Kevin Ryan decide to tell the story of these teens all the way from the beginning, rather than starting with the moment they arrived at Covenant House and just making it about how they got help?
One of the points that we really wanted to make is that so many of these young people become homeless through no fault of their own. It's not a choice they make, and it does not necessarily reflect any failings on their part.
Tell me about "Portraits of Grief." How does it compare to this project?
I wrote 121 of those 9/11 profiles. It was very challenging. My child had just been born, so I was working the night shift, and writing these 200-word pieces at night, and trying to make each one different, and to make each one worthy of the person and their memory, was very difficult. You knew that the people who had lost them would be reading it, and that you risked re-traumatizing them if you made a mistake. But it was a tremendous discipline, and I carried that with me into this work.
One of the most interesting aspects of what Covenant House provides that you describe in the book is the mentoring that these homeless kids receive. Do you have any personal experience with that?
Yes, I'm actually mentoring an adolescent now. It's hard. Kids who aren't used to getting positive feedback from adults don't necessarily know what to do with it. They challenge you, and they self-sabotage, and sometimes the only answer is just to stick with them and show them that you won't quit. There are times when the work may not seem to have any immediate results at all, but then these seeds are planted and it can happen that what you did then ends up helping them later. If all you succeed in doing is proving to the person that there are such things in the world as trustworthy adults—people who are actually able to keep their word—then that's progress.