Business
Second Startup Weekend
Entrepreneurs Unite to Pitch Ideas and Make the Best Ones Come to Life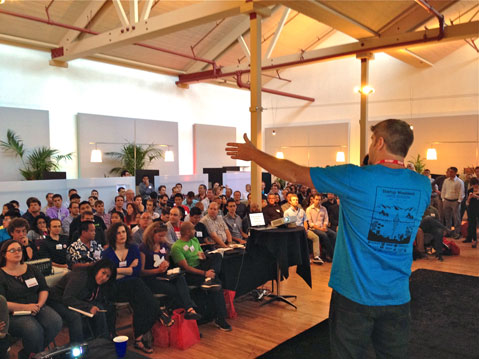 Thanks to the global reach of the Internet and DIY-enabling power of modern technology, there's probably never been a better time to be a creative-minded entrepreneur. And thanks to the new series of Startup Weekends that foster business ideas into reality, there's probably never been a better time to be such an entrepreneur in Santa Barbara either.
Fresh off the success of the first Startup Santa Barbara last June — which spawned a 40-person wait list for the sold-out event — organizer Kyle Ashby is at it again this coming weekend, November 2-4. "We've got some stiff competition with Startup Weekend events held every weekend all over the world, but to be honest, our Santa Barbara entrepreneurs crushed it at our first event," said Ashby, noting that a few participants from that first weekend just won a Los Angeles Startup event. "The community has so much experience and history with startup companies and some amazing centers of entrepreneurship, like UCSB's Technology Management Program and the Bren School of Environmental Science and Management. It's hard not to be inspired from the successes and failures of the entrepreneurs around us."
Employing a model used globally, Startup Santa Barbara — which is happening at Citrix in the heart of Goleta's high-tech 'hood — begins Friday night at 6 p.m., with the pitch session commencing after dinner. There, all participants will get a chance to sell their idea. The best ideas are chosen by the crowd, and then teams form around what's needed to make them into functioning apps, programs, or products by the end of the weekend. From Saturday morning 'til Sunday afternoon, teams work around the clock to get it done, with the help of mentors, and then present the finished product to a panel of judges on Sunday afternoon. Along the way, the public is invited to check out the pitch session, the Saturday seminar at noon, and the Sunday finals and judging starting at 5 p.m.
The formula worked well at the first event for Tara Armbruster, whose team developed a winning app called Pipio, a bird-watching tool that identifies birds by their songs and is moving toward commercial release. Even with that experience and another previous Startup Weekend in the Bay Area under her belt, she's back for more this weekend. "Both were 100-percent worth going to simply for the amount of learning that can be accomplished in a weekend," she said. "It is the best place in Santa Barbara to learn new skills and to network with other professionals."
Want to get involved? Visit startupweekendsb.com to sign up.