News
Melchiori Construction: Blueprint for Bankruptcy
The Familial Rise and Fall of a South Coast Powerhouse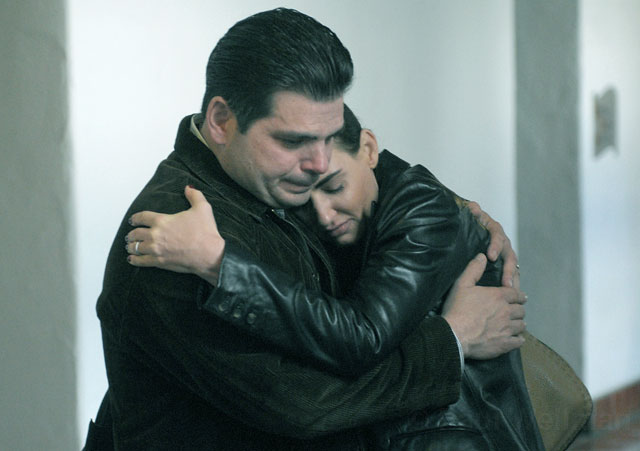 Drive around town, or all over the South Coast, really, and chances are you'll pass a building with the fingerprints of Melchiori Construction on it: The Four Seasons Biltmore, the Canary Hotel, Paseo Nuevo, the Granada Theatre, Chapala One, the Braille Institute, Garden Court on De la Vina Street, QAD headquarters in Summerland, and the San Ysidro Ranch in Montecito. The list goes on.
Begun by Ugo Melchiori with two minority shareholders in 1990, Melchiori Construction Company entered as a local underdog into a construction market dominated by outside companies. By 2000, it had grown into a high-profile firm, winning awards and bids left and right. All in all, the company has had input on more than 1,700 projects over the past 20 years. In 2008 ​— ​a year before son Mark Melchiori assumed control of Ugo's shares when he died ​— ​the company reported 115 employees and $80 million in annual sales.
But that was the firm's high point, and it's since been on a slow but constant decline toward bankruptcy ever since. In May or June, according to minority shareholders Steven Pivato and Olivero Ziliotto in court filings, company president Mark Melchiori informed the two that the company had pulled out of three or four projects, including one at UCSB. In July, according to Pivato, a large residential remodeling project on Mountain Drive was terminated by the owner because Melchiori Construction had apparently not paid numerous subcontractors. An inspection of the books that month showed Melchiori had paid himself an exorbitant salary from 2005-2009 ranging from $680,000 to $912,000 without board approval, Pivato claimed.
Later that month, court records show, the company's board of directors met and discussed a possible bankruptcy filing, and in mid August, Melchiori held a meeting informing employees the business would close down October 15. Melchiori filed for bankruptcy the morning of October 16, just minutes before a judge was set to hand the company over into receivership.
In 2012 alone, the company or its president, Mark Melchiori, have been named defendants in more than 25 lawsuits, ranging from small claims of hundreds of dollars to the largest in excess of $9 million. Melchiori family members are also embroiled in litigation with one another, and the company's headquarters on De la Vina Street now sits vacant.
Some of the lawsuits have been filed by ex-employees, including former executive vice president Jean Mollenkopf, former director of development services Steven Fairly, and former senior project managers Stuart Kendall and Scott Miners. One ex-employee complained he was required to work overtime or off-the-clock in order to meet project bids and keep his job, but didn't get paid. Others said they loaned the company money out of their 401(k) but weren't reimbursed.
Various subcontractors have filed suit against Melchiori Construction because they have allegedly not been paid for work done on projects, including the County's Emergency Operations Center and UCSB's Ocean Science Education Building. Construction on that building was halted because subcontractors weren't seeing money, but it's expected to begin again next week and take up to six months to complete. This time, a Ventura contractor is in charge.
While these lawsuits are now on hold because of the bankruptcy proceedings, legal documents paint a pretty devastating picture of a company that was once a South Coast powerhouse but is no more. In bankruptcy court filings, Mark Melchiori reported a gross income of $16 million in 2010, $20.2 million in 2011, and $16.3 million to date in 2012. He estimated his company's assets at less than $50,000 and estimated liabilities between $1 million and $10 million.
The largest liability, it appears, is a $9-million loan owed to Santa Barbara Bank & Trust. The bank, in its suit, said there are a couple of loans going back to 2003, and the bank agreed to extend the maturity date on the indebtedness numerous times. But, according to the bank's court filing, "Rather than repay, the debtors took advantage of the Bank's accommodation to them by fraudulently transferring assets and property which should have been made available to the bank."
That allegation of fraudulent transfer comes up again in a lawsuit filed against Mark Melchiori and his ex-wife, Heather, by Mark's stepmother, Linda Melchiori, who alleged in August that the couple's April divorce after 17 years of marriage was an attempt to shield their assets from creditors.
In the lawsuit, Linda alleges breach of contract and fraud for failing to pay back $140,000 Mark borrowed from her. She also claims he and Heather asked for help in getting a $1-million line of credit to cover checks they had written. "They told me that if I didn't help them, Melchiori Construction Company would go out of business, it would devastate my husband's estate, and that I would end up with nothing." Mark would also go to jail, they allegedly told her. According to Linda's suit, the couple "concocted a plan and scheme whereby they would file for divorce to attempt to shield their assets."
But according to Mark's attorney, Heather became the sole owner of their two homes in the divorce, and Mark Melchiori no longer holds an interest in those properties. As part of the divorce, according to a court declaration from Heather, the title was transferred "in exchange for my waiving any possible interest in the Melchiori companies or properties." The value of the properties is approximately $5.3 million.
Heather never owned any shares of the construction company and was not involved in the operation, say legal rebuttals, and the company had always been her ex-husband's separate property. "Since the filing of my divorce, my plan is to move back East where my parents live and raise my daughter without the entanglements of the Melchiori family drama," she said.
However, others continue to believe the separation was an effort to shield the property from creditors. Linda was seeking an attachment order against the two parcels of real property, but Heather argued she was not the maker of the note. "Although the company did borrow this $100,000 from Linda Melchiori, I, personally, did not," she asserted. A judge agreed the properties could not be attached.
Pivato, in his court filing, also hinted at funny business, saying he had "no reason to believe the couple was having marital problems and surmised that the divorce action was suspicious given the close proximity of the filing to M. Melchiori's statement that the company needed funds." With the filing for bankruptcy, all of the pending litigation in Superior Court is placed on hold.