News
Helping the Homeless Critters
Celebrate National Shelter Appreciation Week
In 1996, The Humane Society of the United States (HSUS) launched National Animal Shelter Appreciation Week. The campaign was created to shine a light on the priceless role shelters play in our communities and to increase public awareness of animal welfare issues and shelter services. During National Animal Shelter Appreciation Week, the first full week of every November, the HSUS promotes and celebrates animal shelters and rescue groups across the country.
Most people probably don't realize how many animals are cared for by animal shelters across the nation each day. Unless you are submerged in the environment of an animal shelter, it's tough to fathom. I was the manager of shelter in Detroit that took in close to 100 animals per day, every day, 365 days a year. To help the efforts that animal shelters go through on a daily basis, the best thing you can do is make sure that you are part of the solution and not part of the problem. Here's how to become part of the solution:
Spay or neuter your pet.
If you are a pet owner, make sure your pet is spayed or neutered. Animal shelters have to deal with millions of unwanted pets each year, simply because owners fail to spay and neuter. An added benefit to you as the pet owner is that certain undesirable behaviors may be altered with spaying or neutering. For example, animals tend to roam less, and fewer will mark their territory once they are spayed or neutered. Plus, you won't have to worry about your female dog or cat going into heat.
Own your pet for life.
Remember that pet ownership is a lifetime commitment. Many of us pet owners will get married, have children, move, start a new job, and so on throughout our pet's lifetime. When these changes occur, it should not be a reason to give up your pet. Studies have shown that regardless of the reason given when an animal is surrendered to a shelter, behavior problems are the underlying issue most of the time. If your pet has a correctable behavior problem, try to get professional advice and training before you opt to hand over your pet to an already overpopulated shelter.
Identify your pet.
According to the National Council on Pet Population Study, about one million stray dogs and half a million stray cats are turned in to shelters across the nation each year. Unfortunately, only 15 percent of those dogs and a measly 2 percent of those cats are ever reunited with their owners. Don't let your pet become a statistic; make sure you have the proper identification on your pet at all times. For more information on identifying your pet, review a previous Pet Chat column.
Before you shop, ADOPT.
If you don't own a pet but would like to, choose an animal shelter over a pet store. There are many shelters in the Santa Barbara area alone with hundreds of pets looking for loving homes. Even if you're looking for a purebred, you may find one at an animal shelter. Studies show that more than 30 percent of shelter animals are purebred. If you don't see what you're looking for at an area animal shelter, you can go online. Go to www.petfinder.com, and you can search by your area and the type of animal you're looking for based on breed, sex, and even color.
Volunteer your time.
If you can't adopt a pet, consider helping out a shelter by volunteering your time helping out at the shelter or fostering an animal. Not only will you be helping animals in your community, but you also will be building knowledge and skills. Call your local shelter and find out how to start volunteering.
Donate old toys or beds.
If your pets have items they no longer use, consider donating them to your local shelter instead of throwing them away. Many shelters will wash and reuse old beds and toys.
Celebrate National Shelter Appreciation week by becoming part of the solution!
ANNOUNCEMENTS
Join CARE4Paws at the Two Million Dogs Puppy Up Walk
Join us Saturday, November 3, at Chase Palm Park in Santa Barbara for the county's first Puppy Up march, a two-mile pledge walk and animal festival that benefits Two Million Dogs Foundation's comparative oncology research (a quest to find the link between human and canine cancer) and CARE4Paws. Hosted by CARE4Paws and Trusted Pet Partners, the two-mile Puppy Up walk will start and end at the ocean-side part of Chase Palm Park at 236 East Cabrillo Boulevard (near State Street and Stearns Wharf) at noon. Registration starts at 10 a.m.
Adoptable Pet of the Week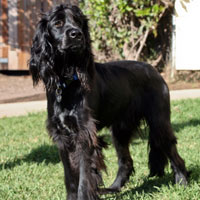 Teddy is a 12-month-old cocker/English spaniel mix who is looking for a permanent home. This darling, lovable boy is very eager to get a fresh start in a happy, loving home. He is feeling good and has such a wonderful energy and joy for life. There does not appear to be a mean bone in his whole body — just pure sweetness. He came to us from a situation where he had very limited social interaction. His first few days with us were scary for him. He was frightened and nervous of strangers. We've been patient, gentle, and slow with him, and he's been very responsive to our attention and affection. He is warming up nicely and becoming much more comfortable with us. He is eagerly learning to walk on a leash, and we discovered that Teddy loves to roll in the grass!! He will just drop and roll as soon as he hits the grass. He especially enjoys doing a "belly crawl" across the cool grass. Ah, the simple pleasures of being a dog!!
He is very unique looking dog. He is slim and has really long, skinny legs. He most definitely has a cocker or Brittany spaniel face with big beautiful brown eyes, a velvety soft rounded nose, and long, floppy ears. His coat is incredibly smooth and silky. He is completely black except for a little white tuft on a couple of his feet. His coat was long and pretty matted when he came in. He was trimmed rather short, but he was uncomfortable with us trimming his feet so we let him be. So he has big fluffy feet that look like he's wearing UGG slippers. As he gets more comfortable with us, we will work on trimming those feet. He is well mannered and eager to please. He is very calm and quiet, except when he sees another dog. He gets very excited and wants to play so badly. Teddy is waiting for a loving family to take him into their heart and home and teach him what it feels like to be loved and respected, which will in turn allow him to become more confident and adjusted. He appears to be potty trained. Teddy will need to be brushed frequently and groomed every so often. It will be very important to keep the long hair in and around his ears trimmed. He was fine with that!! He will bloom into a wonderful, loyal pet.
To inquire about adopting a dog, visit DAWG in Santa Barbara. DAWG (Dog Adoption and Welfare Group) is a no-kill, not-for-profit dog rescue/adoption organization located at 5480 Overpass Road in Goleta. For more information, call (805) 681-0561. You can view more adoptable dogs at: www.sbdawg.org. All of the dogs have been spayed/neutered, micro-chipped, are current on their shots, and have flea/tick/mosquito protection. We ask for a minimum adoption donation of $250 for young dogs (under three years), $150 for adult dogs, and $125 for seniors (dogs 8 years old and over).
For more information on our available dogs, call (805) 681-0561, email adopt@sbdawg.org or come by during open adoption hours, Thursday-Monday, 12-5 p.m..