Film & TV
Flight
Denzel Washington, Don Cheadle, and Kelly Reilly star in a film written by John Gatins and directed by Robert Zemeckis.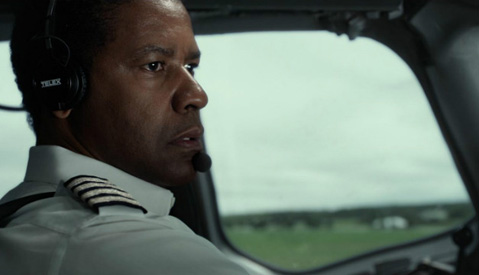 In Robert Zemeckis's generally bracing and generally fine film Flight, Denzel Washington reassuringly returns to his impressive form, thanks to a role he can sink his teeth and emotional focus into. Denzel is back it seems, thanks to a multidimensional character. On the less reassuring side, said role is one of a flawed-hero type we hope to never encounter in our real lives: the drunk pilot syndrome.
Anyone expecting a standard-brand in-flight disaster flick of the usual, carefully structured sort will be surprised by this film, and pleasantly. A viscerally powerful errant flight scene in the first act, with our hero in heroic mode, sets up the rest of the slower, non-airborne story in the film, as a study of the fall and rise, highs and lows, and eventual resolution of a lost soul.
A nicely pithy and double- or triple-duty title, Flight deals with not only the potential and scarifying fragility of aviation (comforted though we are by a track record better than terrestrial traffic accidents) but also the matter of the reality flight and self-destructive tailspin of substance abuse. At the same time, the film sometimes wallows in the hip appurtenances of decadence, through the presence of one of John Goodman's swaggering gonzo roles — on the heels of another one in Argo — as a dealer and spiritual/chemical guidance counselor, and Washington's ability to maintain under intoxicated circumstance (as, say, in the cockpit, when the plane is going down).
What essentially plays out like a cautionary tale — drink in moderation, don't fly with tipsy pilots, beware the thoroughness of federal investigators — loses some of its emotional power through the old Zemeckis show-biz slickness-and-sentimentality sauce. Where more flesh and grit might have toughened up the impact and the message, we get the softened and detached via the feel-good aura à la Forrest Gump, Cast Away, et al. Maybe that lack of naturalism and believability is a blessing in disguise, a means by which we can reason "it's only a movie" before contemplating stepping onto a plane.