Arts & Entertainment
The 10 Must-See New Noise Sets
We Lock Down the Highlights for This Weekend's Three-Day Music Fest
Nerfherder: Fans can thank Parry Gripp's wife for bringing Nerfherder back together. "The last time we played in Santa Barbara was in July at my wife's birthday party at the Mercury Lounge," Gripp explained via email. "I doubt we would be playing any of these shows now if she hadn't wanted us to do that."
This Saturday, Santa Barbara's beloved geek rockers return to the fold as part of New Noise 2012 in what is sure to be one giant, nostalgia-ridden lovefest. Since forming in 1994, the band has endeared itself to millions, first as an adorably self-deprecating pop punk act, then as the men behind the opening credits of TV's Buffy the Vampire Slayer. Nowadays, Gripp and original member Steven Sherlock are still holding down the fort alongside longtime collaborator Ben Pringle and "all-around super dude" Linus Dotson, who's currently serving as NH's musical director. As for future plans, Gripp promises that there's a new album in the works (funded by Kickstarter no less) and aspirations of playing the mother of all nerd conventions: Comic-Con 2013. He also admits that this time around, it's all about having a good time.
"Before it was really about being part of something that we felt was cool, and trying to make it. Now it is mainly about hanging out with the other dudes in the band and getting some exercise." Amen to that. And thanks, Mrs. Gripp! At Velvet Jones, Sat., Nov. 10, midnight.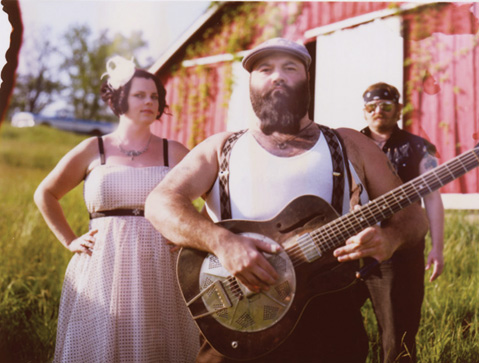 Reverend Peyton's Big Damn Band: Indiana's premiere country blues act is mining the Americana songbook for lots of washboard-backed and whiskey-soaked inspiration. At Whiskey Richard's, Thu., Nov. 8, 11:30pm.
Saul Williams: Poet, writer, singer, actor — Saul does it all. In hip-hop form, he's also one of the most striking wordsmiths of our generation. At Velvet Jones, Fri., Nov. 9, at 8pm.
Blackalicious: At the core of this year's hip-hop showcase is veteran deejay/emcee duo Blackalicious, who will headline an early Friday night show at Velvet Jones. It's difficult to name a more positive presence in the hip-hop world than Chief Xcel and Gift of Gab, who, in their 20 or so years together, have struck a niche based on honest, deft lyricism and classic instrumental production. Such positivity gives way to a spirit as durable as the music: When Gift of Gab announced in March that he would undergo a kidney transplant, he simultaneously announced the release of his third solo album, The Next Logical Progression, and a new full-length Blackalicious album that is currently on it's way. In July, the duo teamed up with Black Mines Records to re-release their 1994 debut EP, Melodica, an extremely rare and highly celebrated release that may or may not inform their track selection for the evening. At Velvet Jones, Fri., Nov. 9, 9pm.
Mike Watt & The Missingmen: Bassist, writer, radio host, and all around badass, Mike Watt is the quintessential "Hyphenated Man," which also happens to be the name of the 30-track album (or "45-minute song," it's not clear which) he released in 2011. He'll perform this "punk opera" on Friday the help of guitarist Tom Watson and drummer Raul Morales. Watt's sense of humor could only come from a man thoroughly entrenched in the low-end of punk and post-punk history, first as bassist for The Minutemen in the early '80s, and later working with fIREHOSE and The Stooges, with whom he has played since 2003. As a solo artist, Watt has also lent his "thud staff" to Sonic Youth, Porno for Pyros, and, most recently, ANYWHERE, a psyche-rock project featuring Cedric Bixler-Zavala of The Mars Volta. If anyone knows how to get weird on stage it's this man, so make sure you're at Velvet Jones when he lets the low flow. At Velvet Jones; show start-time Fri., Nov. 9, 10:30pm; Watt and band follow at 12:30am.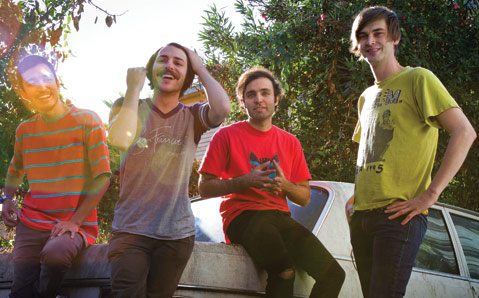 So Many Wizards: Conditions for the Saturday afternoon block party are looking sunny with high chances of indie rock, due in part to the presence of So Many Wizards. Started by former China Room member Nima Kazerouni as a solo project in 2008, the name quickly picked up traction with his seven-song debut, Tree EP, released the same year. Following 2010's Love Songs For When You Leave Me, produced by Chris Chu of The Morning Benders, Kazerouni solidified a performing line-up with the addition of Erik Felix, Geoff Gei, and Frank Maston. The L.A.-based four-piece recently released their first full-length, Warm Nothing, an album replete with dreamy guitar tones and genial vocal melodies that should fit in just right alongside Ghost Tiger, Little Ow,l and Gardens & Villa. New Noise Block Party, State and Mason sts., Sat., Nov. 10, 12:45pm.
Sisu: With Dum Dum Girls drummer Sandra Vu at the helm of this Angeleno quartet, it's safe to say SISU represents the darker side of the dream-pop realm: creepy keyboard hooks, haunting guitar tones, and slow, swelling compositions recall St. Vincent one moment and a nightmarish Beach House the next. With two EPs under their belt, including this year's Demon Tapes, Vol 2, SISU remains an absolute DIY entity, right down to the recording, mixing, production, and design of their releases. Their Saturday afternoon set following So Many Wizards will mark their first performance back in California after stops in New York City and the Fun Fun Fun Fest in Austin, TX. If their newest release is any indicator of what's to come, SISU are bound to set a high standard of weirdness that may be tough to compete with. New Noise Block Party, State and Mason sts., Sat., Nov. 10, 1:30pm.
Y La Bamba: Orchestral indie folk gets thrown through the cultural filter by way of frontwoman Luz Elena Mendoza's haunting, sometimes-Spanish lyrics. New Noise Block Party, State and Mason sts., Sat., Nov. 10, 3pm.
Greg Attonito: Bouncing Souls frontman dishes up a kid-friendly set with the help of backing band Play Date. Expect games, face painting, and the cutest mosh pit ever. At Muddy Waters Café, Sat., Nov. 10, 3:30pm.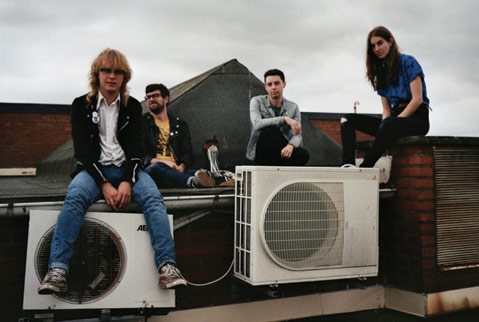 Terrible Feelings: Swedish punks deliver dark, palatable pop that walks the line between Blondie and Refused. At Whiskey Richard's, Sat., Nov. 10, 11pm.