Positively State Street
Music Scene Math: From Electro-Spazz to Kickstarter
Math the Band Returns to Biko, S.B. Music Makers Play the Donation Game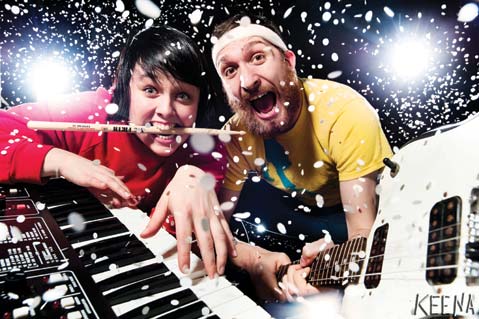 DO THE MATH: "Some people say our band is terrible; they are not wrong. Some people say we are the best band ever; they are correct. Some people say we are too loud; they are stupid." Such is the decree that emblazons Math the Band's website, a testament to both the sound and the self-deprecating sense of humor they put forth. The Rhode Island duo, made up of Kevin Steinhauser and Justine Mainville, makes music with a no-holds-barred approach. Their lyrics are big screamy anthems about everything from parties and friends to Bigfoots and haircuts, aligning them with the small but mighty nerd-rock movement. The instrumentals are a whirling collection of vintage synthesizers, loop pedals, and 8-bit Nintendo noise, most often delivered with many layers at breakneck speed. Their goal: to make the "fastest, loudest, most party-est music they can imagine." Point taken.
Needless to say, this is not music for the faint of heart. But if you're a fan of the over-the-top, hyper-interactive sounds of artists like Dan Deacon, Andrew W.K., and Harry and the Potters, Math is a true must-listen. On Thursday, November 29, the pair heads back to the Biko Co-op Garage in Isla Vista (6612 Sueno Rd.) for a night of singing, dancing, and good-natured mayhem. The show starts at 8 p.m. with openers Coach McGirt and Lexeme. For info, visit sbdiy.org.
KICKING IT: If you're using social media, chances are you've heard about (and been asked to fork some cash over to) Kickstarter. The web-based funding platform for creative projects is currently hosting more than 3,400 campaigns, all started by people (or groups) looking to get their ventures off the ground. Scroll through the site, and you'll find all manner of ideas — for books, films, magazines, key chains — each equipped with a fundraising goal and a button that allows you to back the project. In many ways, it's a genius solution to the cash-flow problem faced by most creatives. Ask all your friends for a buck and — BAM! — instant loan. People who donate more can even score "gifts." It's a win-win. Right?
Last week, 2011 Downtown Sound Battle of the Bands winners Saint Anne's Place successfully Kickstartered their forthcoming Earth Shaker EP. (Kudos, by the way, guys!) Thanks to the generosity of friends and fans, the trio was able to raise the $2,250 they needed to get new, professional recordings manufactured into real, tangible CDs. Last year, Santa Barbara's Naked Walrus took to the 'starter to print more CDs and T-shirts. The year prior, Hi Ho Silver Oh used Kickstarter to fund their first West Coast tour. In May, S.B.'s Sprout attempted to raise $5,000 for a professional recording. The effort flopped, and the band dissolved a few months after.
For me, the proliferation of these fundraising ventures (and the donation requests that come with them) point to a lot of problems, very few of which belong to the bands. While folks can — and do — make records with little more than a laptop and some software, this often yields lackluster results. In turn, recording with a producer in a studio space remains expensive, no matter how many "pro recording spaces" there are. While sites like Bandcamp make it downright easy to create and charge for downloadable albums, EPs, and single tracks, most people simply won't pay to own something (like an MP3) when they can sort of have it for free (via a streaming track). Hence, young bands are forced to print CDs (which many people would argue they don't buy anymore) in order to have something to sell at shows and give to promoters (many of whom are looking for MP3s anyway). From where I'm sitting, I think a reevaluation is in order. Until then, if you like a band, have seen them live, and have streamed an album, cough up a few bucks and buy it. Trust me, it'll sound — and feel — better than listening to the same music on Spotify.