Living
Ballot and the Beast
A Look Inside Election Day's Counting Cave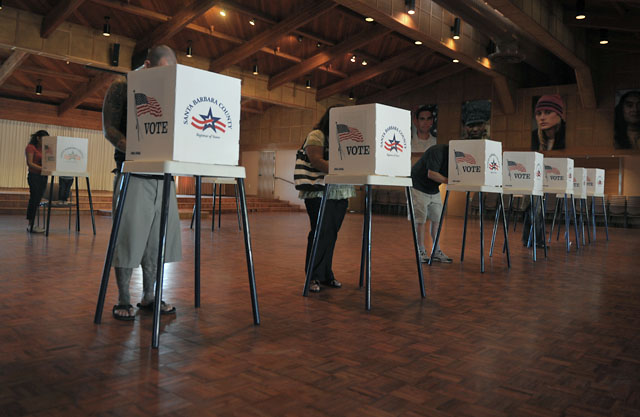 In a county on the western shore of a mighty republic dwells a beast. Its keepers wake this gray and ugly thing only when humans contest who should govern them and how they should rule. Every two or four years, the beast wakes with a low, continuous roar. But people outside its prison suspect nothing and the rumble from the nearby freeway goes on uninterrupted. No one need fear the beast for it serves a cause dear to their land.
Captive and anchored to the floor, it eats from morning to night. Its feeders allow it little rest and no choice: only one tasteless, starchy item will ever pass through the narrow slit of its mouth. Of this, the ever-hungry beast may only very lightly lick a sprinkle of specks on the surface, each carefully monitored by the feeders. Keepers treasure the unsullied, odorless bulk passing at the monster's other end. Like bees kept for honey, the beast earns its keep only for the dots of energy it processes, energy from the printed marks on the envelopes containing individual ballots for the US general election.
Beast and ballots both are tended with great care deep within a county building. Staff greet voters in an airy office above, making light work of early drop-in voters and queries. The inner doors are sealed, though, creating a small fortress where the real grind of elections takes place.
Below the office, the feeders of the beast belong to a temporary team of workers christened "Bottom Dwellers" by their staff leader. They prepare for the beastly binge in special ways: first on call are "openers" who remove the hand and machine counted ballots from their envelopes; next come the "flatteners," who must unbend and carefully press the plastic cap of a miniature water bottle along the two folds of each ballot. Yes. Water bottles. Somewhere along the way, the cost of sturdy, outsize envelopes to take unfolded ballots has come out more than the cost of paying flatteners.
These crease-smoothers send some ballots for special treatment. Written comments like "Both idiots!" or "My little Pookie" proposed as a candidate for President or Senator cause no concern, but un-flat, torn, splodged, initialed, and jam-laden ballots stick in the craw of the beast. Some can be taped, but big rips and messes and ambiguous bubbles need more attention.
In come the "dupers" charged with transposing unsalvageable ballots to fresh ones: one fills in the bubbles, another witnesses the process and another verifies the accuracy of the replacement before its votes are counted. "Intent checkers" focus intently to see if all agree on the bubbles that a scribbler or blotter meant to mark. Dubious ballot signatures are also set aside to ensure no one but the voter votes, a job assigned to "chicken scratchers." If you ever worry that your vote might not be counted, don't. In California they are guarded and tended like magic beans.
U.S. election campaigns may parade politicians like characters in an old fashioned circus, but the serious work of ballot checking and counting could take you, too, down a nearby rabbit hole into a busy, post fairy tale world. There you'll find temporary and odd proceedings, but ones designed to preserve a happy ending to the story of democracy, one filled with hard working elves and a noisy, hungry monster, but one which is thoroughly tame.