Arts & Entertainment
Hey, Ladies!
Shennie Smith's New Concert Series Has Females Running the Show
Since the dawn of rock 'n' roll, the music industry has been a male-dominated world. From the musicians to the label execs to the producers and sound engineers, making records seems to have always been "for the boys." Over the years, female talents have undoubtedly made their mark — artists like Aretha and Madonna and events like Lilith Fair come to mind — but most would agree that men very much still run the show. Looking locally, the trend seems to have trickled down. With a few exceptions, Santa Barbara's club owners, booking agents, and production folk exist in a nearly female-free sphere. And while S.B.'s musical talent seems equally stacked among the sexes, it's easy to see why some women have started to feel underrepresented.
That's where Shennie Smith comes in. Since moving to Santa Barbara in 2007, the 25-year-old singer/songwriter has toyed with the idea of starting a band and in the process come to discover a predominantly male-populated music scene. When I sat down for coffee with Smith last week, she mentioned a recent letter to the editor she read in The Santa Barbara Independent, which noted the overall lack of women musicians gaining attention in these very pages. "That was what really pushed me to get the concert together," Smith recalled. "I wanted to help show people in town that women do rock."
This Tuesday, December 4, Smith presents Girls Run This Sh!t, the first in a budding concert series that features female artists and female coordinators. The event takes place at the Wildcat Lounge, which also happens to be Smith's place of employment, and includes performances from singer/songwriters Tara Horton and Johanna Rompf, soul act La Radia, rockers Pretty Awesome, and S.B.'s reigning queens of folk fusion, Rainbow Girls. In addition, Smith has teamed up with Wildcat co-owner Dawn Stout to gather Santa Barbara-based visual artists to contribute work to the event, including Lindsay Mickelson, who will be doing screen printing throughout the night.
While Smith admits that the idea for the concert came from feeling like an outsider amid the Santa Barbara music scene, she insists that her vision is very much about a united front. While women will run the show on Tuesday, the lineup is totally male-friendly. (Smith's own band, Pretty Awesome, boasts guys on drums, guitar, and bass.) Most importantly, Smith explained, the show is about bringing people together. "I wanted to do this simply because I believe that women rock," she said. "We're strong and we're beautiful and we have each other's back. And when we get together, we can do amazing things."
Take, for example, Tuesday's lineup, which finds two of Smith's friends — Horton and Rompf — graduating from karaoke cameos to performing their own tunes. Taking a cue from her experiences putting a band together, Smith encouraged the women to try their hand at performing sans backing track and was so impressed she added both to the bill. "Getting onstage with a band and playing has been the greatest thing," Smith said of her experience forming Pretty Awesome. "I'd been going through some tough things in my life, and it really has helped me realize what I want to be doing. It's like nothing else. … With the openers, both girls work with me at Wildcat, and they both have these amazing voices. They'll go to karaoke, and they like to sing, but they don't have people to play with. I've been telling them they need to get out there and start playing shows, so on Tuesday they'll have a guitarist with them and be playing their songs. It's going to be great."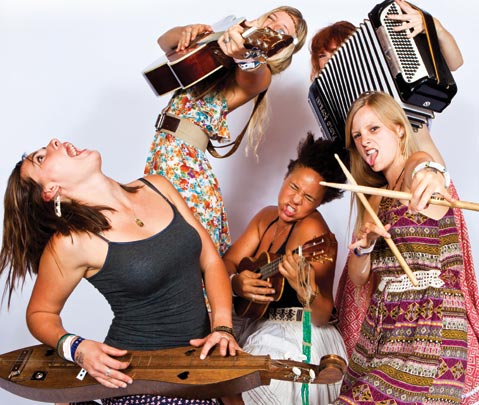 The night also brings a headlining set from Rainbow Girls, a young act that's fast becoming a regular presence on the Santa Barbara club calendar. Formed as a side project of the now defunct Isla Vista act Sprout, Rainbow Girls cut their teeth by way of weekly busking gigs at the Santa Barbara Farmers Market. Performing a collection of originals and covers, the quintet quickly started to draw crowds among the veggie-loving masses, thanks to a jangly and harmony-filled mix of acoustic percussion, old-timey instrumentation, and some seriously strong vocal chops. Needless to say, it wasn't long before the Girls were making the move over to bigger stages in and out of town. Next week they'll open up for California Honeydrops at SOhO Restaurant & Music Club. Like Smith, the band agrees that a show like Girls Run this Sh!t is a welcome addition to the scene and a step in helping level the playing field.
"We want everyone to have an equal presence in the music scene," said vocalist/percussionist Vanessa May. "It's not just about being a boy musician or being a girl musician. … I know that it's not an even playing field. We have so many people that support us, and it's not just women and it's not just men. I think it's important to feature prominent female artists in Santa Barbara and for them to have the support of the men that make up the scene." Added vocalist/multi-instrumentalist Erin Chapin, "We love to imagine a future where there are just as many all-female bands as there are all-male bands, and not because they want to be in a girl band to prove a point, but because those females are either the best musicians to play with or the people they want to be jamming with."
As for the future, Smith envisions the series to grow slowly. She hopes to make the event once every two months for starters, and she plans to stick to booking acts from the area. She's also adamant about incorporating as many artists as are interested in getting involved. "I like the idea of having musicians and [visual] artists and fashion designers and all sorts of creative people," she said. "I'm hoping this is just the first of many awesome nights for female musicians in S.B."
4•1•1
Rainbow Girls headline the first Girls Run This Sh!t concert at Wildcat Lounge (15 W. Ortega St.) on Tuesday, December 4, at 8 p.m. Call (805) 962-7970 or email shenniesmith@gmail.com for info.