Outdoors
Blue Canyon Hike-Bike Loop
Five Hours of Shuttling Pleasure
Name of hike: Blue Canyon hike/bike, a loop-shuttle
Mileage: 6.5 hiking, about 4 to 4.5 biking on road
Suggested time: 4 to 5 hours
During my 33 years of teaching at Crane School, I have been constantly and happily surrounded by masses of wonderful children. Yet after nine months, I long to flee the enchanting campus green to the steep slopes of solitude above our coastal enclave. Looking north from Crane's main soccer pitch, Putnam Field, I easily detect the purple coastal foothills, especially conical Montecito Peak.
Back in 1980, Crane School science teacher Wolf Lauter led me and a group of ninth-grade Crane boys up Cold Spring Trail past Montecito Peak, across East Camino Cielo Road, and down about two miles to sylvan Forbush Flat Camp (a tough 6.2 miles). The pleasant and well-watered campsite, with its two wooden tables, gets its name from an early settler, Fred Washington Forbush, who had a cabin there in 1910, with an apple and olive orchard, near the plentiful waters of Upper Gidney Creek. The beautiful site has two camping areas, massive oaks, a stand of pine, and clusters of beautiful alder trees.
When we made the overnight at Forbush and had a great time, Wolf casually mentioned that in the "old days" the hardier Crane boys would make the hike from Crane School itself down on San Leandro Lane! Were we less hardy? In 1980, we used Crane's yellow van to transport our crew and backpacks to Cold Spring Trailhead where it intersects Mountain Drive. And now? As anybody who reads this column may surmise, some of us still preach the virtues of stepping outside our comfort zone.
I still enjoy strenuous workouts in the same area, such as half-day cross-training jaunts down the Romero Trail northside into Blue Canyon, then west along Escondido Creek to the same Forbush Flats Camp mentioned above. (I recommended a "hike-bike loop trip" to Figueroa Mountain in January.)
This fairly strenuous hike-bike does not start at the popular Romero Canyon Trail on our Montecito frontside, but requires a longer drive up Gibraltar Road to Camino Cielo Road, then heading east to find that other Romero Trail northside; then dropping down the backside of our coastal range to enter picturesque Blue Canyon. (See below for driving directions and maps.)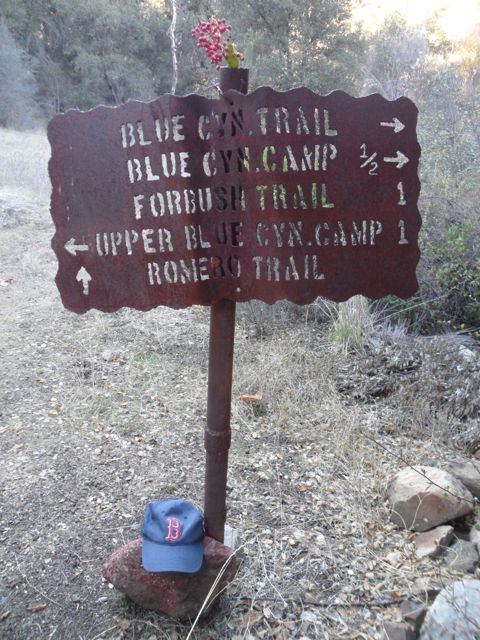 After reaching the top at Gibraltar Road, where it intersects Camino Cielo Road, you drive four miles east to the water tower above Montecito Peak. This is also the top of Forbush Trail. My little trick, turning this hike into a highly prized loop-shuttle hike-bike, is accomplished by stashing my 15-year-old "Specialized" mountain bike somewhere in the brush near this water tower. Then I drive another 3.5 miles, moving from asphalt to rough dirt road surface (still E. Camino Cielo), to find the almost-hidden old iron trail sign on the left.
This is author and mapmaker Ray Ford's "Romero Canyon Northside Trail," and after descending very steeply at first – I was glad to have my two Leki hiking poles – for about 1.6 miles, or 40 minutes of careful hiking, you get right down into Blue Canyon Creek. The serpentine formations are spectacular here; it might as well have been named "Blue-Green" Canyon. The creek was running in late August of this dry year, but the flow was poor, and I'd never sup from it. I carried three quarts of water.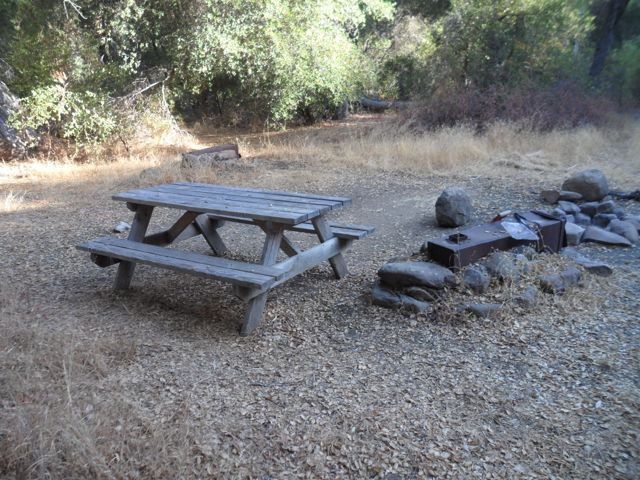 You trudge steadily west along Blue Canyon for 3.7 miles, until arriving at our aforementioned Forbush Flats Camp, the same spot to which Mr. Lauter took my students and me in 1980. After passing through Blue Canyon Camp, you enter glorious Cottam Camp, but the intermittent stream has run dry here under the broiling August sun. Then ascend another 800 feet to get to Forbush Camp: a great workout portion and very beautiful, besides.
After more water from my flasks at Forbush, it was another 1.4 (according to Ford map) or 1.7 (Conant) miles of very hard hiking to climb up to E. Camino Cielo Road at the water tower, and my hidden bicycle. This steep section is an ideal setting in which to force yourself out of your comfort zone, work on your conditioning and will-power, even walk-jog it a bit. Mindfully: You still have to watch out for the rattlesnakes that many of us have chanced upon along this grueling stretch.
Thus, the Blue Canyon hike portion amounts to about 6.5 miles, mostly climbing, yet you're along Blue Canyon Creek in a fantastic riparian zone packed with many sorts of oaks, willows, and bay trees, and fields of dying flowers and grasses. The final bicycle portion on the road is easy: Cycle about 4.5 miles back down to your parked truck on the dirt road portion of E. Camino Cielo.
This area on the northside of our coastal range isn't quite in the Santa Barbara backcountry: Romero Trail connects beautiful Blue Canyon to upper Montecito. It was eerie and pretty wild not to meet a single hiker in Blue Canyon on this Thursday morning in late August, 2012: Just four hours of grinding uphill, getting into a mindless rhythm, the bright sun always behind. How amazing that Montecito's Upper Village is less than four miles away, as the crow flies.
It's utterly marvelous how close urban Montecito and Santa Barbara are to this true wilderness — I observed a bobcat and piles of fresh bear scat as well as the ubiquitous mule deer. While I can see Montecito Peak from the Crane School soccer field, I can also view its symmetrical cone from my tiny deck on Santa Barbara's fascinating Westside, near Harding School.
Grab your bike and some friends and try out this demanding hike/bike. I would also bring sturdy children along, beginning around ages 8 or 9.
Maps:Two maps are very good: Raymond Ford's Santa Barbara Frontcountry (2011) is very easy to read; Bryan Conant's Matilija & Dick Smith Wilderness Map Guide is also excellent. Craig Carey's terrific new Hiking & Backpacking Santa Barbara & Ventura (Wilderness Press 2012) describes this hike in a more complex context (see pp. 82-88).
Driving directions: This late August hike/bike portion took 4 hours (7:30 a.m. – 11:30 a.m.). It takes about 55 minutes of driving each way from Santa Barbara's Westside. At the junction of Gibraltar and Camino Cielo, turn east (right) and drive along the asphalt for about four miles until you reach the water tower (elev. 3400 ft) above Montecito Peak. After dropping the bike, continue until you see the iron Romero Cyn. Trail/Blue Cyn. Trail sign, the one on your left.