Columns
Olympian Scores Points in Goleta
Gold Medalist Pays It Forward
Brenda Villa, an Olympic gold medalist in water polo, spoke last Tuesday night to youth from Isla Vista, Goleta, and beyond about her journey to become a world-class athlete. She even brought her gold, silver, and bronze medals to share. Her message was simple – water polo had opened doors that led her to Stanford and the Olympics. She wants to give others the same opportunities.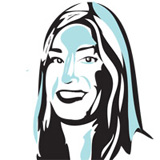 Many of the approximately 150 people who attended the event were Latino students from the Boys and Girls Club, the exact group Villa wants to encourage to try swimming and water polo. "It's really important to me that everyone, regardless of how much money they have . . . have opportunities to swim," she said. To that end, Villa co-founded an organization called Project 20/20 to offer scholarships to kids from low-income backgrounds
Wolf Wigo, UCSB water polo coach and director of the Santa Barbara Aquatics Club (a year-round water polo and swimming group for youth), was instrumental in arranging for Villa's appearance, which was at Goleta Boys and Girls Club. After the talk, Villa headed to San Marcos High School, got in the pool, and gave a group of kids tips on passing, throwing, and scoring.
Villa and Wigo have several shared interests. Both are Olympians, love water polo, and want to make the sport accessible to everyone. Water polo is an expensive sport: After you factor in the quarterly dues, tournament fees, travel expenses, and more, it can easily add up to $5,000 a year.
Wigo said he and Villa are partnering to give all children in our area a chance to swim and play water polo, by offering scholarships. There were 50 scholarships available through the Santa Barbara Aquatics Club, he said, and more could be offered as needed. Anyone interested should contact the Aquatics Club administrator, Cindy Hill, at cindysbac@gmail.com. The Boys and Girls Club will be working with him to provide transportation to swimming and water polo lessons, and he will be organizing further fundraising and grant opportunities in the future. /p>
Villa had just such an opportunity when she was growing up. She is from the City of Commerce, which allows residents to participate in sports free of charge. So, if you want to swim or play water polo in Commerce, the fees, tournament expenses, etc. are all taken care of. There is even free transport to games.
In speaking to the crowd Tuesday, Villa emphasized the decisions she and her family had made that led to her success. The first was made by her mother. Villa said that her mother, who didn't know how to swim, wanted her children to be safe in the water, so she took then to swimming lessons. By age six, Brenda was on Commerce's swim team.
She said it was fun, but not her end goal. Villa had to wait, and watch her brother play on the water polo team for two years, before her parents let her try the sport. Her parents were concerned because she would have to play with and against boys, but Villa convinced them that it was what she wanted to do.
When Villa got to high school, she had to make another decision. There wasn't a girls' water polo team at her high school. If she wanted to play, she would have to be on the boy's team. After discussing it with her parents, she tried out and was picked for the varsity team.
She said the she was playing with and against sometimes made comments like, "Why are you playing a man's sport?" Her sweet revenge was scoring on them. "It put them in their place," she added. Even though it was hard being the only girl on the team, she said it was motivating. "I realized I could do other things," Villa said.
The summer of her freshman year in high school, Villa was interviewed by Sport's Illustrated for Kids. It was a pivotal moment. When asked where she wanted to go to college, she said Stanford, without even thinking about it. Slightly shocked at what she had blurted out, Villa started to do research to find out what it would take to get there.
Villa knew she had to get good grades and have high SAT scores, but there were other factors as well. She had to get a scholarship because her parents didn't have the money to pay for college, and she wanted to play water polo.
Her first step was to make a plan outlining how she would reach her goals. The path wasn't always easy. She had to give up some things, such as socializing with her friends. Her advice to the crowd was, "Remember: When there is something you believe in, you have to make sacrifices."
She was both excited and nervous getting ready to go to Stanford. As the first person from her high school to go to there, she was breaking new ground, and she said she wondered whether there would be people who "looked like me and came from the same background." Luckily, she found that she fit right in at Stanford.
Then came the next big choice. Villa had to decide whether to take off a year from college to train with the national water polo team. "To my parents, school was always more important than sports," she explained. They, however, left the decision up to Villa. She decided to take time off, trained with the national team, and was chosen for the first ever U.S. Olympic Women's Water Polo Team, which played in the 2000 games in Sydney. In her Olympic career, Villa has won one gold, two silvers, and one bronze. The most recent was the gold, in the 2012 Olympic Games in London.
Besides competing in the Olympics, Villa has graduated from Stanford, traveled the world, and lived in Italy. "These are all the things water polo has given me," she said. "I am thankful."