Positively State Street
The California Honeydrops Go Live!
San Francisco Buskers Play CD Release Show at SOhO on December 7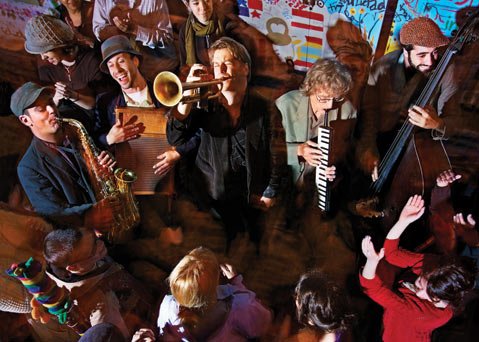 OH, CALIFORNIA: As holiday decorations go up and seasonal nostalgia sets in, it becomes harder and harder to avoid the deluge of Christmas music pouring through speakers across the country. If you're looking for music that's light on the jingle bells but heavy on the warm 'n' fuzzies, I encourage a trip to SOhO Restaurant & Music Club this Friday, December 7. It's there that San Francisco quintet the California Honeydrops return to town for a CD release show in support of their latest, Live!
Born out of busking gigs in the San Fran public transit system, the Honeydrops' live set offers an energetic mix of bluesy brass and beats and classic R&B hooks and harmonies. Still, the band embraces the grassrootsy vibe that's emanated out of the NorCal music scene for decades, and in live-album form, their sing-alongs and jammy breakdowns feel instantly familiar. This is music to groove to, and it feels perfectly suited for blustery nights and dancing close. The California Honeydrops play a 21+ show at SOhO (1221 State St.) at 9:30 p.m. Santa Barbara stomp rockers Rainbow Girls open the show. For tickets and info, call (805) 965-7776 or visit sohosb.com.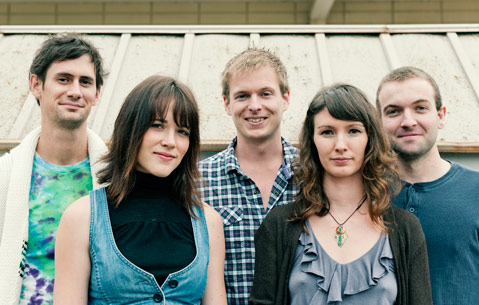 NORTHERN EXPOSURE: If you're looking for a dance party of the slightly stranger kind, I advise spending your Friday night down at Muddy Waters Café (508 E. Haley St.), where S.B.'s Ghost Tiger and Lompoc's Millions team up with Portlanders Hosannas for what promises to be one of this month's concert highlights. For those who have yet to catch Hosannas' live set, expect a swirling and tripped-out mix of synthesized palettes, drum-machine beats, and eerily haunting harmonies, brought to you by bandmates (and brothers) Brandon and Richard Laws. This time around, the band is also boasting a new member (keyboardist Grace Peters) and a smattering of new jams, which we can only hope means that things are gonna get extra loud and extra dancey. The all-ages show starts at 8 p.m. on Friday, December 7. For tickets and info, call (805) 966-9328.
HOME FOR THE HOLIDAYS: For those looking to get in on the community love this holiday season, look no further than the Westside Boys & Girls Club (602 W. Anapamu St.). This Tuesday, December 11, 5-7 p.m., it'll host an open house and informal meet and greet for the Notes for Notes Westside MusicBox. Like its Eastside counterpart, the Westside spot offers free after-school musical instruction for kids and teens interested in learning drums, guitar, bass, vocals, piano, deejaying, home recording, and sound engineering. Tuesday's open house will provide interested kids, parents, and advocates a chance to tour the studio, check out the gear, and snag free pizza. For more on the event and Notes for Notes, call (805) 966-2811 or visit notesfornotes.org.
ALSO THIS WEEK: This may be the last big live music week of 2012, so feel free to stock up while the gettin's good. On Saturday, December 8, the Sings Like Hell concert series welcomes Garland Jeffreys to the historic Lobero Theatre (33 E. Canon Perdido St.) at 8 p.m. The Brooklyn-born soul man has been making records since 1973 and has collaborated with everyone from Lou Reed and John Cale to Bruce Springsteen. Saturday's show will also feature an opening set from Peter Case. For tickets and info, call (805) 963-0761 or visit lobero.com. Also on Saturday, up-and-coming rocker J.D. McPherson plays SOhO Restaurant & Music Club in support of his debut album, Signs & Signifiers. A big-voiced crooner with a penchant for '50s-inspired riffs and rockabilly balladry, McPherson is a must-listen for the Johnny Cash fankids among us. The 21+ show starts at 8 p.m. with an opening set from Broncho. Visit clubmercy.com for tickets.