Film & TV
Montecito Picture Co. and the Making of Hitchcock
Ivan Reitman and Tom Pollock's Little Film Company Goes Big
Not so long ago, you could catch the Montecito Picture Company moguls out to lunch on a regular basis. Mostly they ate at Trattoria Mollie because director Ivan Reitman (Ghostbusters, Dave), who owns the Santa Barbara-based moviemaking firm with attorney and former Universal chief Tom Pollock, favored the place. Sometimes he ate there with Pollock, but usually he was there to nosh with Joe Medjuck, a former academic and current-day producer who's known Reitman since their respective boho days in Toronto during the 1960s. Or maybe you caught them eating thin-crust pizzas on the patio at Via Vai on the bustling, bucolic corner of San Ysidro and East Valley Road, not far from Oprahville.
Even if they don't have a real headquarters here (the trio used to own a secret lair in the foothills, since abandoned), there is a lot of Montecito in this filmmaking clique. Just look across from Via Vai, and you can see the bell tower that shows up as a logo before all of their pictures. It's a tribute to the sunny place where these immensely successful guys had a lot of "my people will call your people" talks. And a lot of salumi, too. And if you see them dining anywhere in the next few weeks, be sure to salute them your congratulations. And then let them eat in peace.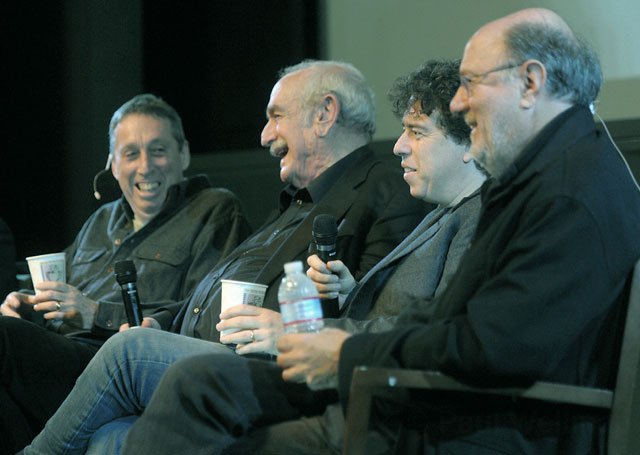 Why congratulate? Well, for starters, there's a little matter of survival. Montecito Picture Company began producing its dozen-plus films the year before 9/11 and survived it, not to mention 2008, with a track record for success that any bigger studio would envy. They've also had the usual movie-biz identity crises and a disappearing deal for luxury offices on the Carpinteria bluffs. But most of all, congratulate them because they've come a long way from the fun, nearly exploitation flicks like Road Trip and Euro Trip to the Academy-nominated George Clooney vehicle Up in the Air (which Reitman's son Jason directed). But save the biggest props for now, because this week marks the hometown opening of what is arguably the company's masterpiece: an all-star biopic featuring Anthony Hopkins and Helen Mirren as Mr. and Mrs. Hitchcock.
"I'm very, very happy with the film," said Reitman by phone last week from the company's Beverly Hills office. The film, which works hard to entertain, was a troubling half decade in preproduction, yet got made in a whirlwind six months. "And, of course, I hope it does very, very well."
A few days earlier, Pollock echoed the usual (and wisely) cautious Hollywood approach to any release, particularly nowadays. "Of course I love it. But we all know how much we know about the business, right? Nobody knows anything," he said, invoking William Goldman's famous cautionary dictum about the biz. "But if anything, I would say this was a movie made for Santa Barbara." The only direct reference to our fair town in the film occurs when Whitfield Cook (played by Danny Huston) asks Hitchcock's wife, Alma Reville (played by part-time local Helen Mirren), if she wants to run up to Santa Barbara and have a juicy steak at El Encanto. But Pollock wasn't talking about location. "It's for an older audience, one that is intelligent, upscale, and knows something about quality filmmaking," he said. "I mean, some movies that don't do well anywhere else do great up there."
Now Pollock knows a bit about this town. His parents are Joe Pollock, doctor, former Santa Barbara International Film Fest president, and philanthropist (after whom the new UCSB film studies auditorium is named), and Helene Pollock, who runs several Summerland businesses. Their son Tom attended Happy Valley School in the 1950s, mainly because his parents were devotees of Krishnamurti, the iconoclastic sage of Ojai. Initially more moved by politics than mysticism, Pollock worked on Robert Kennedy's campaign after attending Columbia, passed the bar, and got bit by the movies. His career arc from there includes everything from politics to law, and he seems to bridge those worlds with ease.
But it was other Santa Barbarans who optioned the book and owned the Hitchcock script, namely Tom Thayer and Alan Barnette. "They brought it to us," said Pollock, who knew that the duo had encountered stiff resistance from Paramount execs, who first seemed to want the film but changed their minds after the surviving Hitchcock family said no. The studio balked, and Thayer and Barnette knew they needed a moviemaker who was also conversant with law — someone who knows how studios work but isn't hampered by corporate bureaucracy. That turned out to be Montecito Pictures.
Rear Window
The expertise that made Hitchcock did not come overnight. "You could say that Montecito Pictures was born on the Greek island of Hydra in 1974," laughed Pollock a few years ago as we sat in the company's Beverly Hills offices. "That was when I first met Harold Ramis, and he told me about a director named Ivan Reitman." At the time, Pollock was just learning to love film.
Meanwhile, back in Canada, Second City troupe members like Dan Aykroyd and Saturday Night Live producer Lorne Michaels were hoisting flagons with Medjuck and Reitman. It was there that Reitman made a little film called Cannibal Girls. (When I referred to it as a camp classic, Reitman replied, "I think you are being incredibly generous.") By 1979, he was producing as well as directing, and his big break arrived with Meatballs, followed quickly by Stripes and the full-blown genius of Ghostbusters. During Reitman's producing years (including Stripes and Heavy Metal), he began relying on his friend the film professor Joe Medjuck, whom he lured to Los Angles in 1980.
Meanwhile, Pollock was helping create the New Hollywood that film professors like to invoke as the result of young directors who graduated from film school. Pollock became involved in the fledgling American Film Institute (AFI) in the 1970s, and made friends with guys like Lucas, Coppola, and Scorsese, directors whose studio deals he helped engineer. He developed creative tradeoffs where directors promised to cut their budgets in exchange for a higher percentage of their films' take. Pollock's biggest triumph was the engineering of George Lucas's Fox agreement on Star Wars, which he made for no salary in exchange for the licensing and merchandising rights, which, Pollock has said, the studio seemed happy to relinquish. Deals like that (along with the fracturing of studios' ironclad grip on talent) had as much to do with the 1970s American renaissance as did the gutsier movies made during the time. Recalled Medjuck, "All I know is that when I came to Hollywood, Tom was in a law partnership called Pollock, Bloom & Dekom — the names kept changing — which were the most powerful entertainment lawyers in Hollywood."
Not long after, Pollock was running Universal, where he green-lighted a number of very influential films like Do the Right Thing, The Last Temptation of Christ, and Jurassic Park. According to Medjuck, one day Reitman, who was making Beethoven over at Universal, went to Pollock's office to ask some advice. "They ended up deciding to become partners," said Medjuck. After leaving Universal they made a deal with Polygram, the music company, which had decided to diversify. Together, Pollock and Reitman bought a piece of property on the Carpinteria bluffs where Barton Myers, the architect who famously built a glass and steel building in Toro Canyon, was designing a grandiose headquarters with postproduction facilities for the new kids in town, Montecito Picture Company. This being Hollywood, however, everything's constantly changing, and oftentimes it's not for the better. Soon after, Polygram was bought by Universal, which, understandably, was not eager to reemploy Pollock.
Meanwhile, the movie Road Trip was still in the works. And the rest becomes local movie history.
North by Northwest of Hollywood
What evolved was not exactly the birth of a studio, but it wasn't a vanity production company either. From the ashes of Polygram sprung an agreement with the DreamWorks team, precisely in the middle of its 10-year run packaging projects they liked, but with big-distributor cachet. Montecito Pictures finished Road Trip, cashing in on the Tom Green craze and also giving Todd (The Hangover) Phillips his first hit. In the dozen years following, Montecito Pictures made 18 films. Some, like Stargirl, seemed to evaporate, while another, Trailer Park Boys: The Movie, did nothing in the United States but was reported to be the largest grossing film in Canada. Ever. In 2007, not long after the Montecito Pictures remake of The Pink Panther, the company began a more serious turn with Disturbia. It may have been Rear Window on skateboards, but it garnered great reviews and big box-office success. Reitman's son Jason started making films, too. After Juno, he made Up in the Air for his father's company, a film that was quickly short-listed as a Best Picture contender at the 2010 Academy Awards. The following year, the studio went further out on a limb with Chloe, a film that Toronto art film director Atom Egoyan called "his most commercial film." Chloe was wildly edgy and featured Amanda Seyfriend and Julianne Moore in graphic lesbian sex scenes, but it also made a little money. So far, they were golden.
When Tom Thayer approached Pollock with Hitchcock, Montecito Pictures had both a track record and connections. But the battle was uphill after Universal first reconsidered doing the film and then dropped out. Many permutations later, including a decision to make the movie about the filming of Psycho without using any scenes from the actual film, the search for a director began. Rumor and the Los Angeles Times said that Steven Spielberg and Martin Scorsese were flirting with the idea but decided against helming, presumably due to the influential relationship they both had with Hitch. Many were called, all avoided, including Reitman, who claims he never considered it, though he did assist eventual director Sacha Gervasi on an almost daily basis, he said.
Pollock had seen Gervasi's funny documentary Anvil: The Story of Anvil "on a screener or somewhere. I got halfway through it before I realized it wasn't a satire; it was a real documentary." He was crazy about it, and, he says, he loved the fact that what was real and what was movie-ish about it were indistinguishable. It wasn't like Gervasi was first pick, but when he came in and talked about what changes he would make to the script, Reitman and Pollock were impressed. What sweetened the deal more was that Anthony Hopkins had expressed an affinity with Gervasi based on a rehab experience they had shared a decade earlier. It was a giant leap of faith, and they took it. Then the plug got pulled again, and a new deal with Fox Searchlight meant big budget restrictions. More specifically bizarre, Fox demanded that Montecito Pictures (MP) come up with some of the money for the film. Luckily it was manageable because MP owns an ancillary company called Cold Spring Pictures, which funds moviemakers. They asked themselves for a loan. The weird part? Hitchcock had to do the same thing to make Psycho, a plot point that the movie makes dramatically. It was art imitating life imitating movies.
Happily, the film was made on budget, and to everyone's pleasure. Fox loved it so much it asked that postproduction get it finished by November rather than February so it could be released in time for awards season. According to Reitman, Pollock, and Medjuck, audience tests were through the roof.
"It's very good, though some of the major critics were nasty, and that hurts," said Medjuck. "It doesn't hurt personally, but a movie like this will have an audience that reads critics."
As Pollock said, nobody knows how the film will do, ultimately. They all confided different skepticisms about the state of movies and moviemaking nowadays, when, as Medjuck points out, almost anyone can make a movie. "The means of production are available to anyone," he said, joking (sort of) that he expects a good film will be made soon on a telephone. They're proud but seasoned veterans. "I'm very happy with this," said Reitman. "But it doesn't make it any easier to make movies in the future."
He's also happy with the Montecito arrangement, though he likes to eat in different places nowadays. He's not even disappointed in the reduced version of his original dreams of office grandiosity on the cliffs. The size works. "It's an issue of responsibility, and I'm glad with the way it turned out."
Partner Pollock agrees but is not exactly satisfied. "We said we would make two movies a year; we're maybe making one. This is a very good film," he said when I suggested Hitchcock might be a masterpiece, "but it's not like we hit our pinnacle. We still hope that's yet to come."