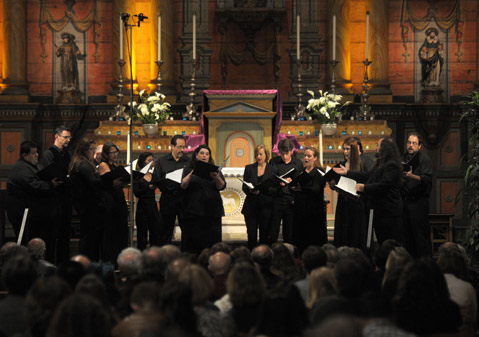 The old German hymn "Es ist ein Rose entsprungen" tells of the miraculous bloom of a rose at midnight in midwinter. I know this imagery is supposed to be about the appearance of Jesus within the lineage of Jesse, but as I left the Mission after this brilliant performance, I kept thinking about Adelfos. For eight years, the small chorus has kept a regular, if low-on-the-radar, presence in Santa Barbara with its biannual concerts and sundry appearances at I Madonnari and civic events like Santa Barbara's 230th birthday celebration earlier this year. Founded in 2004 as an all-male a cappella ensemble, the group came under the leadership of early-music expert Temmo Korisheli in 2008 and added women in 2010. The advantages of a gender-mixed choir include not only a wider range and timbre of voices but also broader programming possibilities. (The Greek word adelphos means "brother" yet is, interestingly, derived from delphos, or "womb.") Now composed of 15 capable and experienced singers, some professional — virtually all do double- or triple-duty in other arts and church choirs — this group appears poised for a significant rebirth. By all measures, Adelfos's performance Friday night was a unique and exquisite bloom.
Throughout his tenure as music director, Korisheli has challenged Adelfos to go outside of standard fare. In 2010, for example, the group performed Music of the Three Romes, an austere and weird (to our ears) tour of sacred music from Rome, Constantinople, and Moscow — all in Latin, Greek, and Church Slavonic. Adelfos audiences have come to expect the unexpected, and Friday's performance included not only a few stretches for the common ear but also favorites arranged in surprising ways. The program, titled Joy to the World! An International Festival of Carols, featured a broad selection of songs primarily from Europe, with detours to the U.S., Cuba, Trinidad, Nigeria, and Korea.
There is a crisp style to Adelfos. Not only was the program of 21 carols performed without intermission, but ballads like "Lo, How a Rose E'er Blooming" and "Poverty" (which are wont to become self-indulgently slow) maintained a lively meter. Passages with complex harmonies were not amorphous clouds of sound; instead, I found myself able to enjoy the distinct inner voices of the altos and tenors. Many of the pieces — for example, "Gabriel's Message," a Basque carol sung in English — made sophisticated interpretive use of dynamics.
Several turns in this international tour conjured up a distinctly foreign ambience. One of these was "Alilo," a carol from the Republic of Georgia. This mesmerizing performance featured tenors Korisheli and Bryan Lane in tandem chant, their rolling lines arcing above sustained drones by the rest of the men. "Jajang, jajang, Ahgi Yesu," a Korean lullaby by contemporary composer Hyun Chul Lee, not only rang with Asian tonal sensibility but was sung — remarkably — in Korean.
As for subgroups, the men delivered a rousing version of the French "Marche des rois," which started in unison and developed into canon form. The women had their own ensemble moment with Michael Praetorius's "In dulci jubilo," beginning with a daring duet for unaccompanied alto (Kristin Aylesworth) and soprano (Lee Naftali). Naftali, new to Adelfos this season, also lent exquisite voice to the haunting Appalachian hymn "I Wonder as I Wander."
The concert concluded with two well-known carols, "The Yorkshire Wassail" (England) and "Stille Nacht" (Austria), set in modern arrangements by the late English conductor and educator Ian Humphris, who died last month.
Miraculous flowers do bloom; existing trunks branch anew. And Santa Barbara looks forward to the verdant surprises of Adelfos.