Living
Sue "Flying" Fish Honored
Trailblazing Motocross Racer Inducted into Hall of Fame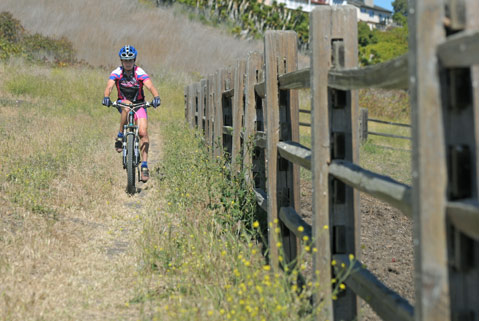 Sue Fish insists that she never set out to be a pioneer. Rather, she was seized at an early age by an irresistible itch to race motorcycles. "I just couldn't not race," she explained. Two weeks ago, Fish — a longtime Santa Barbara resident — was inducted into the Motorcycle Hall of Fame during a ceremony held in Las Vegas.
It turns out, Fish, now, could not have smashed more glass ceilings or blazed more trails had she been born with a sledgehammer in one hand and a blowtorch in the other. On the motocross circuit, Fish was famous for her high-flying, crowd-pleasing acrobatics — hence her nickname, "The Flying Fish." However, it was for being a woman racer competing in a sport exclusively dominated by men that she was given the "pioneer" award by the American Motorcycle Association (AMA). Women had been explicitly barred from competing against men in professional motocross races until 1974, racing instead in what was known as the "Powder Puff" league. That year, coincidentally, is when Fish broke into the profession, winning her first of three women's national championships.
But Fish's competitive edge demanded more, so she qualified to race against men. Fish did not win championships, but she definitely made her presence felt, going up against some of the top names in the sport. "When she was on the track, believe me, they definitely knew she was there," said Tom White, who sits on the board of the Motorcycle Heritage Foundation, which oversees the AMA Hall of Fame. "Everybody did."
While Fish was not the very first woman to race against men — that distinction belongs to racer Dorene Payne, who qualified for a men's AMA Pro Outdoor MX National main event in 1983 — she was the first to make a solid career of it. A touch reticent, Fish is quick to stress she was not out "to make any point." She didn't have to. Given her skill, tenacity, and popularity as a rider, she could afford to let her motorcycle — typically a 125 cc Yamaha — do all the talking. "For women racers, she's the one who really opened up the sport," said White. "She broke the sport out of the 'Powder Puff girls' and showed women really could compete with men." More than that, he added, Fish's success as a rider and popularity as a person vastly expanded what had been a male-dominated fan base in a male-dominated sport.
It wasn't easy, especially in the beginning. Nobody wanted to be beaten by a woman, she said. "I had a target on me," Fish recalled. Going into the first curve of the race — with 40 riders bearing down in a tsunami of noise, dust, and fumes, Fish said male riders would exploit their clear weight advantage and lean hard into her. "I'd have to get aggressive and elbow them back." And for racers wearing helmets and dressed in protective leathers, the heat was especially draining. Fish adapted by racing tough and racing smart. Courage was essential but hardly enough. "Bravery and a tendency to hold the throttle wide open will only get you a one-way trip to the emergency room," said White.
According to White, Fish trained like a demon; she visualized her races, figuring out her moves well in advance, how she'd battle for a corner and "close the door" on her competition. Being fit was key. "If you're tired, you're going to make mistakes," Fish said. Once the race started, Fish was in the zone. "You can't think about what you're doing at all," she said. "You have to be one with every sense of your being or, 'Bam!' you're gone."
Even so, injuries are an inevitable part of the sport. Fish has undergone 23 surgeries, including 10 on her knees and one shoulder replaced. "If you don't fall," she said, "you're not going fast enough." Since she retired in 1985, motocross officials have grown more concerned about such injuries. Back in her day, Fish said, if riders could still remember their names, they went back in.
Fish got her first taste of motorcycle heaven at age 3, when her father — a racer in his own right — placed her atop his bike and took her for a spin. She began riding for real as a young teen, much to the horror of her mother, and went pro at age 18. But by 1985, her body had had enough. She retired. "I'd still be racing if I weren't so beat up," she said.
In 1982, she first moved to Santa Barbara to train. Like a lot of people, she never figured out how to leave. For nine years, she worked as a stunt double in Hollywood, filling in for actress Linda Hamilton in Terminator. It was Fish who handled the daredevil motorcycle scene in the original Footloose. For a while, she appeared in exhibitions with kamikaze rider Evel Knievel. Upon her "retirement," Fish took up dirt-bike racing, screeching down hills at speeds exceeding 60 miles an hour. She got into road racing, as well. Three years ago, she gave up serious competition for good and now works with a team of accomplished women road cyclists who mentor women, young and old, just discovering the world of cycling. She also works as a personal trainer.
Even safely in retirement, Fish finds the lure of competition almost irresistible. "I've been known to race a lawn mower against my dad," she recounted. "And put me on a Segway, and I'll find a way to jump it."