News
Alleged Abalone Poachers Caught
Four Men Nabbed with Four Massive Abs in Santa Barbara Harbor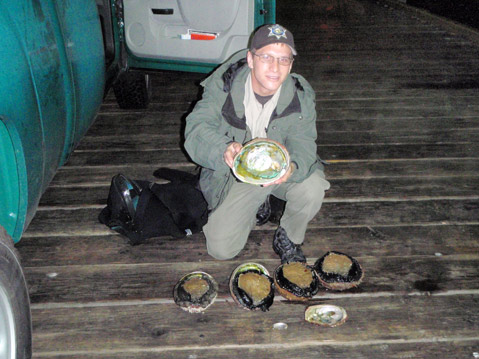 In the first bust of commercial fishermen for poaching abalone since the shell-residing mollusk was protected in Southern California 15 years ago, four men were caught with four abalone on an urchin diving boat in the Santa Barbara Harbor the day before Thanksgiving. Three of the men, John Bolton, Robert Laumer, and David Abernathy, were registered as urchin fishermen from Santa Barbara, while the fourth, Richard Gallo from New York, was not a licensed fishermen but is still implicated in the charges, which are now being considered by the Santa Barbara District Attorney.
The booty was likely harvested from the seas around San Miguel Island, which is the epicenter of the species' comeback after decades of overfishing and disease nearly wiped it out of the region completely. To help save the species, the state banned any take of abalone — whether the red, black, pink, or white varieties — in 1997 for waters south of San Francisco Bay, and only allowed red abalone to be harvested seasonally to the north. While sport divers are occasionally caught with illicit abs (usually for violations of size, quantity, and methods in Northern California), commercial fishermen have kept their hands clean, until now.
The alleged poachers were caught by California Department of Fish & Game wardens on November 21 after sundown when their 35-foot boat returned from a two-day trip to San Miguel Island. When warden Scott Cohen approached the boat, the four men scurried into the cabin and wouldn't come out. Upon entering the cabin to find documents "flying everywhere," Cohen believed that the men had committed "paperwork violations," such as not filling out the details of catch sizes and fishing locations. As he went ashore with piles of papers in his arms to check — indeed, they hadn't filled out anything — warden Santos Cabral searched the boat, began measuring the urchin, and found an abalone shell, a minor violation that prompted a more thorough search.
That's when Cabral found, stashed beneath a bench deep in the cabin, a wetsuit stuffed with the four trophy-sized abalone, including one that measured more than 10 inches across. Another two empty abalone shells were also located. When confronted, the men played dumb. "No one knew where they came from," said Cohen, explaining that it was unclear whether they'd planned to eat the abs or sell them on the black market, where they could fetch up to $150 a piece. (Despite the wardens' efforts to return the abs to the ocean, they died and are now in an evidence freezer.)
The bust made both wardens wonder whether other urchin divers could be poaching, as urchins (which fetch between 60 cents and $1.25 each) and $100-per-pluck abalone live on the same reefs. "They're out there diving within hand's reach," said Cabral. "The temptation could be great." Cohen even thought back to other boats he's searched, explaining, "Those boats are so complex that if someone knows what they're doing, you can hide something very well." (Multiple attempts to contact urchin-diving and commercial-fishing representatives for this story were unsuccessful.)
The abs almost certainly were harvested within the Channel Islands Marine Sanctuary, the superintendent of which, Chris Mobley, praised the wardens' work via email on Tuesday from San Diego, where, coincidentally, he was at an informational hearing about opening up San Miguel's abalone for fishing again. (State staff advised against the idea, which had been proposed by the California Abalone Marketing Association.) "We will not succeed in protecting and restoring abalone without effective enforcement," said Mobley, explaining that while a network of agencies are involved, "the state's Fish and Game wardens are our first line of defense when it comes to abalone."
But that line of defense is admittedly porous, as California only has about 300 wardens statewide, and just two in Santa Barbara County, numbers that are actually higher than in years' past. Cohen believes that the Santa Barbara Harbor alone could use a full-time warden. "It might be small," he said, "but it does have a huge commercial fleet." Meanwhile, the Fish and Game wardens do their best to be a presence even when they're not nearby. "We try to fly the flag with maximum exposure," said Cabral, explaining that the Thanksgiving-eve sting was just one way to keep people thinking: "Be careful what you're doing out there, and play by the rules because you never know when one of those game wardens might pop out."