Columns
Who Let the Dog Out?
Pet Ownership Is a Big Responsibility
What with all the serious problems in Isla Vista, like crime, trash, and alcohol-related accidents, not a lot of public attention is given to the smaller issues that can make living here challenging. For example, few people mention the dog-related problems that crop up on a regular basis.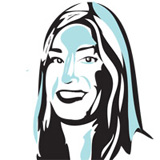 The problems are pretty typical of an area with unlocked doors, homes packed with dozens of students, and an anything-goes attitude. You might see a dog loose in the streets on any given day, and who knows who let it out. Recently, a representative from Santa Barbara County Animal Services was called because there was a group of dogs roaming around the Camino Corto Open Space.
But problems occur even when the dogs are in their own yards. They often bark late into the night because they have been left home alone, or get out and attack other animals walking by.
Unlike other college towns, there seems to be an idea here that higher education and dog ownership go hand in hand. Unfortunately, students often chose high-maintenance dogs. They seem to go for pit bulls, boxers, or German shepherds even when they are not prepared for the responsibility. They come to school to party and learn, not to spend their time worried about what their dog is up to when they are gone.
While there are responsible dog owners, the irresponsible ones make life in I.V. nerve-racking, if not treacherous. There are certain streets I don't walk down out of fear that a dog will come careening out of a front yard and try to attack my dog, Ivy. It has happened. Ivy got turned over and nipped by a very aggressive boxer when we walked down Sueño one day. The dog's owner was in the front yard drinking with his friends and came out to help, but it was still an unpleasant experience.
Just recently, I found myself confronted by a huge German shepherd when I tried to walk from my car into my yard. He was nervous and barked at me as I walked by. While I knew he wasn't vicious, I thought twice before I exited my gate an hour later. The German shepherd belongs to my neighbors who own two other dogs as well. Overall, they are responsible dog owners who let their animals outdoors when they are home to supervise. The German shepherd is an escape artist who they believe is able to open gates and jump fences. When I asked them if they could keep their dog in their yard, they were really receptive and mentioned the strategies they were going to try to make sure it didn't happen again. Too bad all dog owners don't have the same attitude.
There should be a campaign led by Santa Barbara County Animal Services in conjunction with UCSB and SBCC to educate students on the responsibilities that go along with dog ownership. I'll bet many of my neighbors wouldn't have bought or adopted a dog if they had known how much trouble pets can be.
Ivy escaped several times until I fixed a hole in my fence. Once she headed to the beach, but the other times she went next door to eat the neighbor's garbage. There's nothing more irritating than getting a call at work to say that your dog is on the loose.
If they gave it careful consideration, students might conclude that their college years should be a time for them to enjoy themselves unfettered by such responsibilities. They have years and years to devote to pet ownership.