Sports
Hoop Dreams
Sweets Underwood and Jasmine Ware Find Success and Friendship on UCSB Women's Basketball Team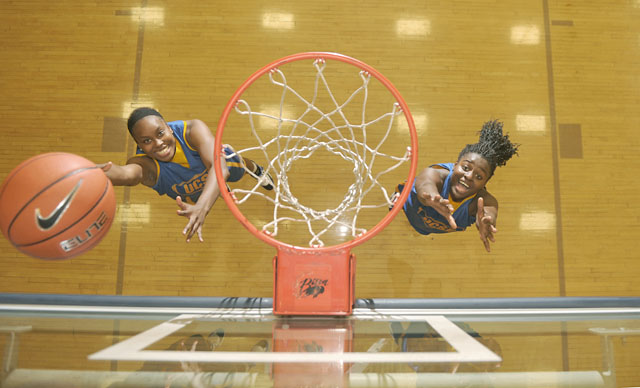 At the conclusion of basketball practice, Sweets Underwood donned a pair of earrings. "I have to get my sexy on," UCSB's senior forward said. Watching her intently was Jasmine Ware, a first-year guard for the Gaucho women. The two players have developed a relationship on the court and beyond.
"We're both goofy kids who love to laugh and have a good time, but we know when it's time to get serious," Underwood said. One of those times will be Friday, December 21, at 3 p.m., when the Kentucky Wildcats, ranked No. 7 in the nation, tip off against the Gauchos at the Thunderdome.
Another serious time occurred when Underwood approached Ware at the team's study hall. "I knew a bit of information about her," Underwood said. "I came up to her and said, 'Jas, we have more in common than what you think,' and she's like, 'Yeah, I do know,' and right then and there we started talking about our experiences growing up."
Most young people who make it to college have their parents to thank. Underwood and Ware have been separated from their parents by death and indifference. Sweets lost her father to a heart attack and her mother to breast cancer; she was 10 when she went to the home of Corlotta Adams, her mother's sister. Jasmine has known no other mother than her aunt, Darlene Boatwright. "They just weren't responsible," she said of her parents. "They didn't pay attention. I've probably seen my ma three or four times in my life." Her father, she said, was "in and out of jail."
Both young women thrived under the strict and loving guidance of their aunts. Adams, who frequently attends UCSB games, expected Underwood to excel in the classroom. "She tried me one time, when a grade fell from an A to a B," Aunt Corlotta said. "I took her away from basketball for two weeks. She never done it again. Sweets is the first [girls basketball] player from Compton Centennial High to get a Division-1 scholarship."
Ware's aunt also set her on an upward path. "She let me know if I was doing something wrong," Jasmine said. "She treated me like one of her own kids. She always pushed me to keep getting better. In high school, I would get my grades checked every Tuesday." Boatwright died when Jasmine was a sophomore at Sacramento Charter High, but her aunt left a son, Demond Philson, to take care of her. "He's like my older brother," Ware said of Philson, a real estate attorney.
Underwood feels a strong connection to the younger Gaucho. "She's just a fighter, one of the strongest kids I know," Sweets said. "I respect any kids that can work their butts off in real life and carry it over to the court. All the adversity that she's faced… in so many ways, she reminds me of myself, because I've been through so much, too. I found a way to get over it. At the end of the day, there are no excuses, and I see that attitude in Jas."
Besides basketball, both girls participated in high school track. Underwood, whose given name is Grovinya, was a middle-distance runner. People called her "Sweet Feet," the origin of the name that she so aptly carries now. Ware was a sprinter.
Their UCSB uniform numbers are 1 (Underwood) and 2 (Ware). Sweets has matured into a team leader. The 6' senior earned back-to-back Big West Player of the Week awards for her performances in a pair of Gaucho road victories — a career-high 22 points and 11 rebounds at Loyola Marymount; and 15 points and 13 rebounds at Washington.
Ware plays with raw energy. In the first minute she stepped onto the court against Vanguard University, the 5'10" guard excited the Gaucho fans by knocking a ball loose and diving headfirst across the floor. She also fouled out in 10 minutes. "My brother came to the game and kind of made fun of me," she said. "'You fouled out your first game? Who does that?' I guess I was a little too antsy, too excited."
Underwood has been there, too. "My freshman year, I was really anxious, just a kid who had a lot of energy and couldn't wait to get out on the floor," Sweets said. "Jas is a spark off the bench. She's a defensive presence, and that's something Coach Mitch [Carlene Mitchell] emphasizes to all of us."
The Gauchos face a formidable foe in Kentucky, which won eight of its first nine games by an average margin of 26 points. Another strong team, Kansas State, will visit UCSB after Christmas (on December 29).
"We don't see the name on the [opponents'] jerseys," Underwood said. "You're going to see a team that's going to fight and do anything that they have to do in order to get a win. We know we're going to give it our all."