News
Bikes and Cars Together
Golden Rules of the Road
Everyone makes mistakes, does spirited things, or shows off. In college, I joined a small group of hippie art students who decided one fine spring morning to take a weekend bicycle trip to Fallingwater, a Frank Lloyd Wright-designed house about 65 miles southeast of Pittsburgh. The home, now a museum, is famous for being cantilevered over a creek and waterfall.
None of us had ever ridden outside the city, but we happily loaded our backpacks with freshly baked whole wheat bread, organic peanut butter, brownies, water, and apples. We checked the air in our tires and threw a patch kit in next to our sleeping bags. It was time to roll. We didn't have Google Maps or an iPhone Maplet app to plot our course. Standard automobile road maps guided our route but couldn't warn us that we were riding into the steep hills and valleys of Western Pennsylvania. Youthful energy powered us up those hills, and a benevolent higher power kept us safe on narrow country roads as speeding trucks whizzed by at 45 mph. Bemused farmers let us sleep at night in their barns.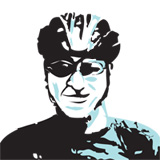 Looking back, so many things could have and should have gone wrong. We broke just about every rule for planning and riding a 130-mile road trip. We were tired, chilly, and at times riding in dawn and dusk gloom without bike lights, our long hair flying in the wind. We were lucky. Life can sometimes be like that.
I survived that spirited journey and lots more cycling foolishness over the intervening decades without serious injury. Not everyone is so lucky. Recent local conflicts between cyclists and motorists, and an accident that seriously injured a young woman in the Funk Zone, once again compel me to write about sharing the road. Erika Lindemann and I have written numerous columns over the past year about the importance of sharing the road. I've ranted, used logic, and even been childlike ("If we can share toys, we can share the road").
Today, I want to start by talking about some golden rules. We all learned the traditional one as kids: Treat others as one would like others to treat oneself. That's the meaning of share the road. Let me go one step further and invent the Golden Rules of Road Use. Cyclists, ride as if you were a vehicle obeying all laws and rules of the road. Motorists, drive as if you were on a bicycle without two tons of steel surrounding you. Here are some simple reminders I use when I'm either on my favorite bike riding downtown or driving my car:
For When I'm a Cyclist:
Obey the rules of the road. The same laws apply to me as to motorists.
Be visible, wear a helmet, and have lights.
Ride on the street in the same direction as traffic is flowing.
Signal turns with hand signals.
Be aware — motorists and pedestrians may not see me.
For When I'm a Motorist:
Always check over my right shoulder for cyclists before turning right.
When passing a cyclist, leave at least three feet between my vehicle and the cyclist.
Look for cyclists before opening a car door.
Drive cautiously in areas with heavy cyclist activity and at night.
However alert and diligent both cyclists and motorists are, we can't prevent all accidents or foolish road behavior. Education of young cyclists and motorists about the importance of shared, safe road use is critical for the future but won't have a major immediate impact. Enforcement is a blunt tool that will snag a few offenders but without significantly changing road behavior. I know readers will comment, urging more enforcement. Ask yourself, "How long do I slow down to near the legal limit on 101 after seeing a CHP car parked at the side of the road?" So, what else can we do?
Interestingly, recent research indicates that more people cycling means fewer conflicts and injuries. As drivers become more accustomed to seeing cyclists, they become aware of and pay attention to cyclists on the road. There is road safety in numbers. Also, as more road users model safe cycling behaviors, other riders follow and emulate. I tried out this idea recently on State Street. There were three bikers riding right behind me whom I didn't know. When I stopped at the first crosswalk with a red light, they wanted to roll on but, with guilty looks on their faces, stopped with me.
So, we should be encouraging bicyclists with our safety campaigns to get out on the road. Public policy and advocacy campaigns should be focused on incentives to bike. These aren't just measures to increase the volume of riders but to also enhance their safety.
Traditionally. bike-safety campaigns have often focused on placing the burden on cyclists (wear helmets, be visible, ride in bike lanes) and often use fear tactics to try to change behavior. When I was in high school, we all had to take a drivers' education class in our junior year. The highlight of that class was a video, Red Asphalt, narrated Dragnet-style and filled with gore and blood. (This is your brain on booze. This is your brain on the road.) It was intended to scare us into safe driving. Didn't work then and not likely to work now for motorists or cyclists. Campaigns should not perpetuate the idea that cycling is dangerous. Remember, research shows that more cyclists equal increased safety. Publicity that personalizes and humanize cyclists is ideal. Here's a simple short video that show cyclists are real people, neighbors, and friends.
In 2013, let's focus on the positive. Yes, individual cyclists and motorists will do stupid things. Individual motorists will turn right without looking for a cyclist. Not all. Individual cyclists will go through stop signs. Not all. We need to encourage safe cycling while at the same time making drivers aware of cyclists on the road.
My daughter, Danielle, sent me the link to this "super adorable video about the dumbest ways to die." Bicycle riding on the streets of Santa Barbara should not be one of them!