Arts & Entertainment
Saint Anne's Place Release The Earth Shaker
Our 2011 Downtown Sound Battle of the Bands Winners Unveil New EP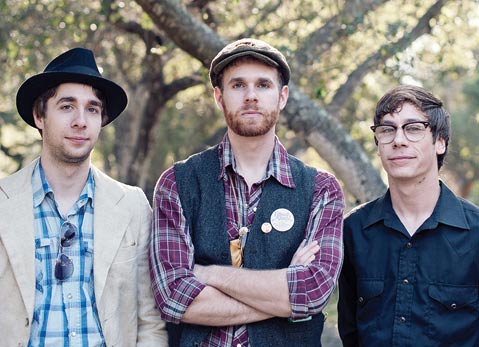 It seems like just yesterday that Saint Anne's Place first caught our ears. Just over a year ago, the Lompoc blues rock trio made up of frontman/guitarist Jacob Cole, drummer Sam Cole, and bassist Joel Martin released their sonic fury on the Santa Barbara masses by way of our Downtown Sound Battle of the Bands. There, the trio churned out two quick-paced and unrelenting sets of soul-infused rock 'n' roll. The band's shows drew more comparison to Hendrix and Lightning Hopkins than The Black Keys or the White Stripes, a style evidenced by the boys' collective upbringing. You see, throughout their adolescence, Jacob, Sam, and Joel cut their chops in their family's blues cover band before ever marching out on their own.
Since those fateful sets — and their subsequent Downtown Sound win — the trio has managed to quickly conquer the S.B. music scene. Any given month, you can find them plugging in at Muddy Waters Café, SOhO, or Velvet Jones, where they recently delivered a searing collection of new material as part of November's New Noise Music Conference and Festival. Of late, the guys have been holed up in Santa Ynez's Erickson Sound Labs, writing, recording, and fine-tuning what would become The Earth Shaker EP. This Saturday, December 29, Saint Anne's Place takes to the stage at Certain Sparks Studio in Lompoc for a CD release show in celebration of The Earth Shaker, a fantastically unrefined seven-song collection that captures the band at their sonic best.
Perhaps the biggest recording obstacle presented to a band like Saint Anne's is figuring out how to capture a raw live performance in a medium that is, by definition, fairly sterile. Lucky for fans, The Earth Shaker does an exquisite job of highlighting the best parts of the Saint Anne's Place live set. Here, the guitars rise to the top of the mix, where they're allowed to twist and turn with a pristine clarity. Vocally, Jacob Cole's raspy hush practically purrs, creating an alternating sense of menace and desperation from track to track. Most importantly, though, The Earth Shaker encapsulates the seemingly disparate parts that make Saint Anne's such a find. Here, blues, rock, and psychedelic tricks and techniques marry in a way that lesser musicians simply couldn't pull off. (Check out closing track Genghis Khan for a foot-stomping number that morphs into the EP's most mind-melting shred sesh.) It's a testament to the trio's collective instrumental prowess, as well as their keen ability to find a groove and ride it out, no matter where it may take 'em.
4·1·1:
Saint Anne's Place play a CD release show for The Earth Shaker EP this Saturday, December 29, at 8 p.m. at Certain Sparks Studios (326 North H St., Lompoc). Call (805) 588-9479 or visit facebook.com/saint.annes.place.music for info.