News
Volunteers Sought for Homeless Count
500 People Needed for Official Tally and Health Risk Assessments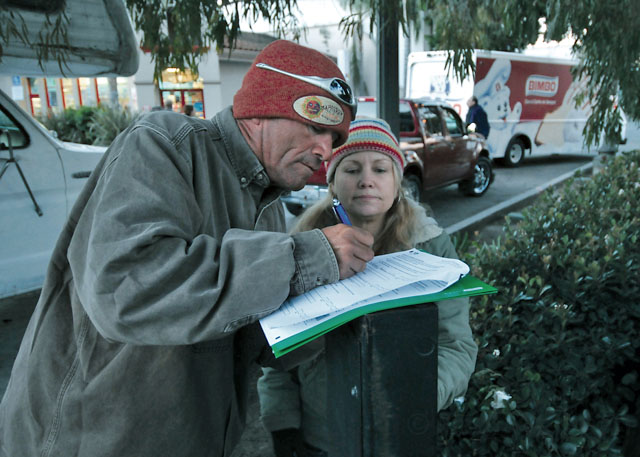 The group organizing a countywide tally of the number of homeless people in Santa Barbara later this month is currently beating the bushes for 500 volunteers. Beyond counting heads, the volunteers will be asking homeless people they encounter a series of questions to determine their relative health risk. Two years ago, a similar effort ​— ​also led by the organization Common Ground ​— ​enlisted the aid of 500 volunteers who managed to interview 1,043 of the 1,536 homeless people they found. Of those, 932 had sufficient health problems to be deemed at risk of dying prematurely. The 2011 count was inspired in large measure by higher-than-average death rates among people living on Santa Barbara's streets. That year ​— ​and the year before ​— ​40 people died on the streets.
The impetus behind the Common Ground count is to prevent such deaths from occurring by identifying who those most vulnerable are and getting them the requisite housing and services. To this end, more than 100 people on the "vulnerability index" have been provided some form of housing. This year's count will take place January 22 and 23. Volunteers will gather at 4:30 a.m. in teams of four, given instructions, and sent out in search of homeless people to interview. The thinking is to contact the homeless before they disperse. The volunteers ​— ​who will be trained January 19 ​— ​will not be seeking out homeless camps; that function will be assigned to paid professionals. To engender cooperation from their subjects, the volunteers will offer them McDonald's meal coupons.
Of the homeless counted in 2011, 170 had been homeless less than six months, but 50 percent had been homeless for at least seven years. About half had serious mental health issues, and half claimed Santa Barbara County as their residence. For more information about volunteering for the count, contact Jessielee Coley at 451-5604 or check commongroundsb.org.