Film & TV
Rust and Bone
Matthias Schoenaerts and Marion Cotillard star in a film written by Jacques Audiard and Thomas Bidegain, based on the novel by Craig Davidson, and directed by Audiard.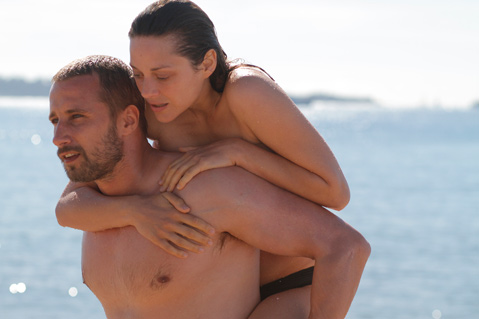 While writer/director Jacques Audiard's alternately rough-edged and rapturously beautiful love story rides high on its poetic principles, and clearly deserves the accolades it has gotten, another lowly point must be made: Marion Cotillard is the sexiest double-amputee in the history of film. Her intimate scenes with the muscularly magnetic Matthias Schoenaerts place the film in a category of fresh visions of human sexuality onscreen that go beyond the realm of beautiful people, as also seen in last year's The Sessions. Sex comes in many sizes, shapes, and maneuvers, apparently. More importantly, and central to this film's disarmingly tender theme, so does love.
It's no huge plot spoiler to reveal that Cotillard's character, a killer-whale trainer and handler, finds out the real way about the dangers of both her job and the abrupt changes debilitation makes in her — or anyone's — life's path. The tragic surprise itself is not the point of this remarkable film, but rather the churnings of fate and human emotional and moral interactions, here expressed in a tale of a down-and-out but determined man, his young son, and twists of fate on the byways between them.
Bodily physicality plays a key literal and metaphorical role in the story, from Cotillard's character's newly adjusted and rewired life to the pugilistic fury of Schoenaerts, who brings at least some of the volatility and festering rage he so memorably pumped into his bullish, testosterone-fueled character in the stunning film Bullhead. Not unlike that film, Rust and Bone is an interesting and uniquely effective mixed salad, stylistically, with kitchen-sink-y hand-held naturalism stirred in with more stylized filmic approaches and a sense of story structure much more carefully plotted than it might seem. It is also blessed with smart musical textures, from Alexandre Desplat's score to songs by Bon Iver and Goleta's own Katy Perry.
We get leitmotifs scattered throughout, such as key distressed underwater shots implying the chaos and potential lethality of fateful forces beneath the surface of life. A single shot of a dislodged bloody tooth in the dirt speaks volumes, whereas explicit, bloody fight scenes are of little interest. Rust and Bone shows plenty but also keeps much in subtle reserve, and that's partly why we love it so. And then, of course, there is Marion Cotillard.