Arts & Entertainment
Mark Salzman to Appear in Santa Barbara
Best-Selling Author to Speak at the Music Academy of the West on January 25
Mark Salzman is a classic overachiever. Raised in suburban Connecticut, he studied cello and kung fu with equal intensity and at age 16 was accepted to Yale. In his early twenties, he taught English and studied martial arts in China, an experience that became the subject of his first book, Iron & Silk, published when he was only 27. Yet despite these impressive accomplishments in his early life, Salzman was never satisfied.
"A lot of my activities were desperate attempts to close the gap between who I was and who I hoped to be," the writer admitted in a recent phone conversation from his Los Angeles home. Now in his early fifties, the stay-at-home dad with two young daughters has had a few decades to reflect on his struggle for achievement and where it got him. Next Friday, January 25, Salzman will appear at Santa Barbara's Music Academy of the West to tell the story of writing his novel Lying Awake — a frustrating eight-year process that led him through some of the darkest, most anguished periods of his life.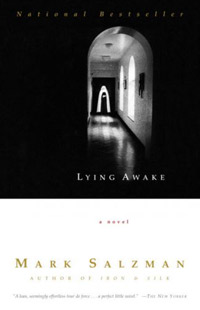 Instead of simply telling his tale, Salzman uses music as metaphor. The work he has chosen to reflect his writing process is among the most beloved of classical scores: the third of Six Suites for Unaccompanied Cello, by Johann Sebastian Bach. The suite is broken down into six movements, each of which Salzman links to a stage of development of his novel. Over the course of the evening, he alternates between the story and the music, presenting them as parallel narrative arcs.
When Salzman first developed the idea for Music & Story more than 10 years ago, he was practicing cello regularly, and he played the instrument onstage in addition to narrating. In more recent years, he has adapted the production to include a cellist who plays alongside him. In Santa Barbara, his accompanist will be cellist Nona Pyron, a respected authority on the instrument. Pyron was once Salzman's teacher and also served on the music faculty of Westmont College. She was inspired to bring Salzman to Santa Barbara after seeing his production in Los Angeles last year.
Lying Awake tells the story of a Carmelite nun who struggles with debilitating headaches accompanied by profound spiritual visions. Afraid the book would not be commercially successful, Salzman spent years trying to work in a love affair between the nun and her doctor before scrapping that plan to return to the book's core: a startlingly spare tale of faith and devotion. Agents and editors rejected the novel over and over, and the experience sorely tested Salzman's faith in himself as a writer.
What made Salzman choose Bach's cello suites to tell his story of harrowing writer's block and eventual breakthrough? "This music seems to resonate with some deep need or pattern in our central nervous system," the author conjectured. "Bach creates tension and then brings you to a satisfying resolution."
No one knows better than Salzman how much tension is involved in producing a work of art. Learning to play an instrument — like writing a book — is a painstaking process of refinement, yet Salzman has come to believe that the search for perfection is ultimately a trap.
"When I began playing music, my idea of what it meant to be a great musician was to be a virtuoso and to play well enough to gain accolades from others," he explained. "It was essentially about playing higher notes faster than anyone else. I got obsessed and deeply frustrated, and it wasn't sustainable." It was only by setting the cello aside for almost 15 years that he was able to return to the instrument without the paralyzing pressure to excel and found he was finally able to make music. "You look at modern hunter-gatherer groups singing and dancing, and no one is straining," he noted. "They have self-forgetfulness, in contrast to the acute self-consciousness we're so often stuck in."
In the same way, Salzman had to let go of the desire to write a book that would impress critics or make best-seller lists in order to write the book that needed to be written. These days, he teaches workshops for artists on transcending the maddening obsession with perfection sometimes called writer's block. He calls these workshops Write in Peace.
Regardless of the art form you're working in, "It's all the same thing," Salzman said. "You start out with this idea: I am incomplete; there's something wrong with me; I'm not good enough," he said. "So you strain and struggle, and eventually you realize that the harder you struggle to improve, the faster the goal recedes. You experience a kind of collapse of your will and volition. For some of us, that is the release we were looking for all along.
"Writing and music are about sensing dissonance and feeling driven from within to try to resolve it," he added. "We all experience dissonance in our lives. That's the beauty of art. It gives us courage to make the journeys we must make — journeys that come with no guarantee of resolution."
4·1·1
Author Mark Salzman will appear with cellist Nona Pyron in Music & Story at the Music Academy of West's Lehmann Hall on Friday, January 25, at 7:30 p.m. Tickets will be sold at the door. Call (805) 504-2494 or (626) 585-1925 for info.