Film & TV
An Awkward Sexual Adventure
Director Sean Garrity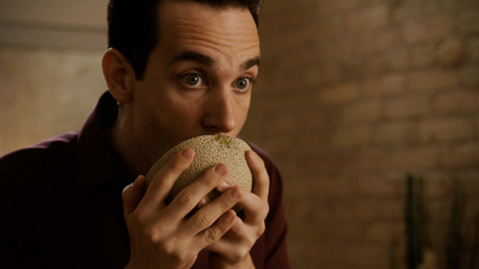 Sean Garrity's film An Awkward Sexual Adventure and ought to be good for some hearty laughs and awkward conversations. Though it's ultimately a romantic comedy with lots of heart, it also features a few rounds of explicit sex including a hilarious (and yet erotic) session with a cantaloupe. We talked with Garrity about the idea of sex in Canada.
It's the kind of movie that could not be made in Hollywood without sacrificing a lot of the extremely graphic scenes, which I assume were important to you making the film. Did you have problems making it and screening it in Canada?
We had no problem with the sex in this film: neither making it, nor getting it seen. One of the differences I sometimes observe between Canadian and American popular culture, is that Americans tend to be skittish about the sexual stuff, but have no problem with violence, and in Canada it's the other way around.
The idea of a stripper with a heart of gold is a borderline silly cliché, yet Emily Hampshire's Julia works almost perfectly. How did she manage to walk the impossible tightrope between soulful and ditzy?
I always felt there could be a really interesting dichotomy at the heart of this character, one I hadn't seen before, and so, in working with Emily, we decided to play precisely that aspect of her. But it's easy to stand on the sidelines and tell someone to do something, ultimately it was Emily who had to walk into the darkness to find it. All of the credit here goes to her.
Am I right in saying that Tribeca films has taken over distribution? Will the film get a big release?
Yes. Tribeca Film is releasing in the U.S. beginning on March 19. I can't wait to see what they do with it.
What's your next move?
I'm financing a TV comedy called "The Masturbators." The Canadian government tried to ban it a few years back, and then lost their nerve.
An Awkward Sexual Adventure screens on Fri., Jan. 25, 7:20 p.m., Mon., Jan. 28, 4:40 p.m., and Tue., Jan. 29, 10:20 p.m., all at the Metro 4. See myawkwardsexualadventure.com.